It's Monday and I have a confession to make. Back in February we got sent this Yeelight Lightstrip. It's actually made by Xiaomi, and we all know how good they are.
If you want one, you can buy from Amazon right now. Here in the UK it'll currently cost you £32.49 and you can get extension strips for £10.90. In short, they're clever LED coloured lights that sit on a strip. You stick them wherever you fancy – either on that kick-strip in your kitchen, under or inside cupboards, behind TV's, above fireplaces, below worktops – there's a never-ending list.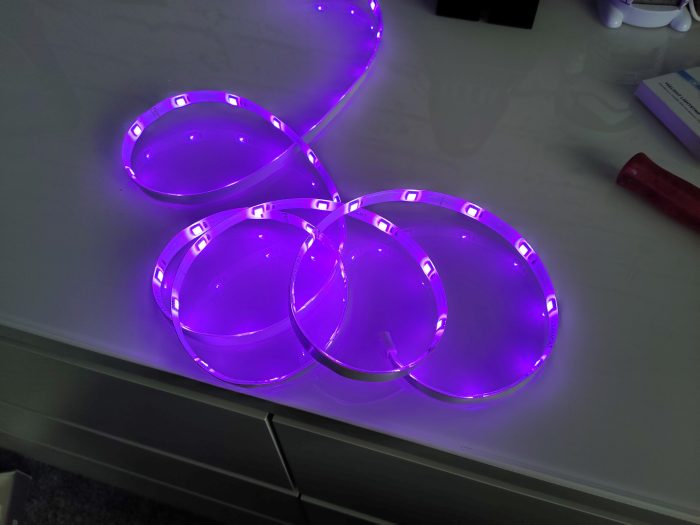 But yes, I do have a confession, because back in February we were about to do the kitchen and I thought, "This thing is going to be great to put under the cupboards – I'll review it when the kitchen is all done!"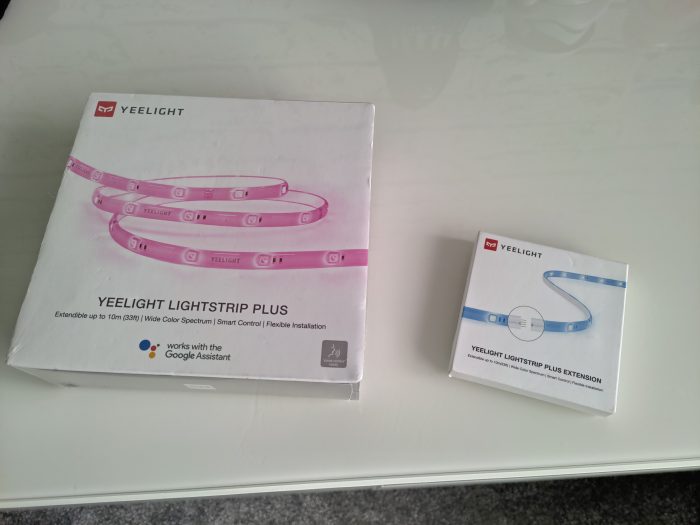 However, we decided to spend the kitchen money on a holiday to Florida instead. So, whilst going through the garage recently, I found the box marked "kitchen stuff" and found these two items that I'd completely never reviewed or used. That's a fail.
So, wind forward a few months and we're doing our son's room. He's getting big now, so the baby stuff is being replaced with a cool and modern look. Trouble is, the room is white and grey, with limited amounts of colour. This is where this colour LED lightstrip steps in, because it adds a fully controllable and really easy-to-install solution which will quickly change the mood of your room.
The installation is really simple. You just roll it out, then – by using the double-sided sticky-tape on the back – you stick it onto the surface in question. It takes literally seconds and you just plug one end into the supplied power adaptor and switch. The latter can be used to turn the lights on, off and to rotate through some of the colours.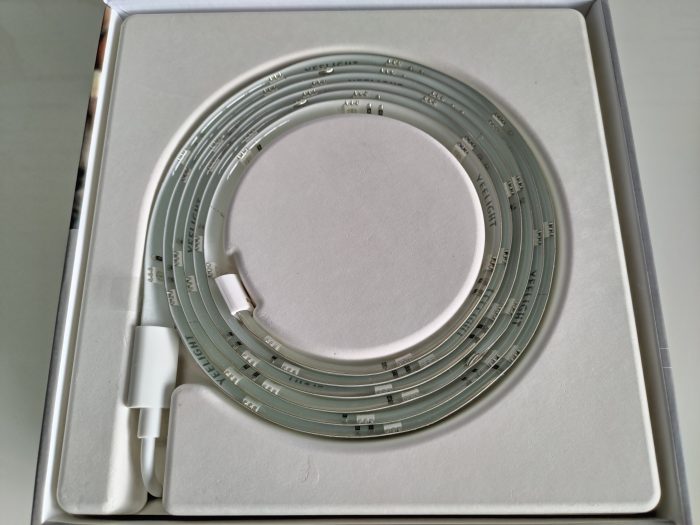 I say some because this is also a WiFi enabled gadget which will let you have a finer control over those colours via a smartphone app. The app in question, unsurprisingly called the "Yeelight App" also integrates with a host of other Yeelight kit – LED bulbs, desk lamps, bedside lamps, ceiling lights and more. It also lets you perform firmware updates, save and create "scenes".
But wait, I'm getting ahead of myself again. Is it really that easy to setup?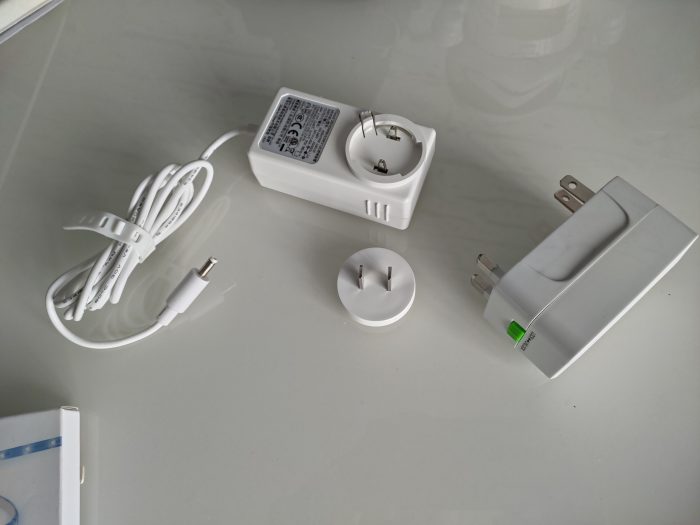 Well yes, absolutely. I'd literally just finished building the IKEA furniture in the bedroom and I thought, just to see how it would look, about sticking the lightstrip on the back of the set of drawers. Opening the box, you get the rolled-up strip, a charger and an instruction manual. The one I had came with a US plug as you can see above, so I used an adaptor.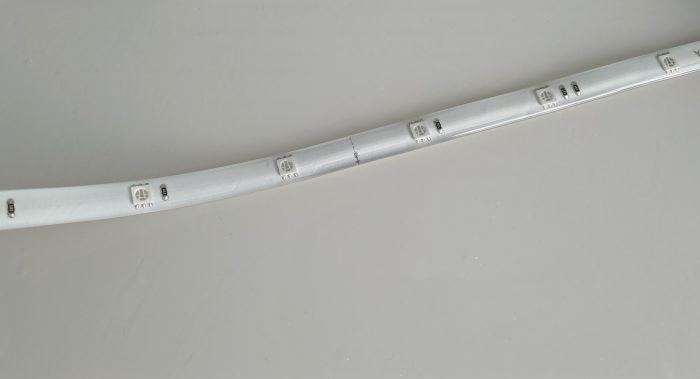 Then I did some rough measuring and found out that the length in this box (which is 2 metres) was a little wider than I actually needed. You can't cut the strip down, but you can lengthen it – up to 10 meters with the addition of further 1 metre lengths. You'll see here that I curved this around the corners and down the sides of the drawers equally. You can't bend it too sharply, but if you give it some slack you can turn it at a fairly tight angle by lifting a section up.
The double-sided tape on the rear stuck really well, and I plugged it in – a simple click to go on and off or a press-and-hold on the control box to get it cycling through the colours.
The next jump is to get the Yeelight App downloaded and your phone connected to it. This is the bit I always dread with review kit, but it worked very well indeed. The app does all the work for you, and the first step is to find the device via Bluetooth.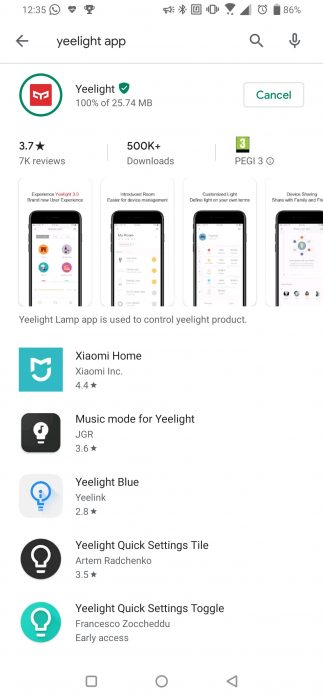 When I tried this a single MAC code appeared. Considering I've got stacks of Bluetooth kit in the house, finding only one and it not having a proper "name" seemed to suggest to me that the app knew what it was looking for, so I clicked on it and it went to the next stage. This is where you enter your home WiFi details – the Lightstrip Plus will connect to your WiFi so that you can control it anywhere. There's full Google Assistant integration too, so you can turn your lights on and off by just talking to it.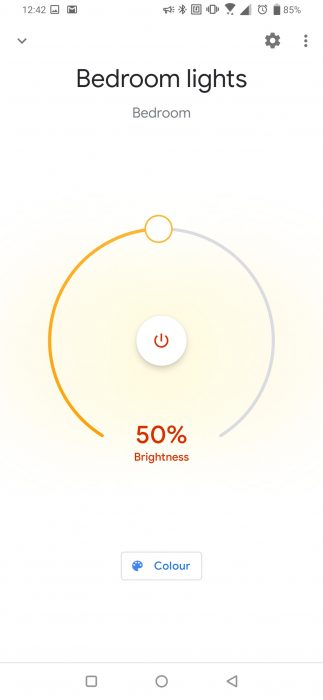 In addition to all that, you can also setup schedules. This takes a bit of getting used to and I'm still trying to find a way to schedule the power off of the system each morning, but there is a huge amount of options to choose from in here.
I easily connected it to Google Assistant but it also works with MIJIA, IFTTT and supports open API, so I can use different ways to schedule the power on / off. There's a massive selection of options, flashing rates and some 16 million colours to choose from. This lets you set the mood, change the ambience and match the time of day – which is something else you can do through the scheduling option.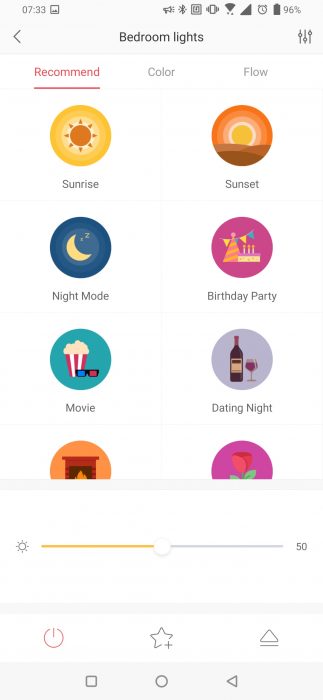 In addition there's an option to change the light pattern so that it flashes away to music. You can have it listen to music through your phone microphone or it can respond to music playing internally on your phone. The result is this ..
Another rather cool feature is a "colour picker" option, which lets you take a photo of something so that the LED lights match it. This is great if you're trying to keep a "colour theme" in your room, and you can adjust the brightness and "flow" patterns of the lights too.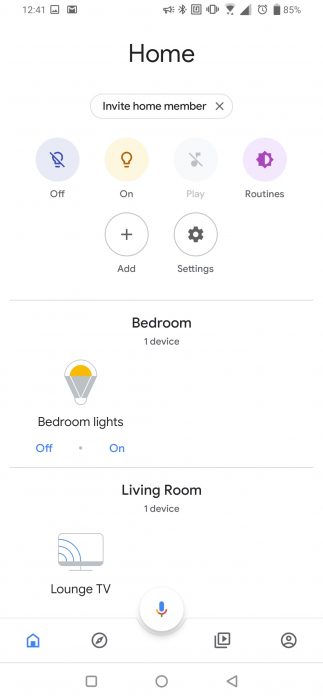 The quality of this, and the range of Yeelight kit available on Amazon is amazing. You don't need to spend a fortune on Phillips kit when this will do it for far less.
Here's a look at the final installation..
The app is clever, with excellent integration and a really easy setup process. Once you've setup your Yeelight account you can control your lights anywhere in the world, and there's the ability to choose present scenes, upgrade the firmware and trigger the lights to come on just by asking Google.
Here's a look at the install with the chest of drawers pushed back against the wall..
All in all, this is an excellent package and one that I highly recommend. It's well made, ridiculously easy to install and use, extendable, flexible, fun to play with and it really gives your room a new feel.
Buy from Amazon right now for £32.49 and get extension strips for £10.90.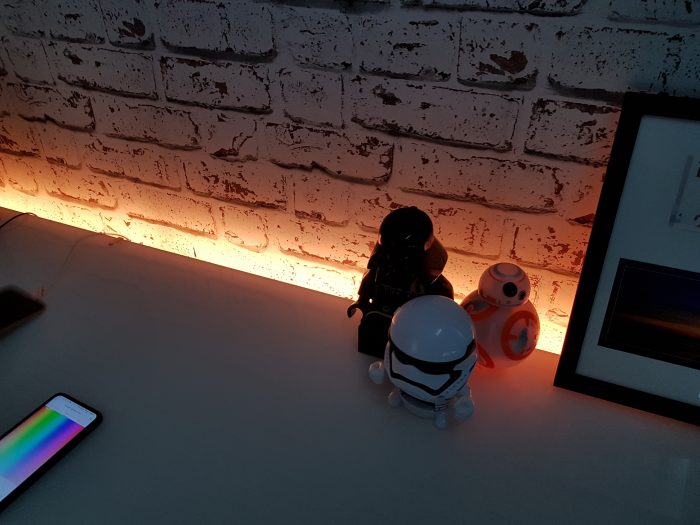 Yeelight Colour Lightstrip Plus Review
Value for money - 100%
Installation - 100%
Quality - 100%
App - 100%
Absolutely amazing. Brilliant price, brilliant construction and a great app which is flexible and clever. Loving this.