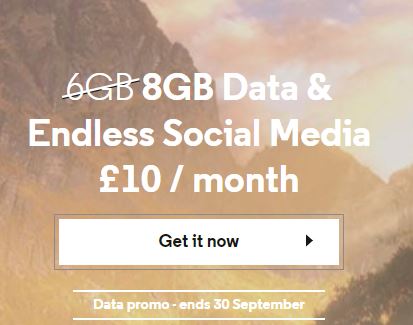 Fancy a SIM-only deal? This one is from VOXI, who are basically Vodafone. Same network, same masts, and all you need to do to switch is text PAC to 65075.
There's no longer any age restrictions with this network and they offer endless social media use, which means you can tweet, Facebook, Snapchat, WhatsApp and Instagram without it impacting your data. All their plans include endless (unlimited) calls and texts to UK numbers and you get EU roaming too.
Their new deal, available until September 30th, means you can get 8GB for £10 a month (it was 6GB for £10 a month). They're also offering 20GB for £15 per month (was 15GB for £15 a month) and you can also have endless video and music passes added as extras.
These deals are live until September 30th and you can change, pause or cancel your plan anytime. Head to VOXI for more detail.