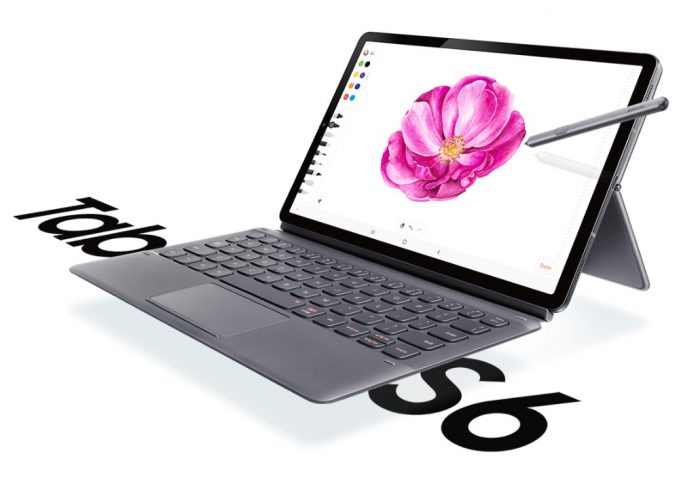 We're not in New York, but we've got tea, we've got chocolate and we've already got a sneak peek at one of the two devices that Samsung will be showing off next week. It's the new Galaxy Tab S6 and a new Samsung Galaxy Watch.
Now, whilst tablets might no longer be on your radar, the Tab S6 is well worth your attention. It'll arrive in three colours (Cloud Blue, Rose Blush and Mountain Grey) and has a 10.5″ 1600 X 2560 WQXGA Super AMOLED screen. There's two rear cameras (a 13 megapixel normal and a 5 megapixel ultra-wide) plus an 8 megapixel selfie shooter.
It's powered by the Qualcomm Snapdragon 8150 CPU (up to 2.4GHz) with a 7040mAh battery and comes in two variants – one with 6GB RAM and 128GB storage plus an 8GB RAM model with 256GB storage. You can whack in a microSD too.
That battery should last for a full 15 hours of video playback. You can charge quickly via the USB-C charging port or go for a POGO Charging Dock.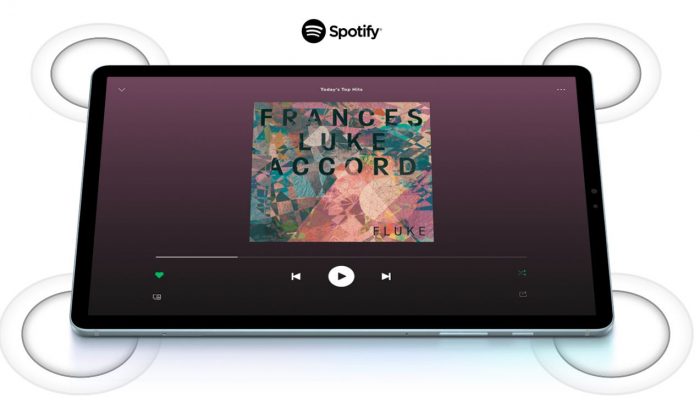 Connectivity-wise you're looking at Bluetooth 5.0, USB-C, WiFi (dual band) and 4G. It's powered by Android 9 (Pie) and packs some serious sound credentials thanks to AKG and Dolby Atmos. Sound is pumped out via quad speakers.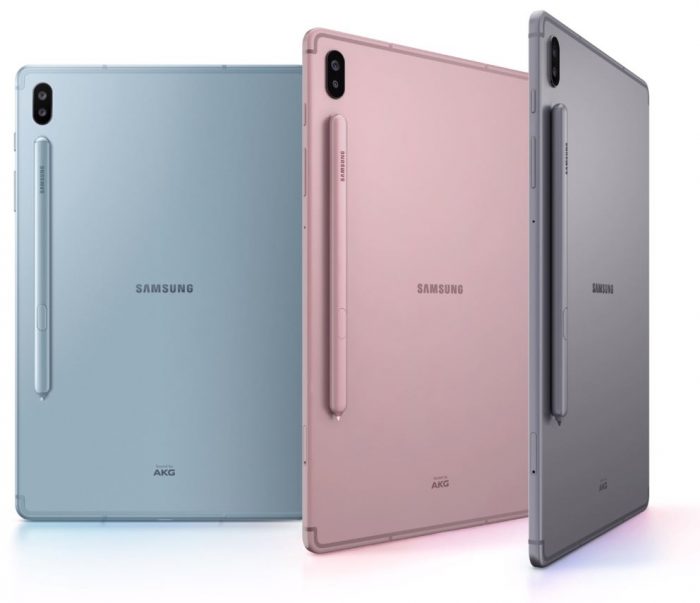 The S Pen sits inside a subtle indent on the rear of the device. It also comes with transparent notes and "air actions" so that you can control your tablet or steer presentations with hand gestures. There's a keyboard, which you can see above, available to buy separately. This delivers a full "PC-like" experience of the Samsung DeX, but in a slim tablet. Add this BookCover Keyboard and hit a dedicated key to get into DeX access. A HDMI cable lets you connect to another display too.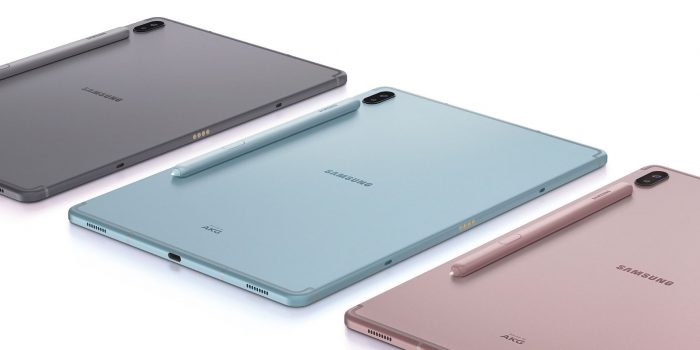 The Galaxy Tab S6 also gets an in-screen optical fingerprint scanner and has the multi-layered Knox security platform.
Want to see more? Well, a video or two is definitely the way forwards 🙂
https://www.youtube.com/watch?v=yilbQbIm7UU
https://www.youtube.com/watch?v=qKnlnLMfsyY
Despite all the specs and the details now sitting on the Samsung website, the proper, official launch won't be until August 5th. We'll bring you more information on that new Galaxy Watch when we receive it.
Samsung tell us that you should expect the Galaxy Tab S6 "late August" in select markets. The full press release is available on the Samsung website.