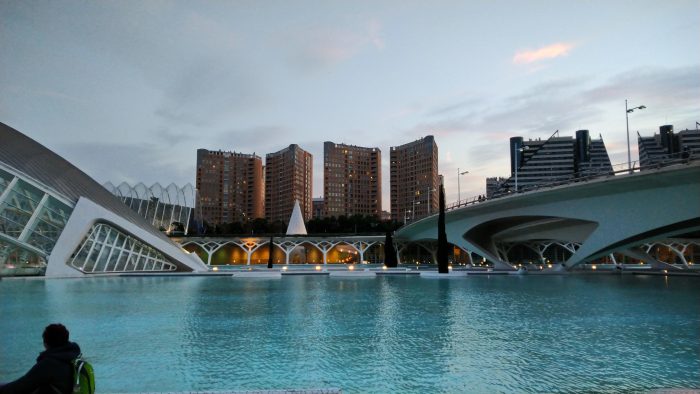 Here in the evening sunshine, Asus conducted quite possibly the most relaxed press launch I have ever had the privilege of attending.
A large part of the announcement was put aside to detail the Qualcomm Snapdragon 855 CPU. A lot was said about it, but I can distil it down to being generally quicker, more efficient and with AI baked in.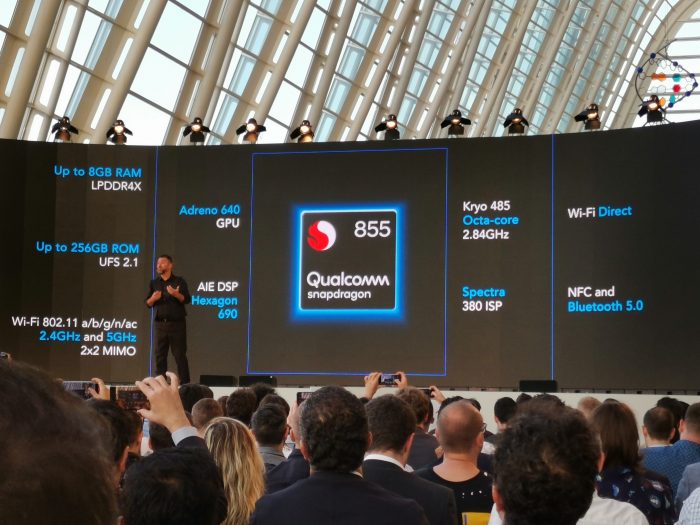 The phone itself has been built "for those who want to create content and for those power users who expect the best from their smartphone". In addition to that CPU, they're also "killing the battery anxiety" by adding a high capacity battery with quick charge combined.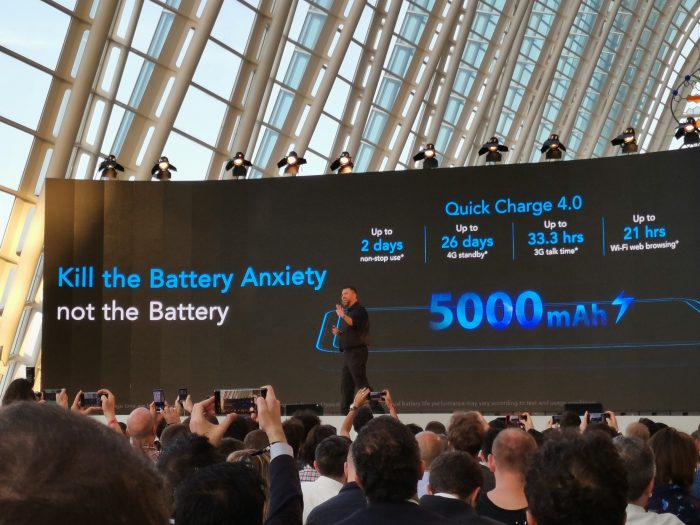 The result is a 5000mAh battery (yes, 5000mAh) and Quick Charge 4.0. That'll give you up to 2 days of battery life.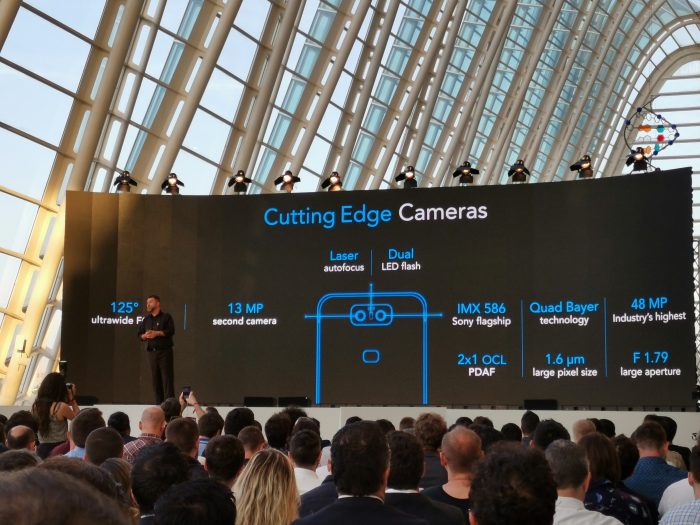 As for the cameras, there's a 48 megapixel shooter and a 13 megapixel shooter pulling double-duty, with pictures from the ultrawide 13 megapixel lens and the f1.79 48 megapixel Sony lens being combined to produce the shot. Asus told us how this dual-camera setup was "all that was needed" to get a great photograph, and one that looks great in any light setting.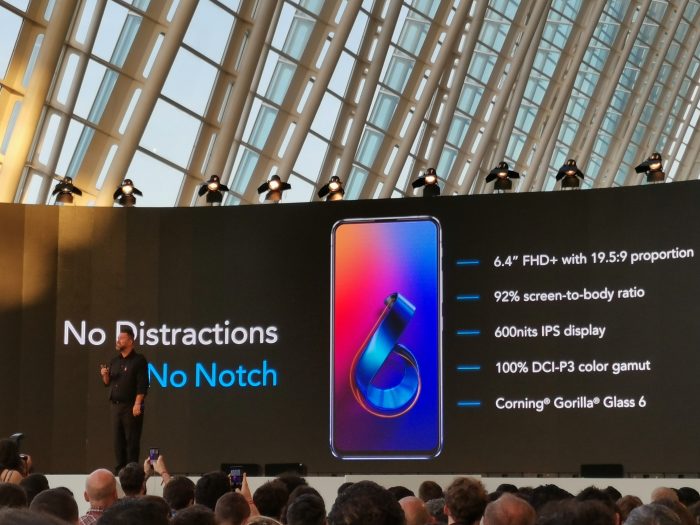 Other specs include stereo speaker, a USB-C charging point and a triple SIM / microSD slot.
It has a 6.4″ Full HD+ 19.5:9 screen which manages a 92% screen-to-body-ratio because there's no notch. It also has a 600nits IPS display and is protected via Corning Gorilla Glass-6.
Wait, no notch?
That's because there's no front camera.
Wait, no front camera?
Nope.
Prepare for the party piece. This is where things get fun. The camera setup on the back – that flagship top-end 48 megapixel lens and that wide-angle 13 megapixel unit.. they flip round to face you, coming out of the rear panel, rotating round and locating themselves directly at you.
Thus you get all the goodness of the rear camera setup, but facing you. Even better – you don't have to do a full 180 degree flip. You can stop the rotation wherever you wish, meaning that you can do a 90 degree sweep and use the camera to take a shot in a whole new way.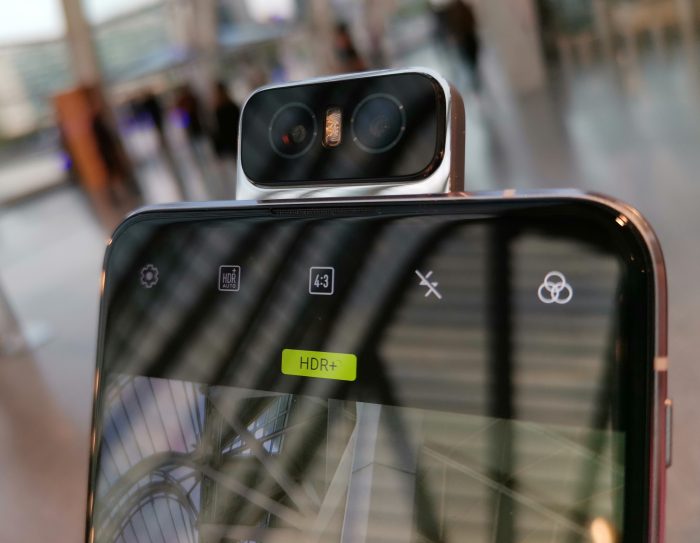 Very clever that, although it did immediately make me worry about sitting opposite people on the Tube. 🙂 Having the camera set at 90 degrees means you can put the phone flat and see what's directly in front of you.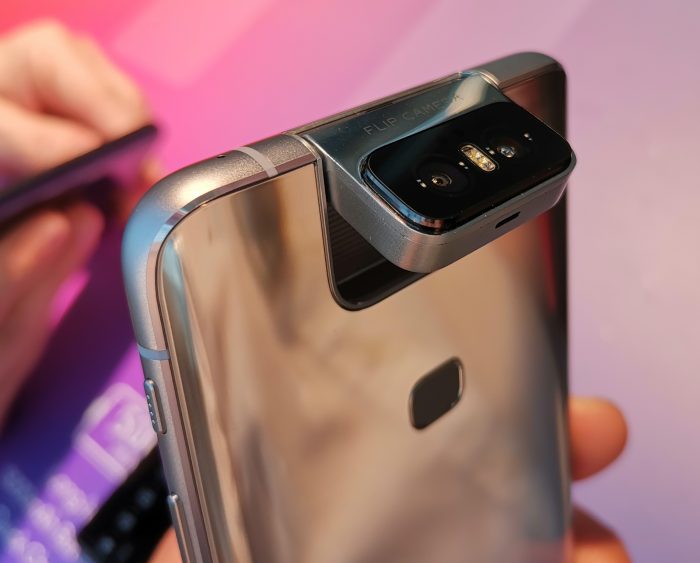 In action this is really rather cool and I loved the "soft close" when it completed the move. I was, however, a little concerned about how much mechanical complexity had been added. There's 13 gears here, which is far more than is needed for something like the pop-up camera we saw on the OnePlus 7 Pro camera. The people from Asus are keen to show that you can do far more with theirs though, and obviously angle the cameras however you see fit.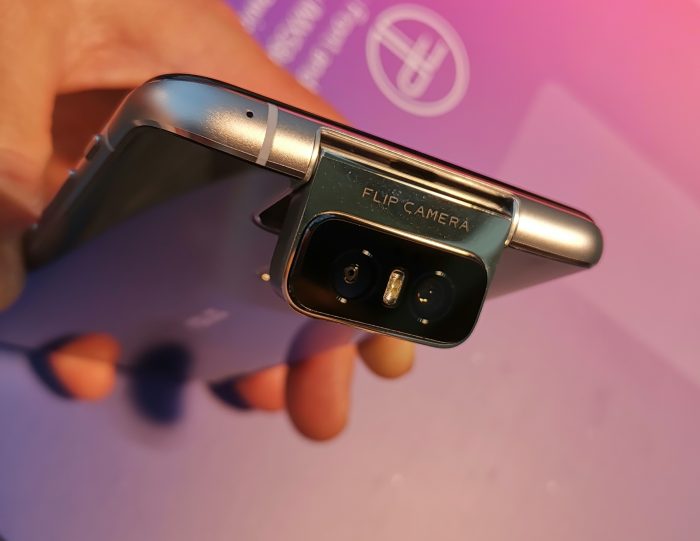 OK, specs then, and this comes with there will be a few versions. The base model has 6GB RAM with 64GB storage, or you can pay a bit more and have 128GB of storage. Then there's an 8GB RAM version with 256GB of storage but, wait up because….

…all of them not only have two SIM-card slots, but you can also drop a microSD card in. Yes, a microSD card. That's brilliant really, and means that you can probably just go ahead and get yourself the 6GB / 64GB version and then whack a massive microSD card in. Boom. Done.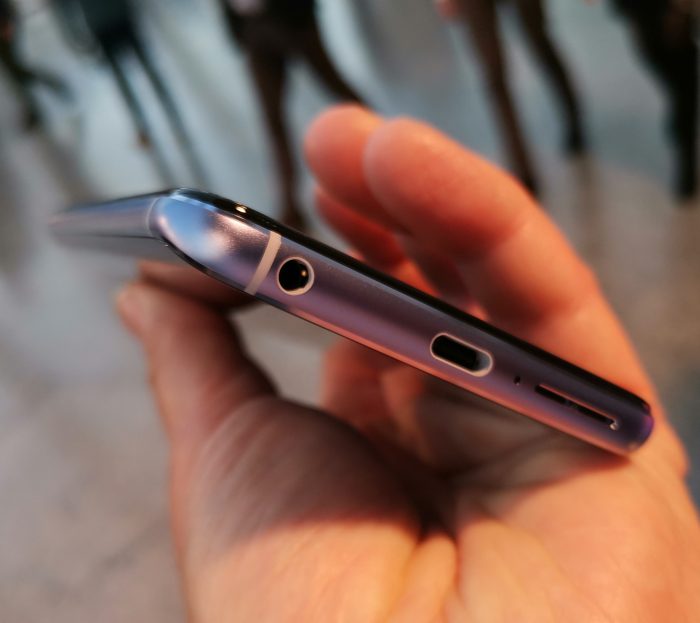 Stereo speakers are included, as is a USB-C slot and a regular old-school 3.5mm audio jack.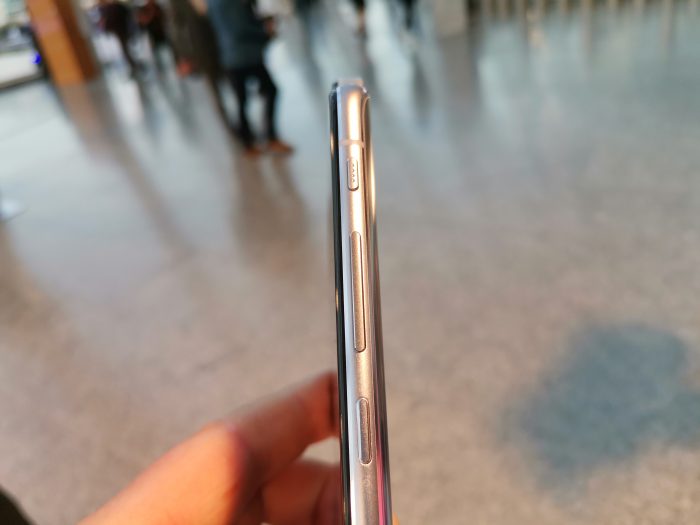 ASUS Chairman Jonney Shih, who is one cool cucumber let me tell you, told us..
ASUS ZenFone 6 is the ultimate illustration of our passion and persistence for innovation and technology. It is an emblem to honour our hard-core enthusiast fan base and a tribute to our relentless engineering origin — one that derives from extreme hunger to shatter the status quo. We confronted four of the most fundamental challenges of smartphones: screen, camera, battery, and performance. We believe we provided the best ever and most extraordinary solution. ASUS ZenFone 6 is designed to Defy Ordinary without compromise.
Pricing is as below, and we've being told that this will translate exactly into UK pricing, however we're trying to confirm this and we're awaiting confirmation.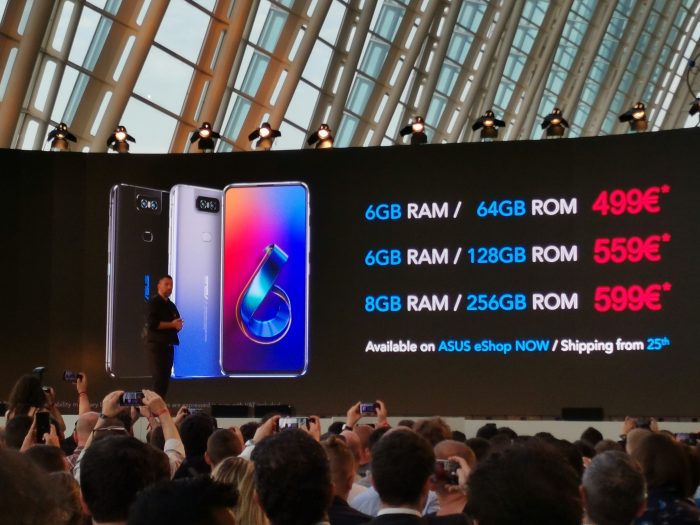 Will update shortly..