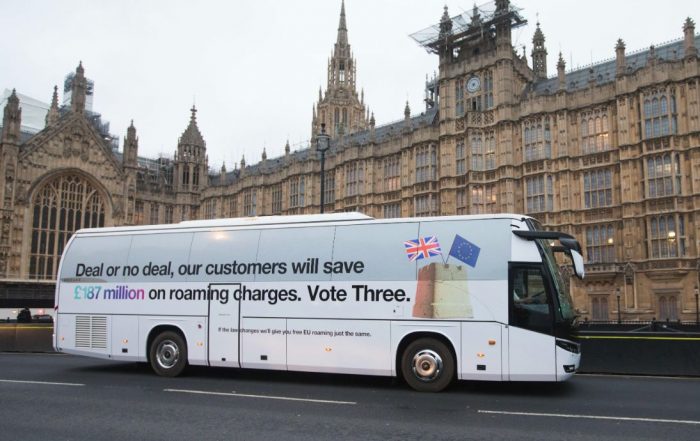 OOoohh… bit dangerous this. Driving a bus round with promises written on the side. How much do we believe that ? 🙂
So, whilst Parliament goes into a full-on meltdown about a Brexit which nobody can agree on, Three have driven up and down the road outside to reaffirm their commitment to EU roaming, no matter what may happen in the next few days.
The network has revealed it could save customers £187 million worth of mobile roaming charges if the law changes after Brexit. They claim that, whether it's a Hard Brexit, a Soft Brexit, a Crunchy Brexit or a Sugar-coated Brexit, they will continue to give their customers included EU roaming.
After March 29th (or another date if it's extended, or if we ever leave at all) travellers to Europe could see roaming charges re-introduced as EU rules and regulations get thrown in the bin.
Dave Dyson, CEO at Three, tells us..
Three is the global leader in international roaming and now offers roaming at no extra cost for its customers in over 70 destinations including Brazil, Singapore, the US and Australia. We're committed to eradicating excessive roaming charges and will retain this great customer benefit regardless of Brexit negotiations allowing our customers to continue using their usual allowances when they travel within the EU.