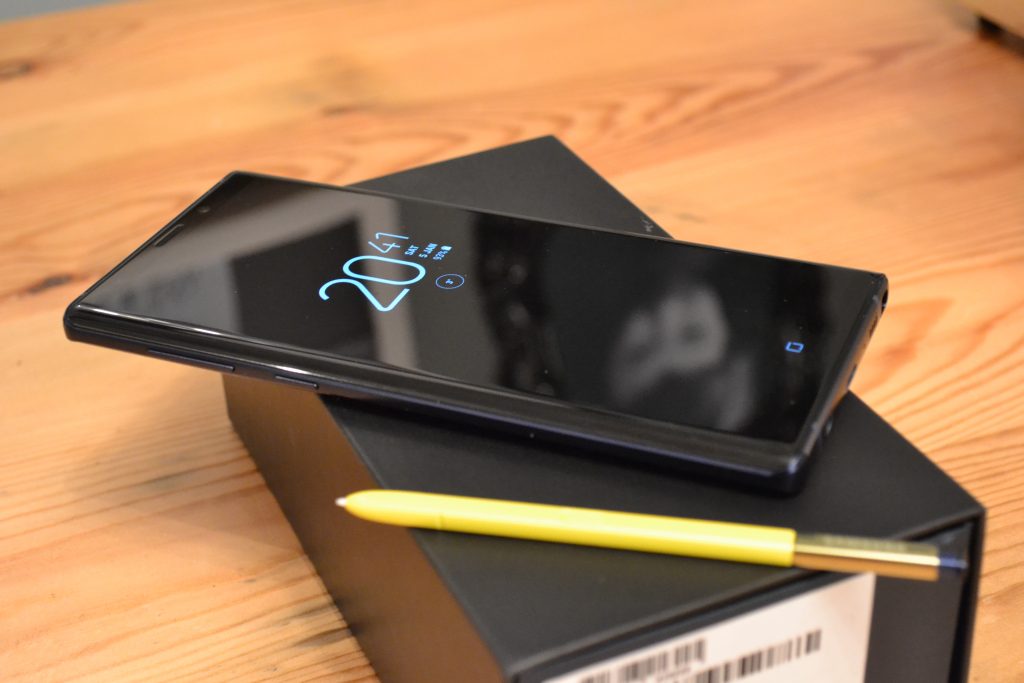 Specs:
Review Price: £899
6.4-inch Super AMOLED HDR display
Snapdragon 845/Exynos 9810
12-megapixel variable aperture main camera, 12-megapixel secondary 2x zoom camera
6GB/8GB RAM
128GB/512GB storage
4000 mAh battery
Android 8.1
S Pen w/ Bluetooth
Good Points:
Absolutely gorgeous screen
Fantastic battery life
Build quality
Loads of features
Wireless Charging
3.5mm headphone jack is still here
Fully waterproof
S Pen
No notch
Samsung Dex
Bad Points:
Expensive
Still not on Android 9
S-Pen a little fiddly to get out, worse in a case
Quite a bit of Samsung bloat
Bixby Button and Bixby Home just annoying
All glass construction
A bit of a fingerprint magnet
Face Unlock not as quick as others
Fingerprint sensor fiddly to find, but improved massively once in the Spigen Rugged Armour Case
Design:
If you've seen the Note 8 then you've seen the Note 9. Samsung has kept the overall design similar, which let's be honest, isn't entirely a bad thing. Although the curved glass front and glass rear design has been around for a year, the device doesn't feel dated and looks modern. Despite being copied by many others, none seemed to have achieved the highly engineered finish that Samsung has achieved.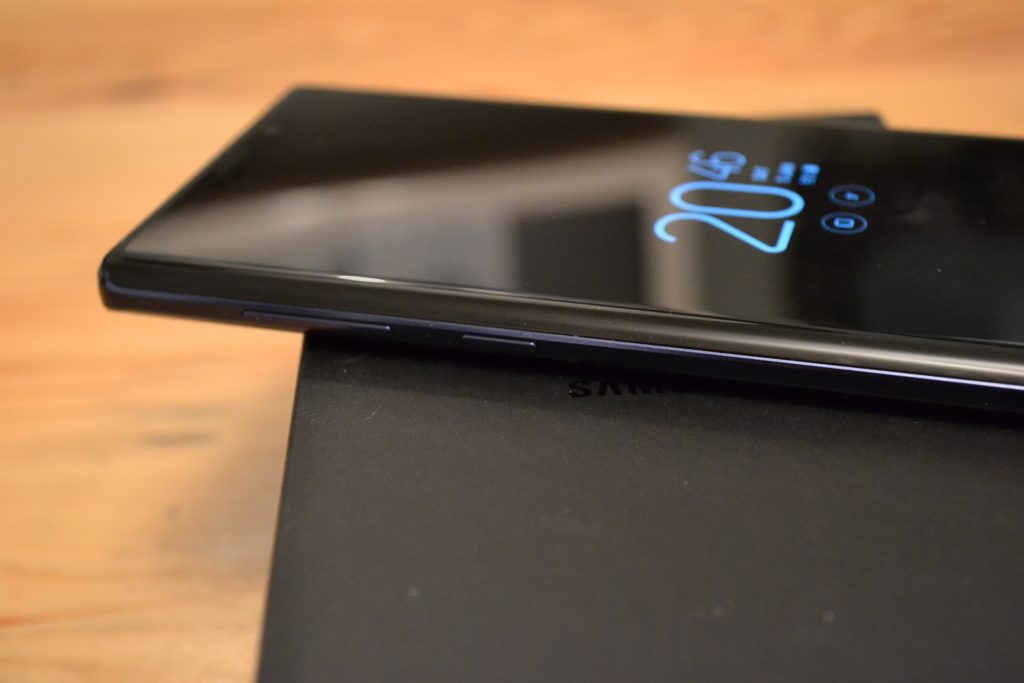 The problem with this all-glass design is it remains a complete fingerprint magnet, and the whole time of this review I was terrified of dropping the device. That was until I fitted a Spigen Rugged Armour case. A side note on this case, not only did it provide some drop protection, it gave the phone an overall better feel, as I found the Note 9 sometimes an uncomfortable phone to hold mostly due to the rather sharp chamfered rim. The Spigen case made it a bit smoother and softer, and I found that finding the fingerprint sensor was dramatically improved with the case fitted.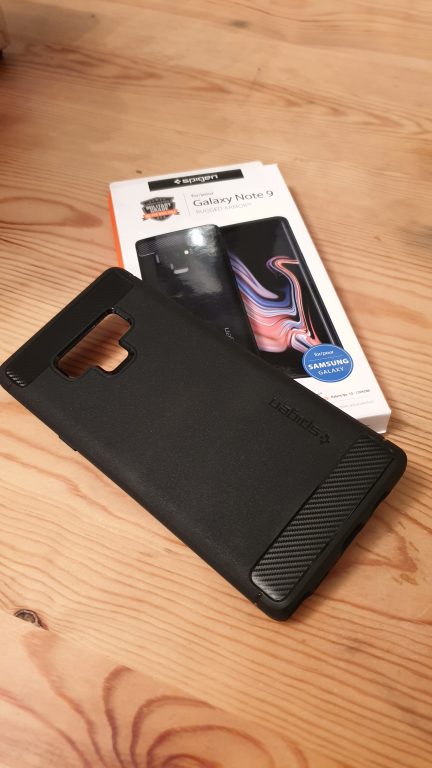 The glass back enables wireless charging – a Galaxy staple. The device also has IP68 water resistance rating, but keeps the headphone jack and expandable storage. Thankfully, the Note 9 foregoes a notch, that annoying cut-out that features in the display of so many 2018 smartphones.
One issue I had with the design of the Note 9 is the Bixby button. It sits just below the volume key, and I constantly kept pressing it rather than the volume down button. This, in turn, launched the Bixby app which to be honest, I found to be completely useless. I did find an app in the play store called bxActions, which gives the ability to remap the button action. I set mine to launch Google Assistant.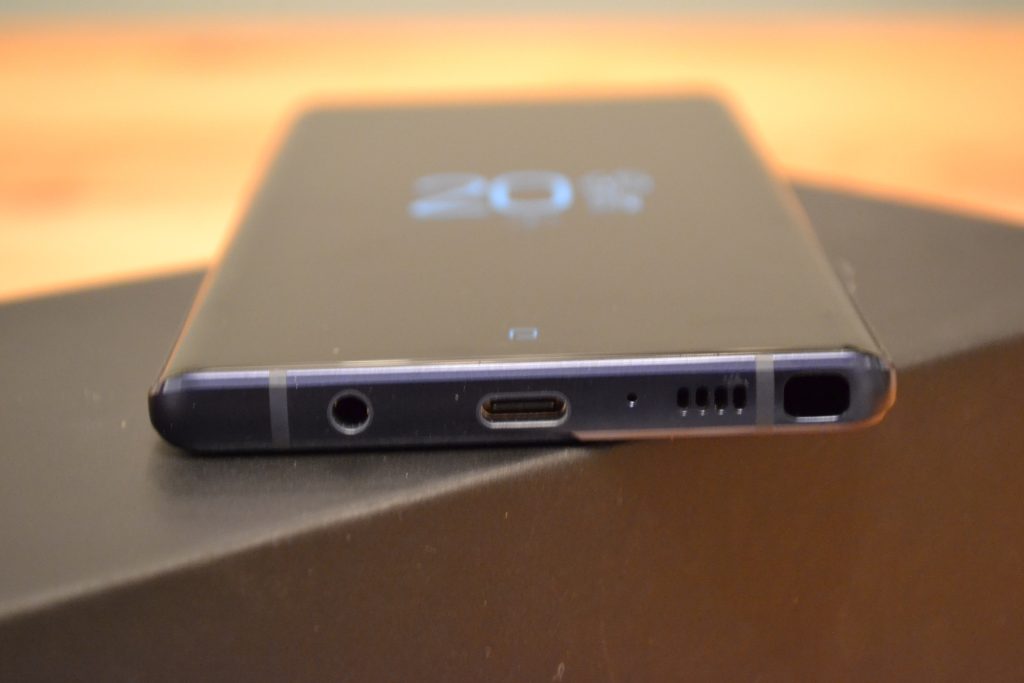 Display:
The display on the Note 9 is a 2960 x 1440 panel, with sloping 'Infinity' edges and support for HDR content. It is truly a stunning thing to look at, and you won't find a better display on any current phone. Samsung produces its own displays (alongside those of other phones, such as the 
iPhone XS
) and they are the best for a number of reasons.
The Note 9 uses an OLED panel. Compared to LCD, OLEDs use less power and only power on the required pixels, therefore displaying perfect blacks. This means that when you're watching content with plenty of dark scenes, they'll actually look black rather than slightly washed out. In the default mode, everything looks vibrant and punchy, without sacrificing too much colour accuracy. There might be slightly more punch to reds than you'd see in real life, but I think that's more pleasing to the eye here. In their infancy, OLEDs on phones suffered with poor brightness and as a result had difficulty with poor outdoor visibility. That's not the case here: the panel is ridiculously bright and I tended to not even feel the need to push it past 45-50%. The brightness will also boost in super-bright environments, making the display easy to read.
S-Pen:
The defining feature of the Galaxy Note Series is the S Pen, and this still remains one of the Note's biggest selling points. The Wacom-powered stylus is now Bluetooth enabled, and comes in a few different colours. For example, the Ocean Blue Note 9 (which is the colour I have for review) comes with a yellow S Pen, while the black and lavender handsets sport colour-matched S Pens.
In use, the S Pen is as good as ever – it's fluid, smooth and uber-responsive. There's almost no lag when you're writing, and the fantastic palm-rejection software means you can write naturally without accidentally drawing over other parts of the display.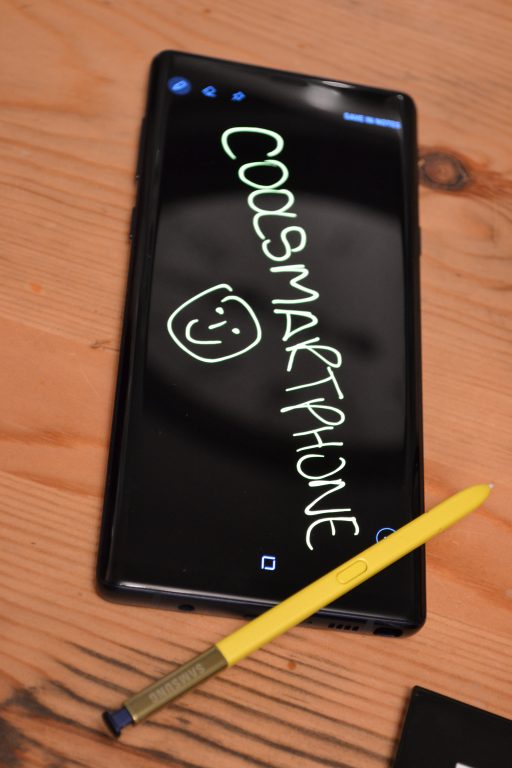 The latest addition to this year's Note is Bluetooth, and this lets you perform functions with the pen when it's further away from the device. I thought at first this was just a gimmick. For instance you can use it as a shutter button when taking photos, which I did use a lot typically when taking family pics. The Note 9 was in a mount and lined up, and I could then get in the frame and just click the S-Pen. Long exposure meant I was away from the phone before starting the process. My favourite S Pen feature remains screen-off memo. With the display off you can pop out the pen and immediately start note-taking. Slide the pen back in and the note saves itself.  It's a slick process that is genuinely useful.
I did find that the S-Pen was a little fiddly to get out, (I really should stop biting my nails), and this was exaggerated once I'd put the Note in a case.
Performance:
My review unit is the European model, meaning it has Exynos 9810 chipset, 6GB of RAM and 128GB of storage. Our friends over the water in the US get the more common Snapdragon 845 variant. Even though the Note 9 isn't the first handset to be released with these specs, they're still pretty much up there with the best you'll find in any device currently on the market.
Out of the box, I found the Note 9 was lightning fast, but Samsung devices are renowned for slowing down dramatically after time, however long-term reviewers have reported that this is not the case with the Note 9 as time goes by. The lag that dominated Samsung's software in previous years has been banished, replaced by a smooth UI that reacts instantly to your every swipe and tap.
 If you're interested in how the Note 9 scores in synthetic benchmark tests, check out the tables below.
I haven't used a Samsung device for a number of years now (I've been well and truly in the OnePlus camp), the last one being a Note 4 with the dreaded TouchWiz interface. This has now being replaced with the 'Samsung Experience' and is set to change again with Android Pie to Samsung One UI. I did find using this interface a refreshing change, swiping up from the homescreen to view your apps and down to your notifications is fluid and natural, while icons and widgets fit very much with the aesthetic of the phone.
But there's always a but. I found there was a bit too much bloat, and too many Samsung specific apps, meaning the doubling up of similar apps. There are two browsers, email clients, app stores, clocks, calculators and payment services. You've also got two voice assistants: Bixby and Google Assistant, and a Biby homepage which just like the Google version, is to the far left. I just couldn't get on with Bixby and I disabled it at every opportunity.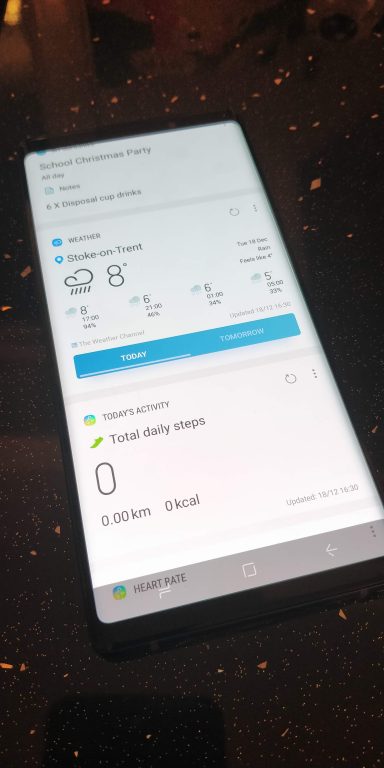 That said there were some handy features within the interface. Being able to alter the screen resolution to save power, as well as being able to turn on the performance mode to stop extraneous processes when gaming, along with Samsung's battery saver modes are great, with multiple options for customising areas that affect usage. For instance, you can tweak by how much it lowers the brightness, throttle the CPU speed, or temper background data usage. It also tells you how much extra juice you'll gain by enabling these modes – perfect, if you're trying to stretch the battery life. I found the battery life more than acceptable and I was able to use the device for 15.5 hours (I'm only a light user) and still had 40% battery left.
Biometric security is present here on the Note 9. There's a  fingerprint sensor on the rear, plus an iris scanner on the front; and a facial unlocking system. This is going to upset some people, but I found that my OnePlus 5T unlocked quicker on both the fingerprint and facial unlock systems. I know that the systems are more secure on the Note 9. I found iris scanning was slow and needed a bright red light to burst from the phone every time it's used.
Samsung Dex is present in the Note 9. I originally thought that I would need the Dex dock to take advantage of this feature. But no, I just connected the Note 9 to my TV using a USB Type-C to HDMI lead, and I was given the choice to either mirror the phone screen, or use the Dex operating system. Its a pretty neat system for watching some media while out and about, and keeping the young one happy.
Camera:
The Note 9 has a new camera system on the back. This is now the same setup as the Samsung Galaxy S9 Plus, its a 12-megapixel camera with a variable aperture (f/1.5 + f/2.4). Next to it is a second 12-megapixel camera, this time with a longer focal length for 2x zooming. The main sensor has 1.4µm pixels, and even has a small of RAM allocated to speed things up. Both the rear sensors have optical stabilisation. The biggest feature with the camera here is that dual aperture. This lets the camera change depending on the environment: when it's dark, the lens will open up to f/1.5 to let more light in (essentially giving you a brighter picture), and when there's more light available it'll switch to f/2.4.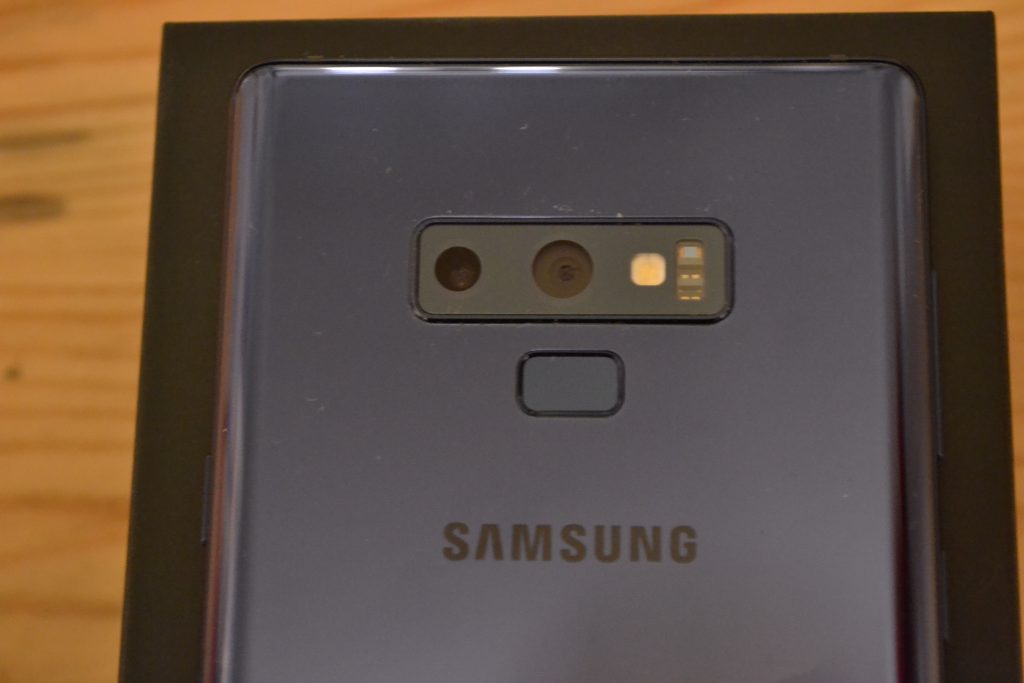 Some examples:
All the usual video recording features are present as well: video can be recorded at up to 4K resolution, along with 960fps Super Slow Motion, normal slow motion and Hyperlapse are also present. 960fps Super Slow-Motion https://youtu.be/4Z9YuRlgBBg
Hyperlapse Footage https://youtu.be/f2jDDIO_d3s
Conclusion:
I absolutely loved my time with the Note 9. Yes, I know it's nearly double the price of my beloved OnePlus devices, but it's just a truly gorgeous screen to look at, with a fantastic feel in the hand ( improved in a case). The battery lasted me the whole day with plenty to spare at bedtime. The 3.5mm headphone jack is still here and even though the S Pen has its own silo, the device is still fully waterproof. The S Pen adds some nice features, but not something I would use all the time. Although there's no Android 9 Pie, it is rumoured to becoming available in Feb this year and that will add the Samsung One UI. Yes its expensive at £899, and we all know that in a few months its will be half that, and at that point I'll be seriously looking at getting one.
Thanks to Vodafone for the review device. If you fancy one, head to their product page here.