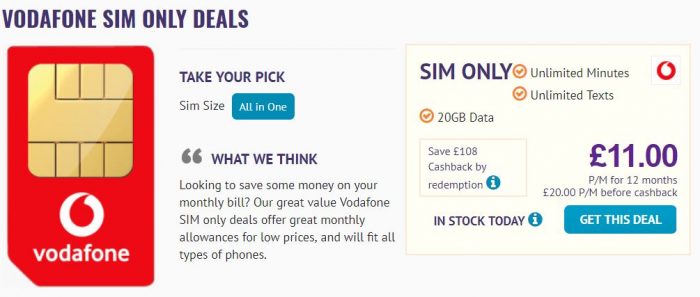 Now normally I'm not a big fan of these offers where you have to send your bill off and claim cashback, but you can't really argue with the pricing on this one.
It's a Vodafone SIM-only deal – 20GB of data, unlimited everything else and it normally costs £20 per month for this 12 month deal. However, right now you can get it for £11 per month via "cashback redemption". To do this you'll need to send your mobile phone bill into the E2Save people at months 4, 6, 8, 10, and 12, but when you do you'll get £21.60 back each time – a total of £108 cashback over the year.
Like I say, a bit of a faff, but for £11 to get 20GB, that's not bad.
They're also doing the Samsung Galaxy S9 with a free 12 Month Tastecard for £28 per month with 9GB data on EE.