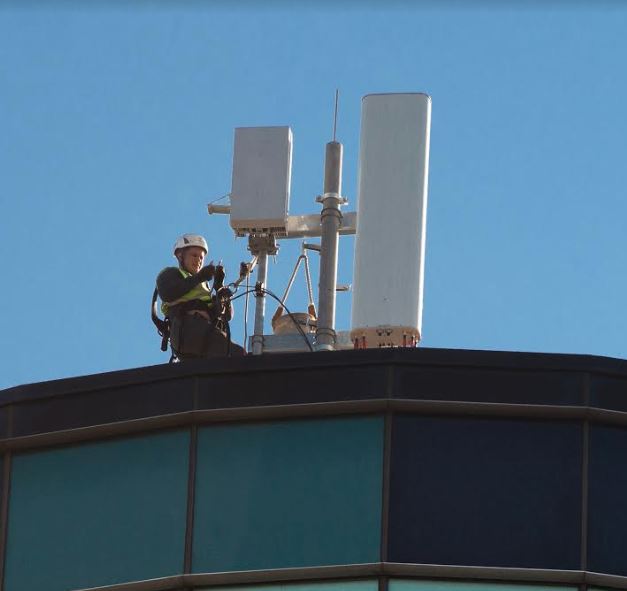 After the trials in April, Vodafone have become to the first network to switch on "full 5G" in the UK with live traffic going over a site in Salford.
OK, so you can't use your smartphone on super-fast 5G just yet, but instead this mast is helping provide bandwidth and data for the new Vodafone innovation centre, which serves media and tech companies in the area.
The mast is hooked directly into the Vodafone converged fibre network and provides coverage to MediaCityUK and the surrounding area. Wireless routers are used to connect and there's seven more cities lined up for 5G this year. The network is also inviting local companies and organisations to register their interest in trying the 5G, and the innovation centre will be equipped with 5G wireless routers, gigabit-capable optical-fibre links and Internet of Things (IoT) services.
Vodafone tell us that when 5G smartphones are available, you'll be able to play 4K-resolution games on the move with little or no lag at all.
Vodafone UK Chief Executive Nick Jeffery, states…
e are leading the roll out of 5G across the UK, starting with Greater Manchester. A further six cities – Birmingham, Bristol, Cardiff, Glasgow, Liverpool and London – will shortly receive full 5G too. Next year, we will bring 5G to the Scottish Highlands, Cornwall and the Lake District, among other locations.

We have worked closely with the Mayor of Greater Manchester, Andy Burnham, to help ensure the city is not only an economic powerhouse, but also a digital powerhouse. That is why we are making a multi-million pound investment to offer world-class communications to Greater Manchester's thriving media and tech community, consumers and our own 1,000 or so employees who work there.