The Introduction
BlackBerry is a brand that has been around for so many years now. There aren't many phone-fans who won't remember a cherished BlackBerry device they may have had in their time.
The older 2G models and some of the 3G ones were more about business people keeping connected with clients on the move. Perhaps completing huge deals and big sales. They needed an always-connected smartphone. However, it was the surge of social media content that brought a whole new market to the company and their future.
I have previously been able to get my hands on the BlackBerry KeyONE as well as the BlackBerry Motion to review here on CoolSmartPhone, so when the company reached out and offered me a chance to cover the new Key2, I knew I had to jump at the chance.
I was lucky enough to get a brief hands-on with the Key2 before it was officially announced during a in London. While I did manage to get some coverage from there, it was the review device I was most looking forward to. When you actually get it in your hands, in a real-world test situation, you get a better idea of how good the phone really is.
The review was based on a retail unit, and was put under test for just over 2 weeks with an EE SIM card mostly connected to 4G, and WiFi when at home.
EE support the fastest network speeds in the UK, so I was able to test the modem in the Key2 to see how well it kept connected around different areas of the country.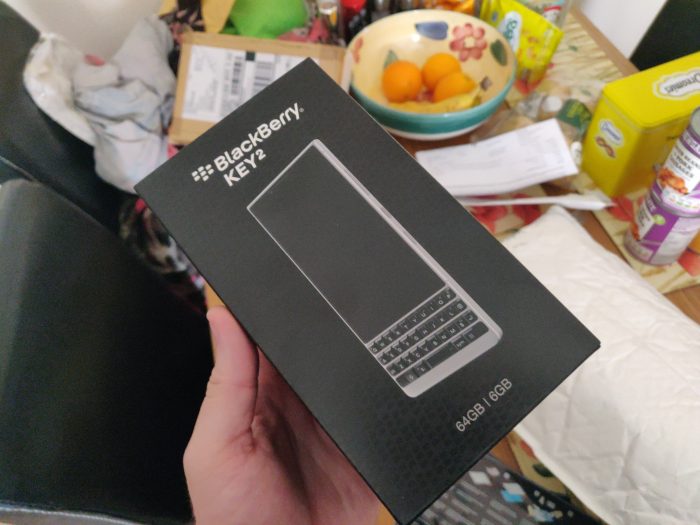 ---
Design and display
Design is an area that makes a BlackBerry a BlackBerry.
The Key2 features a 4.5-inch display with a resolution of 1080×1620. This is good indoors and readable in harsh sunlight, which is a big area for a smartphone.
The screen has been moved up a little to make way for the keyboard improvements which will be covered later in this review. Gorilla Glass 3 covers the front, making this super tough, yet not the most recent technology in screen protection. In most cases, you may not want to have a screen protector on. Personally I prefer a screen protector, however these are hard to come by. The thin film ones on Amazon ended up with bubbles or didn't go from full edge to edge which impacted the look overall.
Finally I found one on Amazon that was made from glass and also fixed the annoying issue found on the previous KeyONE screen covers which made the touch buttons stop working. This time there is a cut-out for the capacitive buttons and it works great.
Weighing in at 168 grams, the Key2 is roughly the same weight as the Samsung Galaxy S9, which is good, especially considering the premium materials used here.
A feature which is lacking, and some people will miss, is the IP rating for water resistance. You might be fine with the odd splash of rain whilst making that urgent call or sending a quick text, but do not push too hard with water. With no official IP rating you may end up damaging your expensive new smartphone if you take it near a pool or in a heavy downpour etc.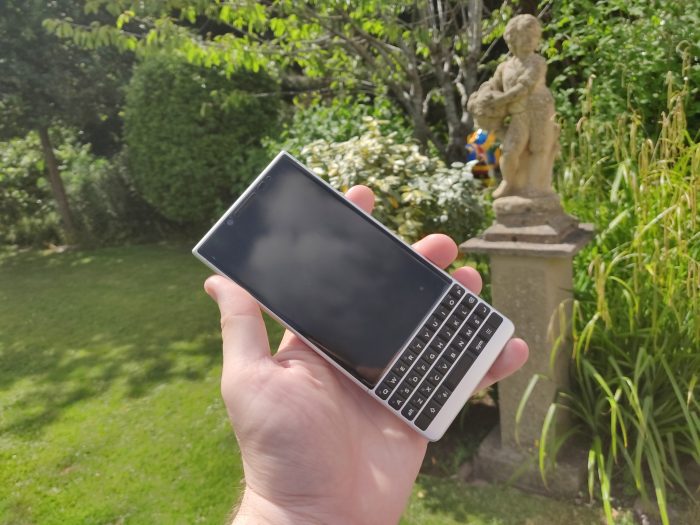 With glass covering the front, an aluminium frame running all the way around and a lovely diamond pattern soft touch back, the Key2 certainly feels premium to use and look at.
Up top, there is a front-facing 8-megapixel camera that records in a 1080p resolution. The main use of this will be for Snapchat, selfies and other social media services, so will be decent enough for a quick share.
There is no dedicated front camera flash, but the bright screen helps boost images in lower light.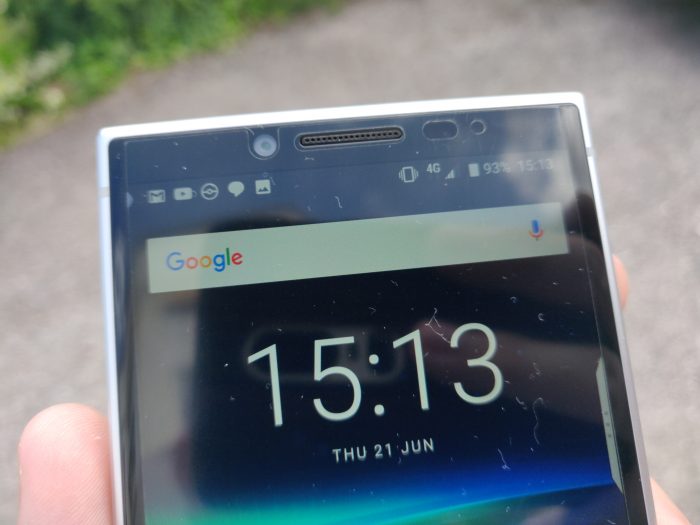 The Key2 features a 4.5 inch LCD screen with aspect ratio of 3:2, giving you a resolution of 1080 by 1620 pixels and ppi of 434.
The screen is decent for watching videos back from YouTube, although the strange ratio with the physical keyboard does make it a little less enjoyable than on a phone or such as the OnePlus 6. Sunlight conditions are a nightmare for lots of other devices on sale, thankfully the Key2 performs well even in direct sunlight or bright light.
Up top, there's an earpiece for voice calls and the front-facing camera, which as stated earlier, is 8 megapixels and enables you to record 1080p videos should you want too.
With the 4.5 inch screen in a strange 3:2 aspect ratio, I was hoping that the touch capacitive buttons would be removed and gestures used instead. Unfortunately those buttons still remain from the KeyONE.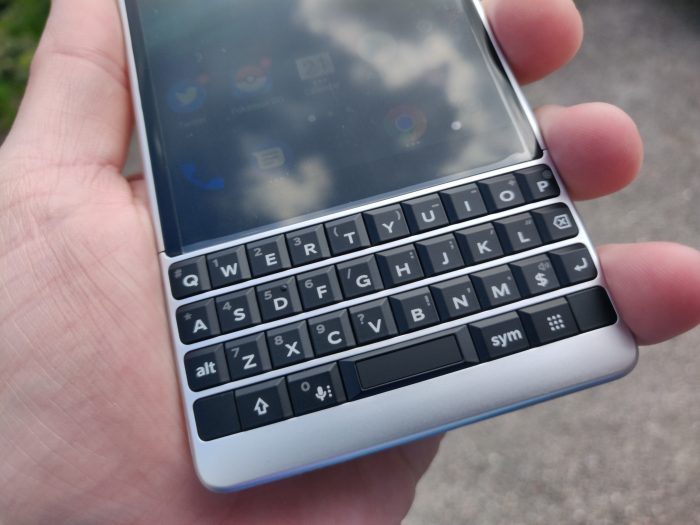 Under the screen you have the three capacitive buttons used for going back a screen, going home, and opening up the multitasking option.
Then comes the key part of this device (pun intended) and that is the 35 key physical keyboard with some hidden extra features.
The Key2 keyboard itself is 19% larger than the KeyONE, and with the new matte finish, it makes this one of the most enjoyable keyboards ever on a smartphone.
The company was looking to recreate the love found for the BlackBerry 9900 keyboard, which was so well-received all those years ago. Thankfully they have done just that.
Little hidden features I found include a fingerprint reader built into the space button. This allows for super-fast unlocking and payment in Google Pay. There are also sensors on the keys which means you can use like a trackpad. Just glide your finger up and down to scroll through a webpage or text. Teally handy. You also can swipe up on the left, centre or right areas to use the predicted text input. This takes getting used to, but does help speed up writing.
Lastly is the shortcut support and a new speed key for navigating quickly. As with the KeyONE, you can press a letter on the home screen and assign it to various options, such as quick launching apps. This is very handy when wanting to quick load your favourite app, but can be a pain when you just want to dial a number to call and have to go into the phone app first.
The new speed key is at the bottom, and takes the shortcuts idea to the next level. Hold it down and press the letter you assigned to quickly move between apps anywhere on the phone, no matter what you are doing.
This is very handy for say, texting friends about a meal out, opening your calendar to see when you are free etc.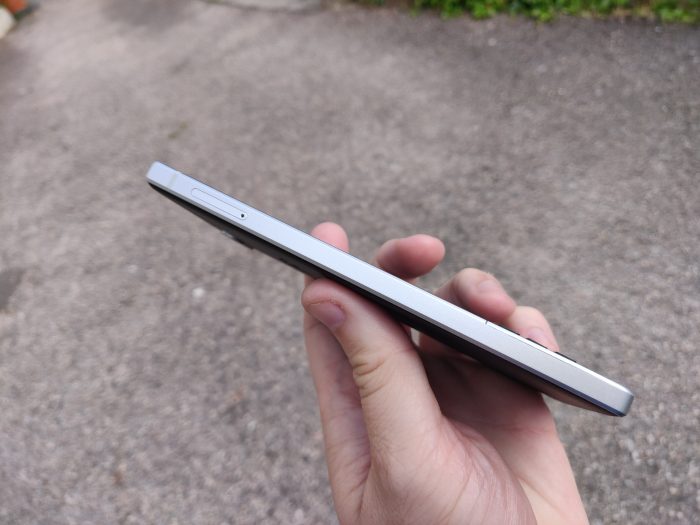 That strong aluminium frame adds the feeling of quality and class. The phone does not feel slippery at all, and I had no issues using it without a case either.
The left side of the device is pretty bare, with just the tray that holds the Nano SIM and microSD card if you want to use one.
Turning over to the right-hand side you don't get much. In fact, you don't get anything at all, just a clean aluminium body which blends into the display, making it almost seamless.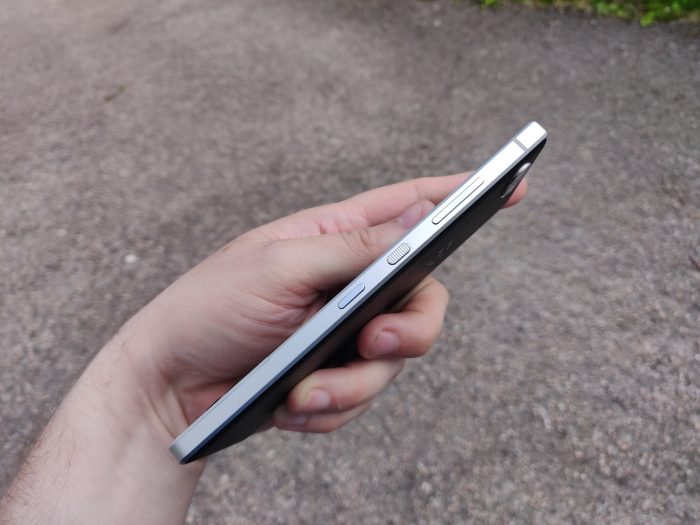 On the right-hand side, you get all the buttons. This makes it easy to access when in the hand. You have the volume up and down keys as with every phone, then the power key. This has a different design and feel to the other buttons which helps when you want a quick look at the screen.
Below this, you will find the "Convenience key" which gives you quick access to a task you assign to it. It's handy to have for your most used app, but with the new speed key on the Key2, the physical button on the side is not really needed.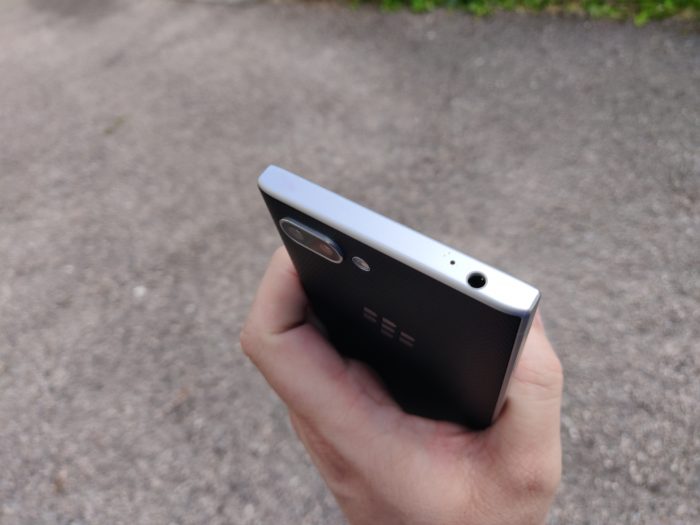 Up top, you have one of the built-in microphones used for capturing audio in video mode. It's also for noise cancellation, which we all take for granted, but is very important when in a phone call. There is also a standard 3.5mm headset port, so you can plug in a normal set of headphones to listen to music, audio in videos as well as taking calls.
TCL has taken feedback onboard about their previous headsets and has made a nice redesign for the Key2. It now sounds better than ever, and more comfortable.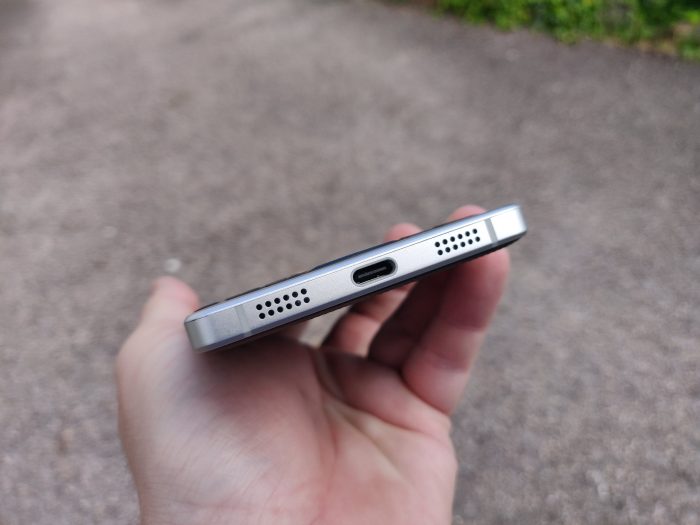 At the bottom, you have the loudspeaker setup, as well as the USB Type C port used for charging and data transfer.
Whilst lacking wireless charging, there is quick charging using the supplied cable to help top up your battery when needed.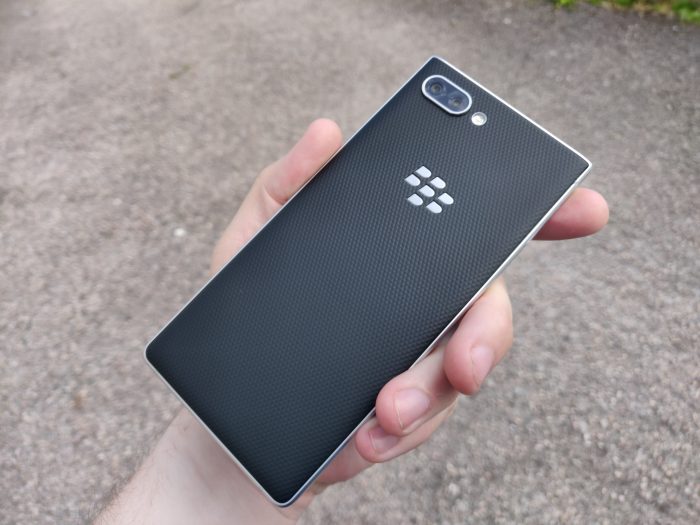 Turn over to the back and you can see the redesign. Dual cameras up top and a great new diamond non-slip patterned back. Its looks great.
There is the dual camera setup with twin 12-megapixel shooters. There is also a dual-led flash for improving those low light conditions, as well as the ability to use it as a flashlight via the drop-down menu.
The camera is based in the corner so when you hold the Key2 like a camera on its side, your fingers don't get in the way.
Cameras
When it comes to the camera, this is not an area BlackBerry will be winning any awards in, but neither is it trying to.
Whilst other flagships such as the Galaxy S9, Huawei P20 Pro and OnePlus 6 are gunning it out to be best smartphone camera, the BlackBerry normally concentrates more on productivity first and then everything else.
This year is a little different though. The company has spent a decent amount of time looking at the camera, and in a first for them, have introduced a new dual camera setup on the back.
The quality of the captured shots is actually pretty decent for most people. In sunlight, you can capture a lot of detail and colour in your subject, and the addition of the telephoto lens on the back allows for some great bokeh shots. You also get a 2-times optical zoom, so you can get even closer to your subject than ever before.
Low light is where the Key2 starts to struggle. Whilst photos can be fine to share on social media, you would not want to use as your only camera device. It struggles to get as much detail as some may like and can disappoint when compared to some other top-end devices at this price point.
The camera UI is good but could be confusing for some when you see all the options on the display at once. It does feel strange holding the Key2 in landscape mode and using the camera, mainly due to the large QWERTY keyboard taking up half of the body. This is when it comes to a camera focused smartphone, having on-screen keys only makes a big difference.
If you are buying a smartphone for the camera, the Key2 will not be the phone for you. However, if you are a diehard BlackBerry fan, then you will appreciate the upgrade from the older KeyONE model.

The dual 12-megapixel cameras on the back have f1.8 and f2.4 apertures, which allow for the fancy but now-common depth of field shots for portraits. Just as important though is the fact that it allows for 2x optical zoom.
Whilst we see the additional camera helps keep BlackBerry on track with the rest of the industry, the lack of OIS still impacts the low light photography potential, so this is very much a daytime shooter.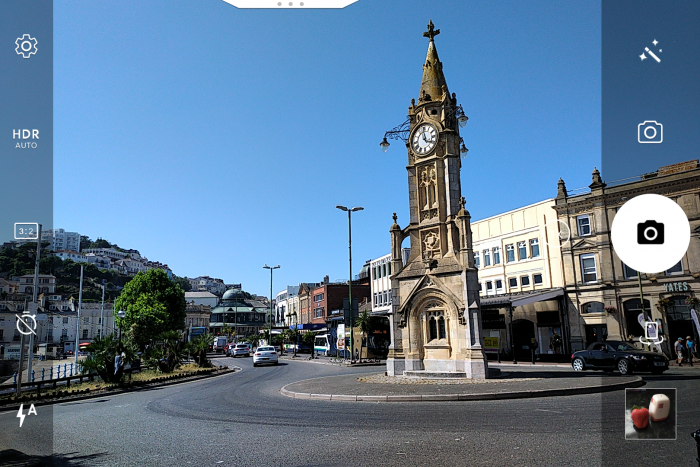 The camera UI is easy enough to understand for most people with all main options either down the left or right side. There's no need to browse through loads of menus to get set up, which is handy.
Across the left side, you have the options to control the overall settings, HDR mode, the aspect ratio of the photo, and the timer, as well as the flash options.
Look over to the right and you have the filter button, the option to switch between different modes such as video, slow motion, panorama etc. Below that is the button to switch between front and back cameras, and last but not least, is the preview of your last taken photo. Tap this and you get into the gallery.
When it comes to video recording you have quite a few options to pick from, right up to a maximum resolution of 4K at 30 frames per second (fps). Quality can be decent, again in good enough lighting conditions. Take the video mode into an evening and just like the photo mode, it may struggle due to no OIS.
Performance and battery
Performance is an area BlackBerry are well known for. This is why many people still stick to using one as a main device with its excellent battery life which lasts well into two days most of the time, plus it never seems to slow down.
As a 'heavy user', I did wonder if the Key2 would be up to the job. Thankfully the 3500mAh built-in battery was more than up to the task. It often lasted me well into that much-fabled second day of use, and that was including multimedia uses such as Spotify and YouTube.
The processor may not be the top of the range 845 from Snapdragon, but the 660 does a decent job at the market BlackBerry is aiming at. Plus, having a lower power consumption and more efficient processor inside helps to get that amazing battery life that many reviewers will have been talking about.
Performance is also decent thanks to the included 6GB or 8GB RAM thrown in for good measure. This is more than a lot of current flagship devices have in their list of specs, and it makes a massive difference when it comes to multitasking and loading lots of apps in the background.
Here you benefit from 64GB of storage plus support for MicroSD cards. You also get that 6GB of RAM, a large battery and impressive processing power. It means that the BlackBerry Key2 is a device you can be sure to rely on. It'll keep you connected and able to complete tasks on the move with ease.
Software
BlackBerry is one of the most security-conscious companies in the mobile industry when it comes to your device and the content on it. They have won so many awards in the past with their encryption software, as well as additional services such as DTEK built in as standard.
The Key2 launches on Android Oreo 8.0, and will be upgraded to 8.1 shortly down the line. However, whilst I am sure we will get Android 9 after it launches, there is no confirmed timeframe for this to happen.
Security really is at the heart of the Key2 and everything BlackBerry has to offer. The DTEK security module gives you the most secure phone possible, guiding you through different options you can enable and configure.
The software experience is pretty much the same as you found on the older KeyONE. The built-in launcher is set as default and is very customisable. There's shortcuts to everything you might want to have on your home screen. You also get the 'Hub', which is the single portal for all your messaging needs. From social media accounts to email accounts. The Hub will be the single home for everything you send or receive.
You do have the normal messaging apps, such as Android Messages etc. Honestly though, once you get used to the Hub and how it works, you will soon be hooked on using it. You will want to use it on any other device you have. You also have the slide-in gesture from the right which gets you quick access to a productivity tab. This is handy to have when wanting to keep track of your day.
If the BlackBerry Launcher is not for you, there are all the other 3rd-party launcher options out there on the Play Store such as Nova Launcher. These do work fine, but you miss out on a few key things. When using a 3rd party launcher you lose access to the shortcuts that the BB Launcher has. You also lose the productivity tab, and you lose the quick launch of apps with a single press of the letter on the keyboard.
During the teaser video, there was a new key on the front that everyone wondered what it was for. It is in fact called a 'Speed Key', and this lets you jump between apps really quickly, even with a 3rd party launcher installed.
The best way to set it up is with your main apps, so for Instagram, you would press I, for Twitter you would pick T etc.
To use, when in any app on the phone, just hit the speed key and press the letter you have selected. Within a split second, you will be in that app straight away and able to continue with what you wanted to do.
In testing I found this especially handy when trying to move between a press release in Gmail, an image on Chrome and the WordPress app to type up a post.
Conclusion
As stated earlier, I was lucky enough to get hands on the Key2 before its launch at a brief in London.
I was able to compare to the KeyONE to the Black Edition I have been using as my daily driver for a while, so was able to see just how much of an upgrade it really is. Straightaway, I appreciated the larger keys. They're 19 percent bigger, which may not sound a lot, but in reality it makes it feel like a whole new phone. Blackberry is known for their keyboards and there was none better than the 9900, which was one of the best that have been made.
Both Black and Silver colours were available at launch. I was able to get the Silver model I thought looked the best personally, and reminded me a bit of the BlackBerry Passport Silver Edition that was made a while back.
The Key2 is on sale right now from Selfridges, the BlackBerry Store online and Carphone Warehouse too. It's available for a SIM PRICE of £579.99 or on Pay Monthly contracts.
This price does put it higher than the OnePlus 6 which is a phone doing very well at the moment, however the Key2 is aimed at a totally different market. If you are looking for a phone that lasts more than a single day with a lot of use, love the feel of a physical keyboard, want to be the most productive you can on the move, and also have a keen eye on security, then the Key2 is a fantastic buy for you.
If you are looking for the best camera phone out now, then the Key2 will not be for you. However there is something to be appreciated about that fantastic keyboard right at your fingertips at all times, and if you are a social media addict, this will really come in handy.
A big thanks to BlackBerry for sending us the Key2 to review and for being part of the launch event to get a hands-on for coverage.