The Introduction
BlackBerry have always been a brand with a dedicated base of followers around the world. When that brand made the switch from its own BB OS and moved to Android, it opened up a whole new world of apps and services.
The Motion is not an upgrade from the other main device, the KeyOne, instead it's more of an alternative for anyone who does not want a keyboard.
This is another device made my manufacturer TCL under the BlackBerry branding and is their latest one yet, but is it their greatest?
Check on for all the details on the new BlackBerry Motion.

---
Design and display
These days a lot of smartphones do tend to look the same, some say Apple have had a big part in this, with rivals trying to copy the iconic design of the iPhone. However not all competitors go with this design and thankfully the Motion is different in it's own unique way. From the textured back to the almost rectangular block feeling and the design it has going for it.
With a premium looking phone with metal and glass, you would initially think that it will be quite heavy to hold and use on a daily basis, thankfully that is a misconception. At 167g in weight, the BlackBerry Motion is defiantly lighter than the more expensive KeyOne which comes in at 180g.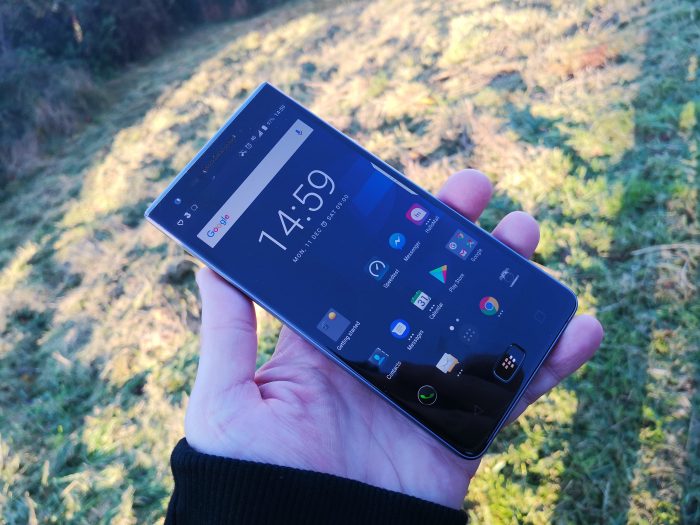 Looking straight at the device, the front facing camera is an 8 megapixel unit and can also record at 1080p quality for video at 30 frames per second. This is quite a high resolution camera for a phone from BlackBerry considering.  Next to this is the speaker where voice calls come across both clear and loud enough for daily use.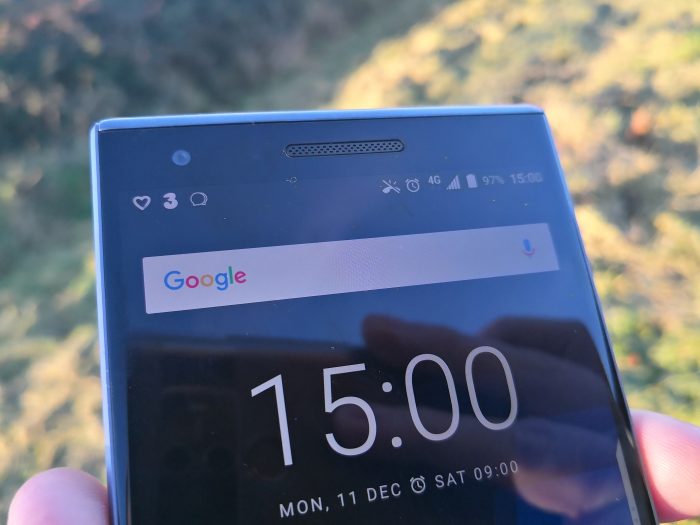 The display is a reasonable 5.5 inch panel with a resolution of 1080 by 1920. This makes it Full HD like many other mid range devices at this price point. Some may wish it had a Quad HD display, especially considering the Motion has the battery to power it, but in reality 1080p is more than enough for most people.
There has been a lot talked online recently about a 'blue tint' on certain models when tilting the screen, the Motion does not suffer from this thankfully and the fact it uses IPS LCD over AMOLED should also help prevent that dreaded screen burn over time.
Below the screen is where you find the main navigation buttons and fingerprint reader under  the now-iconic BlackBerry logo.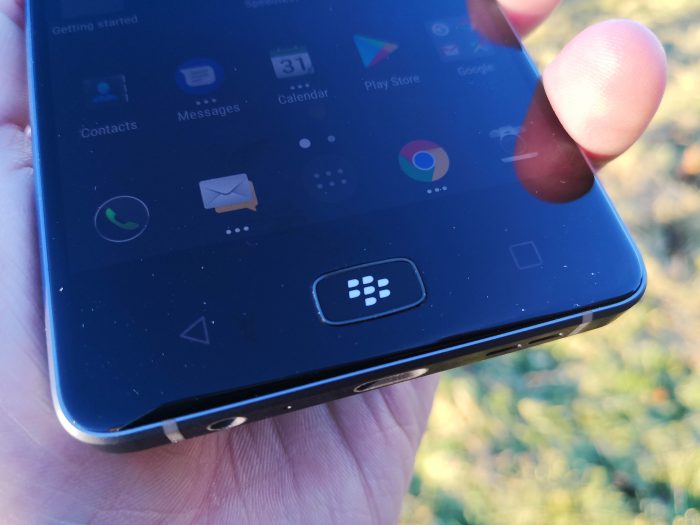 On the left is a back arrow to move back through the OS and screen. On the right side is the multi-tasking button to close apps. Personally I hate the way the way the apps look when opening this setting.
That middle physical button (which is also the fingerprint reader) will let you unlock and pay for goods using Android Pay. This is very handy and works like Apple Pay.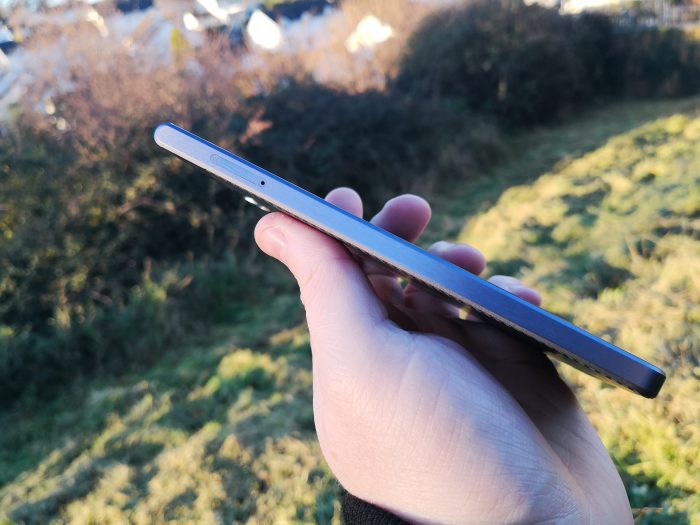 The device has a metal frame with a nice feel and texture to it. This helps in keep to the 'premium' style and elevates the BlackBerry branding. It perhaps makes you happy with the amount of money you might have to pay to get one of these for yourself.
Looking over to the left side first and there's a pin hole to open the tray which comes out to hold both the Nano SIM card and the MicroSD card. This supports up to 400GB in storage. Great if you want to keep plenty of photos, videos, music as well as documents and apps in your hand and not run out of space.
Some markets have a dual-SIM version of the device, however the one we got in to review is the one on sale in the UK and has the single SIM. It would have been nice to see the worldwide launch of the dual SIM model though, as many people have a personal SIM and a work one.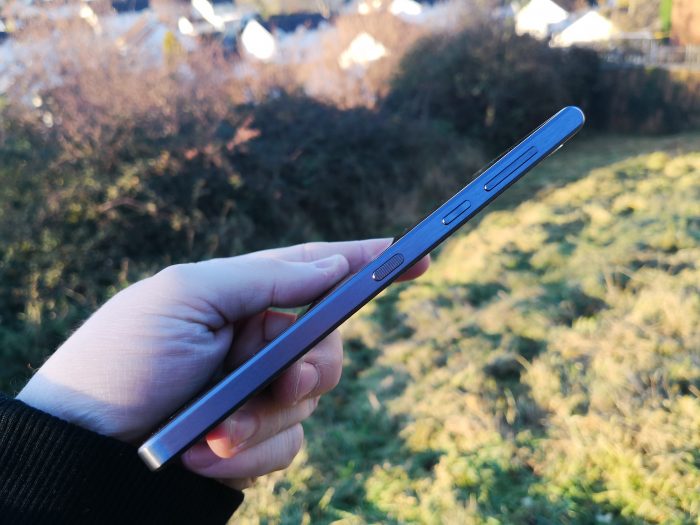 Continuing the metal frame round to the right side you get all the buttons, and as expected up top is the volume up and down. You can obviously control all aspects of the volume from calls to ringtone, plus you can also use it to put the phone into 'Do not Disturb' mode, turning off all ringing and vibrating options making your phone silent.
Below these come two buttons, the top being for turning the phone on and off or putting into standby mode with a quick tap.  Then comes the button not found on many other devices, this has a slightly different design to it with a textured edge so you can feel it is different from the others.
You can assign this special 'Convenience Key' for up to three options in the settings, these can be to send a message, open an app or select from a wide range of pre-installed shortcuts like checking data use, turning on the torch, set an alarm etc…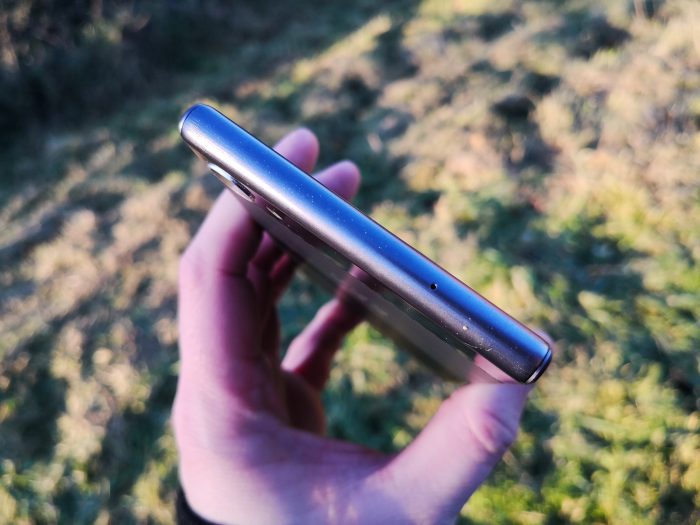 Flipping over to the top is where things get a bit different with the design, instead of having the same metal band all the way around, the top of the device has a plastic material with a single hole for a microphone to help with noise cancellation.
I would also go as far as to say the reason for this design change was to help with signal quality, something the Motion hangs on to very well and I often got stronger 4G signal on this device than I did when comparing to others I was testing.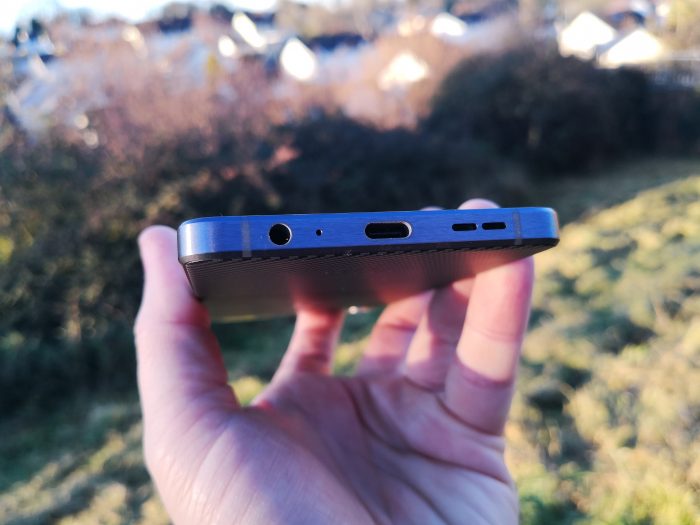 Finally moving down to the bottom is where the design gets back on track, keeping the metal frame design from the sides. This is also where you find the 3.5m headset port (yes, thankfully there is one still there for people who have not moved into the Bluetooth setup yet).
Next to the headset port is where you see a little hole again. This is for recording audio and for voice calls. These are clear and loud with HD Voice supported on certain networks. You also get the – what now seems standard on new devices – a USB C port for quick charging or for data transfer.
USB C may be new to a lot of people, and this might be the first device you buy with it, but there is no getting away from the change. This is the new standard and it is here to stay. Plus it does add some benefits, even if it just allowing reversible plugging in, so no more breaking your chargers.
Next to the USB C port is the loudspeaker, and as with the normal speaker, quality is loud and clear. If you use it for calls such as conference calling then both ends of the conversation will be clear and good quality.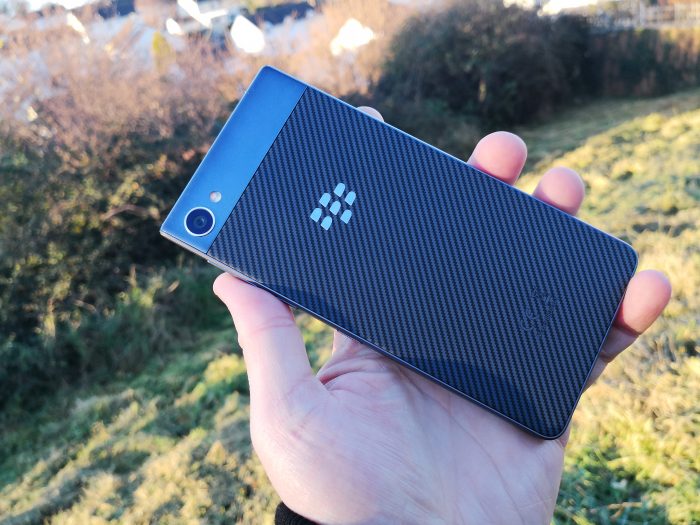 Turn over to the back and you get a pretty good-looking design, from the plastic top part (housing the camera and single LED flash), to the carbon-looking material on the back. This adds grip and features the iconic BlackBerry logo again, this time in shiny silver near the middle.
The reason for the plastic top part of the back (which continues to the top as mentioned earlier) is to improve signal quality and the antenna will be located near here to maximise the best signal strength possible.
Cameras
The camera is an area that BlackBerry have never really been known for standing out in. It' always been this way since the early BlackBerry days and has been the same even on their more recent Android-powered devices.
The BlackBerry Motion features a single camera on the back at 12 megapixels with an f2.0 aperture. This is quite high considering f1.8 seems to be widely available and devices now even packing f1.6 lenses.
If I have confused you with what f2.0 is, it's basically is the amount of light that the camera lens lets in when capturing an image, the lower the number the better low light performance you get and most decent mobile phone cameras these days are around the f1.8 mark.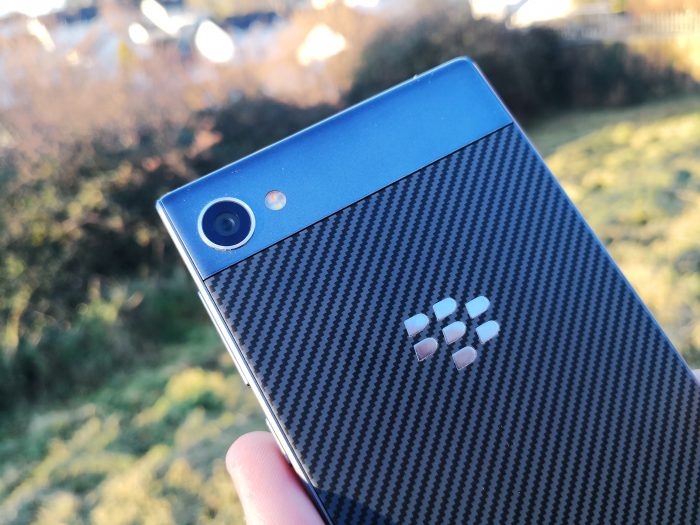 When taking photos in daylight you get a pretty decent photo for sharing on social media or sending off an email quickly, but you would not want to take it on holiday and you would absolutely not take it on a night out to capture what you got up to after a few drinks.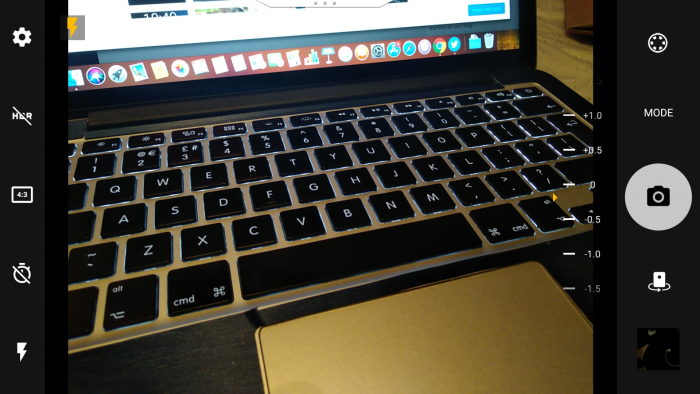 When you load the camera (which does open pretty fast) you have a left and right bar down the sides with the image in the middle, pretty standard.
Looking at the left side first, up top is the 'gear' icon which opens up the settings such as photo/video resolution, face detection, video stabilisation and more. Below this is where you turn on or off HDR for high dynamic range photos, having this on sometimes helps improve overall quality by playing around with the shadows and lighting.
Then you get the size of the photo and there are three options, the normal 16:9 most people will want to use, especially when printing photos if you want too, however you do also get the 4:3 ratio and, if you love Instagram, there is also the 1:1 square format here.
Timer and Flash modes are the only options left on the left hand side, giving a delay of either 0 seconds, 3 seconds or 10 seconds in case you want to get in the photo yourself.
Looking at the right side you get quite a few filter effects. You can add to your photo when taking it. Some are good and some will never get used. This is down to your own eye and what type of photo you want to capture.
Pressing 'Mode' allows you to pick from a Scanner, Slow-Mo, Video, Pano and normal Photo modes, all pretty self-explanatory and easily switched with two simple taps.
Below this is the large round shutter button for capturing photos or starting/stopping video recordings. You can also switch between front and rear cameras at the bottom.
When you're in any of the camera modes you get a brightness slider on the screen so you can manually adjust the brightness either up or down depending on your lighting and surroundings.
If you are a keen camera fan you might want to explore all the manual settings. Thankfully these are available and can be switched on in the first settings panel, changing the control mode from Auto to Manual. This gives you access to shutter speed, brightness, contrast and more.
Below are some examples, taking in all different locations and conditions. You can see a real world test of what you can expect to get out of this device.
Performance and battery
Performance is a mixed bag of specifications. On one hand the Snapdragon 635 Octacore processor may not be the most impressive on paper. However, the large 4000mAh battery and the 4GB of RAM makes up for that shortfall. Considering you will not want the Motion for hardcore gaming titles, the huge battery paired with the more power friendly processor does maximise power performance, and this phone feels like it will never run out of battery.
In my time using the BlackBerry Motion, which was about 3 weeks in total, I found performance to be very good for most tasks. Loading normal daily apps like email, social media and multimedia caused no issues at all, often loading up very fast.
Things start to slow a little when it comes to gaming. I use Pokemon Go (don't judge me too much) and I found this sometimes it stuttered a little, but this was the same with the more-expensive BlackBerry KeyOne. As mentioned before, anyone looking to purchase a BlackBerry will usually be looking for great battery, superb software experience as well as security. The decision doesn't tend to be based on whether they can catch Pikachu.
The battery is something I cannot recommend highly enough, the BlackBerry Motion really is a workhorse. When it comes to keeping the phone powered on, day and night whilst using my Three UK SIM (connected to 4G most of the time) and WiFi at home, after 6 hours of running off the battery I still had 84% left. That meant an estimated time left of a whopping 3 days!
Adding some video playback and camera use will of course change this stat, but even saying that, battery saving mode was switched off so if you wanted you could stretch it even further.
Software
Software is a big area for BlackBerry, especially when it comes to security. They also have to make sure anyone owing one can have fun whilst staying safe.
When it comes to custom software, there are quite a few custom applications installed out of the box to help you protect all your data with ease.
DTEK by BlackBerry is the main area to look for. This handy app will guide you through what your overall security status is, from encryption, security patch date as well as screen locks and factory reset protection plus a huge amount more.
The company have also installed some other handy applications such as a decent File manager, Notes, Power Manager and a handy Locker app which lets you lock files and folders away under a password so no one can get hands on your key, even confidential data.
However, one of the best additions by the company is called 'Privacy Shade', which lets you stop anyone snooping over your shoulder. This will prevent them spotting what you have on your screen, especially handy when it comes to passwords or bank details.
Once switched on you get all the same screens you did before but much darker, almost blacked out, only with a small rectangle in the middle with a small 'eye' icon.
Pressing and holding this 'eye' reveals only the information that is between the bars on the screen, and these can be adjusted to different heights if you wish.
If you want to be even more secure, in the settings you can change the bars to a small spy glass like option so you can just show the small area you want as seen above.
Other software tweaks include a massive selection of widgets for your options, ranging from adding an icon to texting a particular person from your contacts with a single tap. You can also do more simple things, like turning on the torch if you wanted quick access to do that.
The biggest part of the 'BlackBerry Launcher' experience comes in the form of the 'Hub' which is a single messaging app that builds in quick access to all your email and social media in one single location. This allows you to personalise and sort without switching apps.
This is all very handy, especially for someone with two email accounts, a Twitter account, my personal Facebook, Instagram and WhatsApp all full of messages – the Hub lets you quickly sort them, delete them and just keep your phone clean and tidy.
Having over 200 messages split over multiple apps is not easy to manage, however once I went into the Hub and went to the View All tab, I was quickly reading, replying and deleting messages trimming that amount down. Not only that but it was a lot less stressful than loading four or five apps at a time to do it that way.
Conclusion
When it comes to your traditional 'BlackBerry' device, many people still have the perception of a business-only phone with a physical keyboard running a secure email system. In fact, the company has moved on.
Given the lower powered Snapdragon 635 processor used, and the older Android 7.1 version of the software, you might – on paper – be concerned about what the BlackBerry Motion has going for it.
Thankfully the BlackBerry Motion does have some great things to point out which make it a great value phone. There's 4GB of RAM to make your apps fly and, whilst you won't be wanting to play the most graphic-intensive games, it does also have that massive 4000mAh battery which gets you through your day, and then some.
At £399.99 at time of writing this review, the Motion is a great option to those BlackBerry fans who love the brand, want the security that the company pride themselves on, but do not want to use a full physical keyboard. Instead, like many other Android phones, there's the excellent touch screen keyboard.
If you are in the market for an affordable Android powered smartphone with a huge battery, great email support, plenty of RAM and expandable storage; the BlackBerry Motion might be the one for you. Thanks also to the key OS additions such as the privacy shade and that in-built security.
And to top it all off…. the BlackBerry Motion is indeed splash proof with an IP67 rating. Whilst you won't want to take it swimming, you have no fear of using it in the rain.
At present no UK network has signed up to range the BlackBerry Motion direct, you can however purchase at a wide range of online stores (such as Currys) SIM Free, and via Carphone Warehouse on network contracts to bring the price down.
A big thank you to TCL for providing the BlackBerry Motion for us to review.
BlackBerry Motion
Design - 85%
Value for money - 90%
Performance - 84%
Camera - 70%
A decent mid range phone with great security options