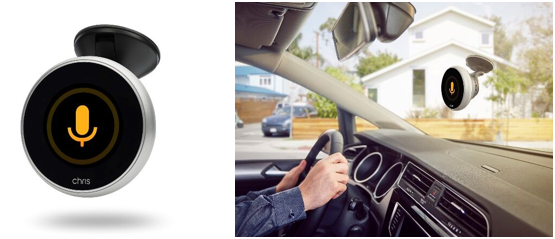 It is a proven fact that using for mobile phone whilst driving is a distraction, and is one of the four major causes of fatal accidents on the UK roads today. Not only that if you're caught using your device, you can be fined £200 and have your licence endorsed with 6 points. If you use your mobile phone whilst driving, well, in my opinion, you are a muppet, as I have seen first hand the devastation caused by drivers distracted and subsequently involved in life-changing accidents.
So when the following information arrived at Coolsmartphone Towers, I was immediately intrigued. Dubbed the "Alexa for cars", Chris (hopefully we will find out where the name is from) is the world's first digital assistant for drivers, allowing them to receive and reply to texts and WhatsApp messages, listen to music on their phone, follow navigation instructions, and make and receive phone calls using an intelligent speech and hand gesture recognition technology on a glanceable full-colour screen display.
What is Chris? It's the world´s first digital assistant for drivers, designed by German Autolabs, a Berlin-based technology startup developing smart solutions Chris will give drivers the ability to enjoy apps while keeping their eyes on the road, a device that will integrate with any car on the road by simply attaching it to the windscreen. Chris will offer entertainment, connectivity, and navigation capabilities for drivers, via a Bluetooth connection to a smartphone and either an Android or iOS app.
Billed as specifically designed for drivers, Chris will offer a more human-centric user experience that proactively communicates with the driver. It works offline even when there is no mobile signal and allows users to maintain access to their digital lives.
If a WhatsApp or text message comes in, then Chris will read it out, listen to your reply and send it accordingly. No more secretive typing at traffic lights or peeks at the phone (which is still a motoring offence – you can actually put it away and still be connected).
Chris is powered by advanced Artificial Intelligence and Natural Language Processing technologies that are supposed to make you feel like you're driving with a human co-driver, by delivering information to you when you need it most.
Chris is due to be launching at IFA Berlin 2018 (August 30th – September 5th) RRP £299, and hopefully I manage to get one in for a full review.