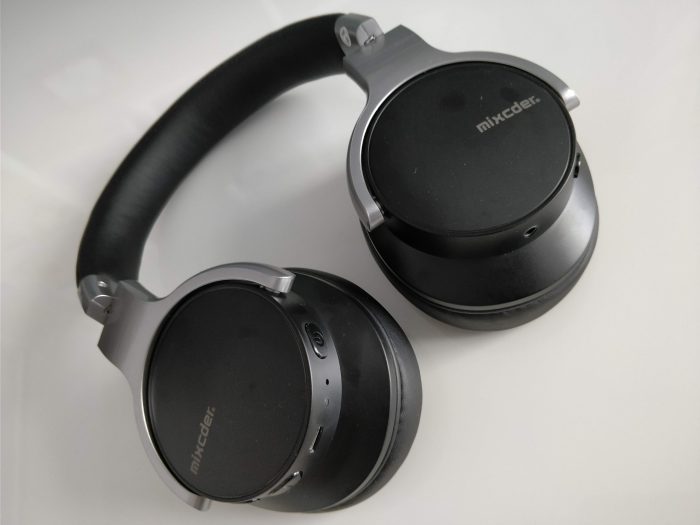 Back in December I carried out a review of the Mixcder MS301 Premium Bluetooth headphones. I was extremely pleased with them. Both the sound and build quality was excellent, and I gave them an overall score of 92%. You can read that review here.
Well now I've been sent through the latest product from Mixcder – the E7 Active Noise Cancelling Headphones. Let me just start this review by saying that..
Mixcder must be making a loss on each unit sold, because I genuinely don't know how they are making such a quality product at its price point.
The E7's have ANC (Active Noise Cancelling) tech which can not only isolate noise physically, but also blocks out noise by smart and active technology. When the headphones detect an incoming noise, a digital signal processor (DSP) analyses the sound waves and creates inverse waves to cancel out the ambient sound. This means that you just hear the music and nothing else.
Good Points.
Build quality.
Sound clarity.
Deep bass.
Price.
Range.
Battery Life
3.5mm audio connection
Bad Points.
Ears can get a little hot and sweaty
No USB type C charging.
Design:
As with Mixcder MS301, the first thing that you notice is that premium packaging. The headphones arrive in a stylish carry case too. The headphones are very well built with a strong a sturdy feel. They feature an aluminium alloy shell and have a black plastic finish on the outer ear cups. The adjustable headband is made of alloy and stainless steel for strong durability. A nice added touch is the measurements engraved into each of the notched extensions to get the fit just right. At the top is a very padded headband for extreme comfort. The cups are very well padded and I was able to fit my whole ear inside the cup. The headphones are also fold-able for easy transportation.
Around the right ear cup is the On/Off and volume Up/Down controls. There's also the microUSB charging port. On the left is the Active Noise Cancelling On/Off switch and a 3.5mm headphone socket which means the headphones can still be used as a wired set if the battery runs down.
In Use:
As with the MS301's was there is a good weight to the E7's. This reassurance comes from the fact the manufacturer has reinforced all the stressed parts, such as the hinges and the headband. One advantage that the E7's had over MS301's is that the ear cups are a little larger so I could fit my ears fully inside, and thus reduce any pressure on my ears. The plush thick ear pads did an excellent job of filtering out noise, but I did find that my ears did get a bit hot and sweaty after a few hours of use.
As for the range I could quite happily walk around my house without and loss of connection, and outside I was able to get well over 30 feet from my device with a good solid strong signal. As for the battery life Mixcder claim 20 + hours of use before a recharge is needed. In my tests I was easily able to hit this mark and extend past it a couple of times.
Sound Quality:
Bass is quite prominent on the E7's and I was really impressed with the sheer depth the headphones reached when listening to some bass heavy tunes. Voice quality was exceptional too, with good phone call quality. This was in both the Bluetooth and wired modes.
On to the Active Noise Cancelling,  the E7's do a fantastic job here, and they really do manage to filter out most background noise. To be fair they're not in the same league as my Bose QC 25's,, but they do an amazing job for the price they cost.
Conclusion:
The Mixcder E7 headphones are currently available from Amazon for an amazing  £41.99, and for that price you get a pair of well made premium-feeling headphones. They have a cracking sound and stellar battery life with Active Noise Cancelling t'boot. To be honest these give some of the bigger brands, and hence more expensive headphones, a real run for your money. Like I said at the start, I honesty don't know how Mixcder are making such quality headphones at this price.
Mixcder E7 ANC review
Price - 98%
Build Quality - 95%
Comfort - 90%
Sound Quality - 95%
Range - 95%
Battery Life - 97%