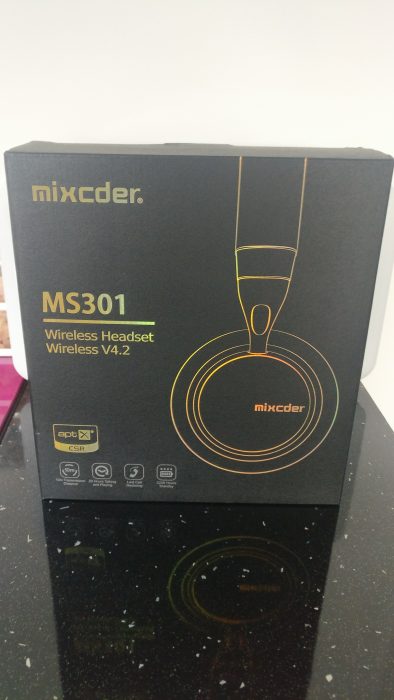 Just recently I have been sent through the Mixcder premium MS301 wireless Bluetooth headphones for review, and to be honest the offer couldn't have come at a better time, as I was just about to embark on a holiday to the USA, and therefore I could use them predominantly while there and compare them to my beloved Bose QC 25's.
Good Points:
Sound.
Build quality.
Use a wired connection.
Good lip sync.
Price.
Battery life.
Range.
Bad Points:
A bit on the heavy side.
No noise cancellation.
Design:
Upon receiving the headphones the first thing that I noticed was just how premium the packaging is with the headphones themselves coming in a stylish carry case.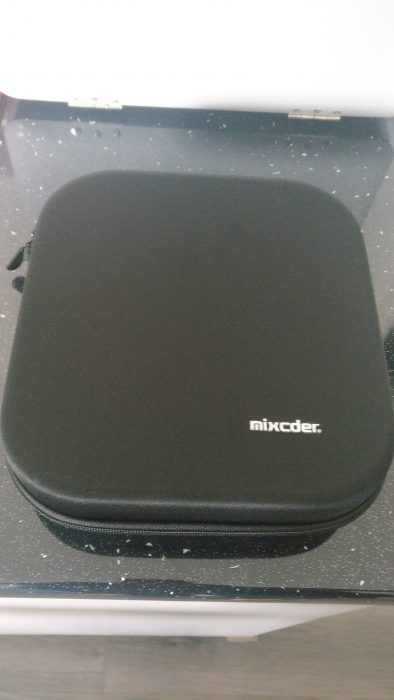 The Mixcder (who are an American global audio specialist) MS301 headphones have been designed and built utilising all of the company's knowledge and experience previously gained in the audio sector. The headphones feature an aluminium alloy shell and have a smooth glossy metal finish on the outer ear cups to avoid any unnecessary vibrations. The adjustable headband is made of stainless steel for strong durability and is padded headband for extreme comfort. The headphones are also foldable for easy transportation.
Around the right ear cup is the On/Off volume Up/Down controls and a 3.5mm headphone socket which means the headphones can still be used as a wired set if the battery runs down, on the left cup is the micro USB charging port.
On the inside, the MS301's are equipped with 40mm ultra large-aperture backed dynamic drivers with advanced APTX-LL and shock sound to deliver a unique sound performance, with an incredible booming bass, a detailed midrange, and extended treble. With the latest Bluetooth 4.2 for fast pairing and strong capability and APTX-LL technology, therefore enabling the MS301's provide lossless transmission and crystal clear, smooth sound without compression or interruptions.
The MS301'a come with a  high capacity built-in 500mAh battery, which the company state allows for over 20 hours of music play or talk time and a standby of an impressive 2200 hours. In my tests, I got about 18 hrs so the claims are pretty accurate.
In Use:
One thing I noticed when using the MS301's was there is a good weight to the headphones and this reassurance comes from the fact the manufacturer has reinforced all stressed parts, such as the hinges and the headband, and as I mentioned previously the use of metal in the earcups.
One issue I did have was the size of the earcup which is somewhere between over-ear and on-ear. If you have very small ears, you may be able to fit them inside the plushy earpads, but I found that I had to have my ears only partly under the earpads, which did start to become a bit uncomfortable after a couple of hours of use, as I felt the headphones started to put too much pressure on my ears.
Sound Quality:
If you are a regular user of Bluetooth headsets, you might well be aware of its downfalls when it comes to audio, is its high transmission latency, modern Bluetooth headphones rely on technologies such as aptX to reduce this latency from around 250ms to approximately 150ms. But this gives a problem, even using aptX, your brain can still recognise the delay, not a problem when listening to music unaccompanied with any visual, but it becomes a problem when playing games, watching music videos, TV shows, movies, or other multimedia content.
Mixcder has addressed this with one of MS301's biggest selling points, it's  support for Qualcomm's aptX Low Latency wireless transmission standard. By using the latest version of aptX, called aptX Low Latency, which reduces transmission latency to roughly 40ms, meaning that your brain is unable to perceive any difference between the audio source and the sound coming from the headphones. Best of all, aptX Low Latency is backward compatible with existing aptX products, and while watching media on both my phone and tablet  I couldn't see any lip syncing issues.
Bass is quite prominent on the MS301's and I was really impressed with the sheer depth the headphones reached when listening to some bass heavy tunes, and voice quality was exceptional too, with good phone call quality as well.
The Mixcder MS301 are marketed as noise isolating headphones, which means that they should keep outside noise away without relying on an active noise cancelling system powered by a battery, and this is achieved by the thick ear pads and the closed earcups, and I was surprised just how much noise this method filtered away.
Conclusion:
The Mixcder Ms301 headphones are currently available from Amazon for just £69.99 , and for that price you get a pair of well made premium feeling headphones, with a cracking sound and stellar battery life, to be honest these give some of the bigger brands and hence more expensive headphones a real run for your money.
Mixcder MS301 wireless Bluetooth headphones
Price - 90%
Build Quality - 95%
Comfort - 85%
Sound Quality - 90%
Battery Life - 97%
Bluetooth Range - 95%