Portable power, it's something that is becoming more and more important to us in our fast-paced lifestyles. I for one am always on the move from press event to the day job or ferrying the family around in the car. This means that I need a solution that allows me to plug in whatever device I happen to be using at the time for a quick charge. I don't want to be restrained by the need to find a socket.
It is for this reason that I will rarely leave the house without a power bank of some sort.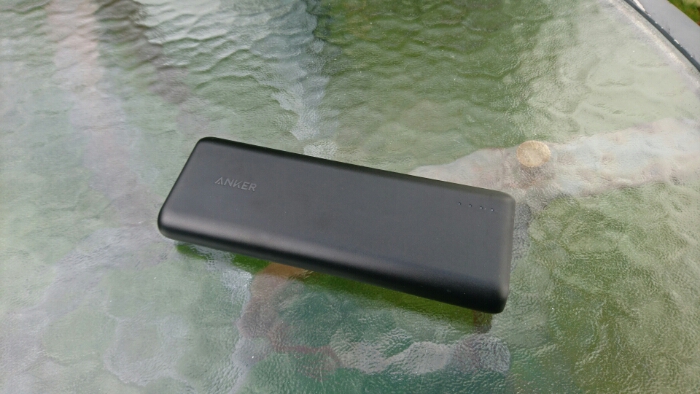 Up until recently, this need has been fulfilled by the Anker Powercore 20000 that I got a few years ago. However, I am now running a laptop that has the ability to charge via USB Type C Power Delivery. This now means that I am able to keep going for longer whilst away from a power socket. However, my old faithful Anker PowerCore 20000 does not support this standard. So, I was on the hunt for something new. That hunt lead me back to Anker again.
The new battery supply of choice is the PowerCore 26800+ PD.
So what makes this so different?
Well, it's to be found in the name, or more precisely in the last few letters of the name. The "PD" stands for "Power Delivery". This means that I am able to charge my laptop on the go. So, I decided to put this to the test on a recent sojourn to Paris. I deliberately left my charger at home for that trip. The core kit I took with me was my laptop, both the Powercores (one for phones/tablets and one for the laptop) and my two phones. The mobile phones in question were the Mate 10 Pro and my new and shiny Galaxy S9+. This was now my "on the go" blogging kit. It meant that whenever I was on the move between venues and hotels I was able to juice my laptop up and not worry about it needing to be charged. I did, however, take one plug with me that was capable of charging the PowerCores, this turned out to be unnecessary but it was a security backup if I needed it.
Here is the unboxing video from a few weeks back
So did this plan of mine work?
Well, I can say that I had no real issue as I was able to keep my gear going for the whole duration of the trip with no real problems at all. I used my laptop until the battery was down to about 10% and then I charged it fully over the next few hours whilst I was being shuffled around Paris. This used up about half of the battery on the PowerCore 28600+ PD. That night I plugged both phones into the other battery to ensure they were fully juiced up for the next day and everything was fine. The laptop was then used extensively on the return journey under its own steam until it was dead, and I was then able to get another charge from the PowerCore 28600+ PD – up to 75% of the laptop battery. After this, the PowerCore was fully depleted but by this point, I was at home and was not needing to use it, so everything was golden!
All in all, I think the experiment went very well and the PowerCore 28600+ PD is going to be my new stablemate for any sort of trips away. I love the fact that it will give me a full charge for my laptop and still have enough juice in the bank for me to give my phones a boost as well.
The fact that it has both USB Type C PD outputs and also 2 full-size USB Type A ports makes it very useful for charging multiple devices. I was actually able to help a fellow journalist out when he needed to give his iPhone a quick jolt whilst waiting for a taxi back to our hotel!
Would I recommend this as a solution for you though? Well, it all depends on your circumstances really. If you are like me and someone who leads a very tech heavy and busy life where you are always having to juggle power needs, then absolutely. If, on the other hand, your laptop has become more of a desktop and you only need to top up your phone whilst on the move, then I would think about looking at one of the less expensive PowerCore options. There is one phone however that is exempt from this though: if you are the owner of one of the Google Pixel devices then any battery that supports Power Delivery is a must, as it will be the only way to guarantee fast-charging whilst on the go.
At the time of writing this review, the Anker PowerCore 28600+ PD is showing as unavailable on Amazon. However, they are recommending this as an alternative. It is a slightly lower capacity, but the rest of the benefits will still ring true. So it might be worth picking one up if you are in the market for on-the-go-power.