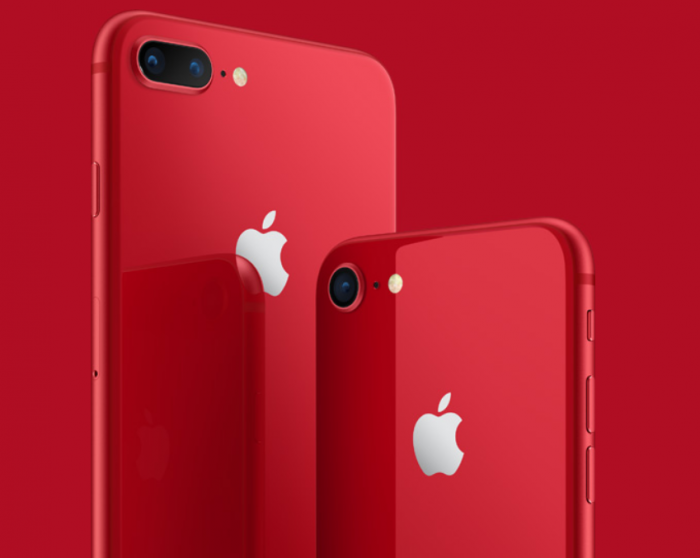 A few of networks have been in touch with us today about the iPhone 8. It's going to be available in red – both the 8 and 8 Plus. Now, you may remember that I had a bit of a rant about the iPhone 8 and 8 Plus but, let's be honest, it's still a very good handset.
First up, Vodafone will have the red versions of the 8 and 8 Plus available to order from 1.30 today. You'll get it delivered on Friday, April 13th (yes, this Friday) and you can get this red special edition on one of their boosted data packages. Right now they've increased the 4GB plan to a massive 16GB package, so you get the iPhone 8 in red on the (conveniently-named) Red Extra 16GB plan. There's unlimited texts and unlimited minutes for £55 per month with a £19 upfront cost. For the same deal on the iPhone 8 Plus it's £63 per month with a £29 upfront cost.
You can get the red iPhone 8 on a Red Entertainment 32GB plan (unlimited texts, unlimited minutes) for £61 per month and £19 upfront, or the iPhone 8 Plus in red on the same deal for £69 per month with a £29 upfront cost. You get the choice of Sky Sports Mobile TV, Spotify Premium or a NOW TV Entertainment Pass on that one.
Virgin Mobile will offer iPhone 8 and iPhone 8 Plus with that red finish today and you'll get it on Friday too. Head to their website for more details on that one. Virgin use the EE masts.
We imagine that more networks will be offering it and we'll update this story as we find out those other networks.