Yesterday was a busy day, Huawei had their launch event for the P20 range, Garry was there covering that and has made me very interested in that device. I however was looking at this small American tech firm called "Apple" (you may have heard of it!) while doing some work for University, which is why I am writing this now instead of Tuesday. But, I have had a few days to get my head around what is to come from Apple. This is their first Education Event since 2012 and the start of a real push to get back into the classroom. Cheaper Chromebooks have slowly been gaining a foothold there and it's something that Apple want to get into.
So what was announced?
A new iPad
Some new software
New Accessories
I'll save the "meat" until last so you keep reading, or you can skip to the bottom for the iPad stuff.
Accessories
First of all, there was no AirPower, you know right? That wireless charger announced with the iPhone X and 8 back in October. It looks like a promising charger, but let us wait for the price before we look into it too much. Why? Well, as with everything Apple I presume it will be expensive. So, I imagine we will see this again at WWDC later in the year.
The next was Space Grey iMac Pro accessories which were not available before. There is now the Magic Keyboard (£129), Magic Trackpad 2 (£129) and Magic Mouse 2 (£79). These are all shipping immediately.
More Apple Watch Straps arrived too. There is the Sport Band (£49), Woven Nylon (£49), Sport Loop (£49), Classic Buckle (£149), Nike Sport and Nike Sport Loop (£49). Then there's the Hermès Double Tour (£489) and Single Tour Rallye (£439), which all got new colours. Go check those out if you want to see the new range etitled "Vibrant Colours for Spring".
Again all shipping now.
We also saw new colours for the 10.5 inch iPad Pro Smart cover (£49) and Leather Sleeve (£129), more spring cleaning colours I presume. These include: Lemonade, Red Raspberry (Smart Cover) and Electric Blue, Soft Pink (Leather Sleeve).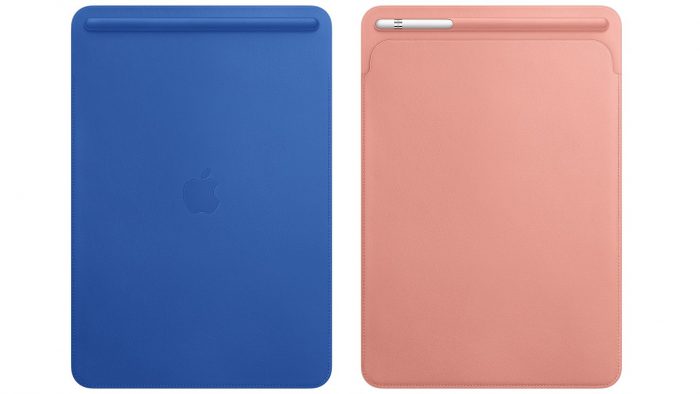 Finally for new cases is the Apple Pencil in both Electric Blue and Soft Pink (£29).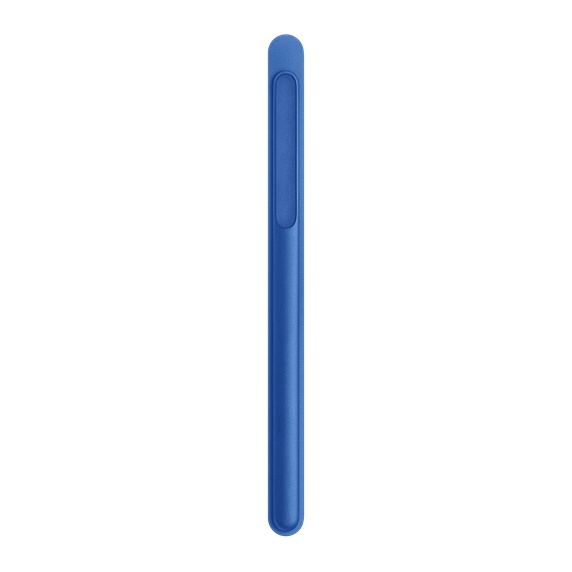 New Software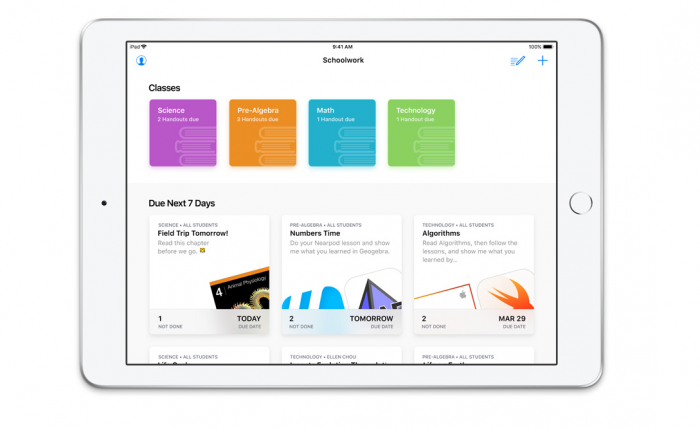 This was an Education event so if you're looking for iOS 12 stuff I have disappointing news, again WWDC hopefully we will hear more. However, there is a tiny bit of iOS news to come. The first new bit of software is Schoolwork though. This sounds like an environment with a Dropbox or Google drive but you can set tasks and modules for students to work on in realtime.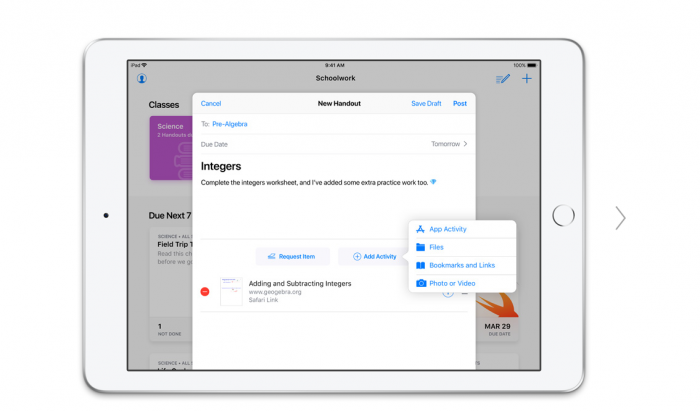 If you have been a student at a university or college in the last how many years, you'll know TurnItIn which is something you submit your work to and then comes back with plagiarism reports and stuff like that across a database of all submitted work. This or something similar sounds like what Apple is trying to do with Schoolwork. Just more interactive. Whether it will be that in-depth we are yet to see.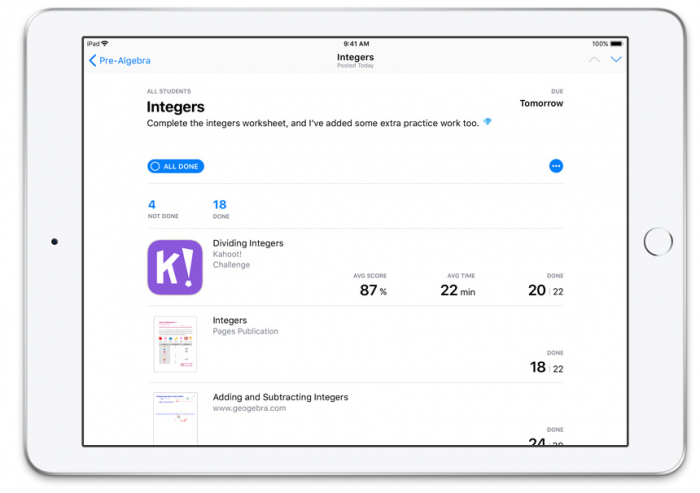 With a new section of iOS comes a new "kit", This one is called ClassKit, Apple says developers will be allowed to link to the framework and expand their apps for things like giving out assignments. Apple built apps such as Garageband and Swift will have integrations along with a handful of other apps from 3rd parties. As with the times and the fact that companies such as Facebook are coming more under fire about privacy, Apple says it protects all student data, with only teachers being able to see the information.


The Classroom app will be available on Mac too. This monitors students and I imagine it'll make marking a student's work easier on a keyboard and mouse rather than a touch screen. It will mean that you can write some Pro-Papers.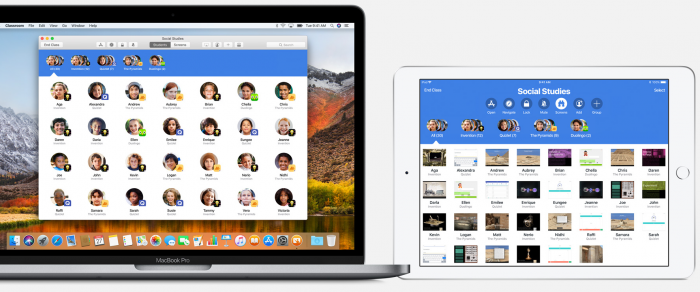 Students under the Education program will receive 200GB of iCloud storage for free, increased from 5GB previously. Though the limit for general users will remain, if you are running out of space you can still get 50GB for 79p per month.
Apple's office suite, Pages, Numbers and Keynote are gaining "rich Apple pencil support" (whatever that will mean). For now its smart annotation for Pages.
Instead of free-floating annotations they can now be attached to words or paragraphs by circling the area.
iBooks Author is nearly dead and Pages now has a new book creation feature too. Now not limited to just Mac users. Apple presumably hopes that this will bring in a wider user base.
Finally for software on iPhone X and iOS in general, Clips is getting new Pixar Selfie scenes while Garageband is taking advantage of the iPhone X's Truedepth camera to change settings on keyboards and other instruments with facial expressions.
New iPad


Face ID, Low Bezels, Notch, Truedepth cameras front and back here. All things I was expecting to be talking about when a new iPad was announced. No. This is a budget iPad built for schools, so the design we are accustomed to is staying for this version. Probably to keep costs down, so using the current design makes sense. But this does not mean it doesn't have new features, althought they are sparse. The new iPad makes use of the A10 chip from the iPhone 7, giving it a good amount of power and speed for the classroom.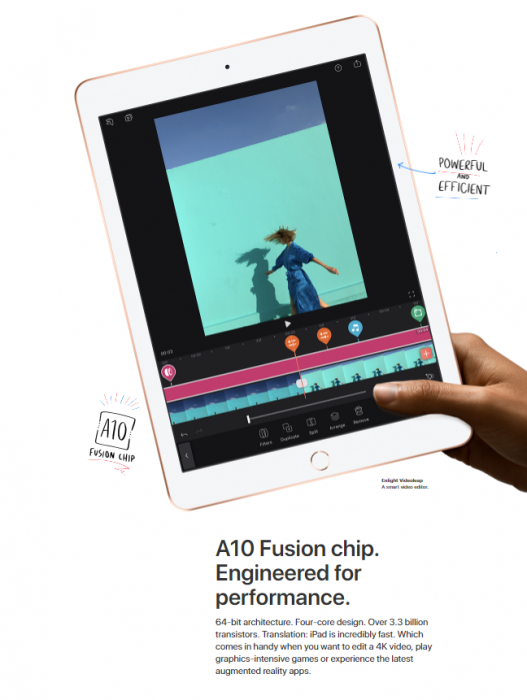 The only big feature I can see that might be useful for the iPad is Apple Pencil (£89). This is a great art tool and is usable on a smaller iPad which is reasonably priced. It makes great sense. Another feature is something Apple have pushed for a while – AR. Dissecting a frog is shown as an example and it looks like very intuitive and useful. It kind-of reminds me of the forgettable Hololens from Microsoft.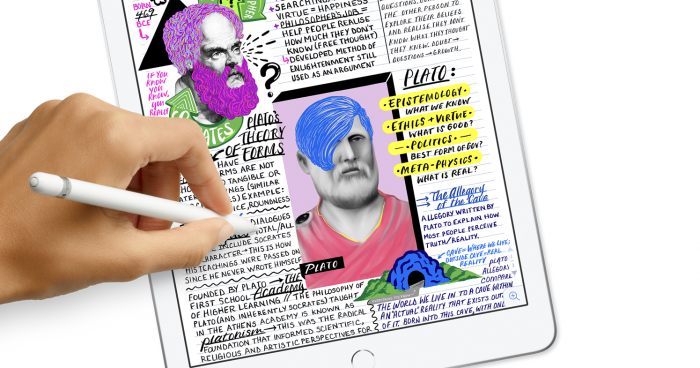 The "house" features are here that are synonymous to Apple devices in recent times, such as Touch ID and the Retina Display. The new Dock from iOS 11 is still there, along with a 10-hour battery life. Also, the new drag-n-drop across-apps feature, which is useful for document creation.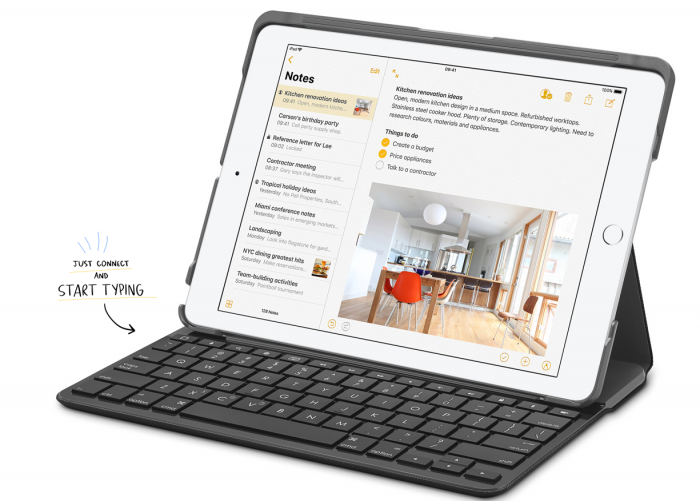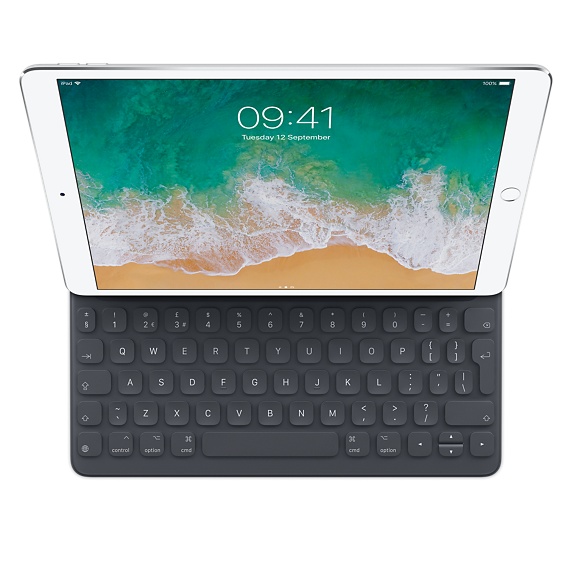 Pricing for the new iPad is (Not including Apple Pencil):
| | |
| --- | --- |
|                       32GB WIFI – £319 |                     32GB Cellular – £449 |
|                      128GB WIFI – £409 |                     128GB Cellular – £539 |
Round up
This event wasn't live streamed, so following it was pretty hard. It was pretty lacklustre, both as an Education and General consumer. The new iPad should have been called something different, "iPad Class" maybe, or just something that isn't confusing, because at this point… is it the "new iPad"? Or the "new new iPad"? Or the "iPad Air 3" or what? Seriously I am confused at this point. Just call is whatever iteration we are at. It's a guess, but I think it's the 8th, but I am not sure. It is starting to remind me of Nintendo's 3DS.
If you want to watch the keynote check it out here