A little while back I was able to get hands on the Motorola Z2 Play to review right here on CoolSmartPhone.
Part of my time with the review covered some of the clever Moto Mods. These are made to expand what the device can do, but the one I really wanted to get hands on was sadly missing.
Three recently announced they're to start selling a Moto Z2 Play package, including the Gamepad attachment. The good news for you and me was that they were kind enough to send a sample over for review.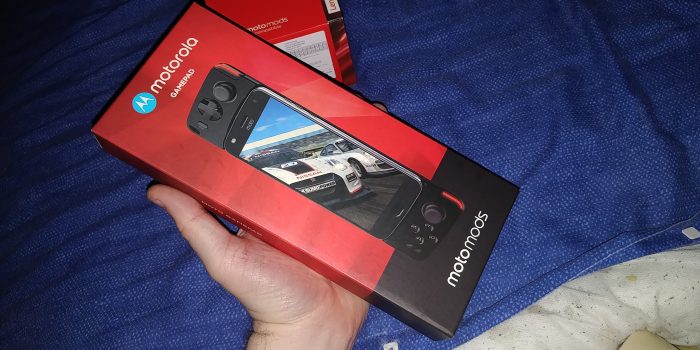 The Gamepad comes in its own box and there's a helpful photo of the device right in the middle for all to see, complete with the phone attached. This will be available to buy in April.
The Gamepad
Whilst the Gamepad may not be the smallest or most portable accessory around, it does have a few handy tricks up its sleeve.
One example is the built-in 1035mAh battery, which means you can play games for far longer. It'll boost the battery life of your phone so you don't run out of juice at that crucial moment. Having an extra battery will be a real life saver, as anyone who plays a lot of mobile games will know, it'll eat through your battery.


The main controls consist of a set of joysticks and a D-Pad for moving around. There's also 4 buttons with letters on, just like you will be used to on a gaming control pad for consoles.
Other buttons are Select, Start and Home with a set of 'trigger' buttons up top, again something found on many console controls for a while.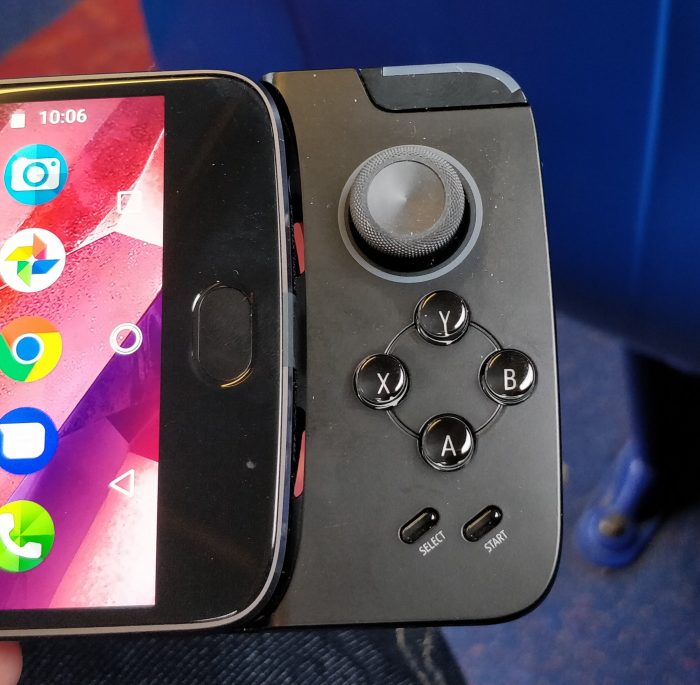 These also light up red when pressed and it looks great when being used. Take a look at this up-close in the images below..
Slap bang in the middle is the space for your phone. Any of the Moto Z family fit in here, so if you have friends or family with an older Z device they can also use the Gamepad.
There is a cutout for the camera to sit and the pin connection setup at the bottom used to connect and hold the phone and pad together.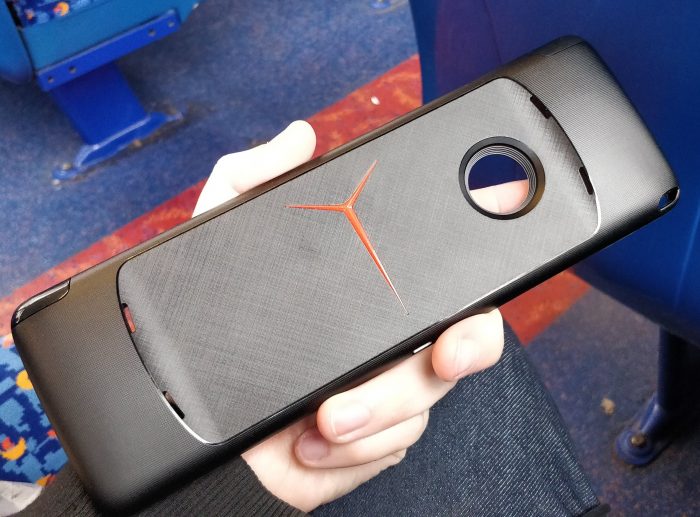 Over on the pack you have a textured pattern with a rather cool looking red 'Y' that lights up when you are using the phone in the pad.
When you attach the Moto Mod you get to install the dedicated Game Explorer app, which is where you will look for most of your content.
There are quite a few games to pick from. Some seem quite average, but you do find a few gems in the mix such as Sonic, Streets of Range and Crazy Taxi as a few examples.
You can also download more from the Play Store but these will not be fully optimised for the pad, so keep that in mind.
Something Moto included in the box, which is handy, is a wrist strap. This will ensure that you don't drop your new gadget and smash it into bits.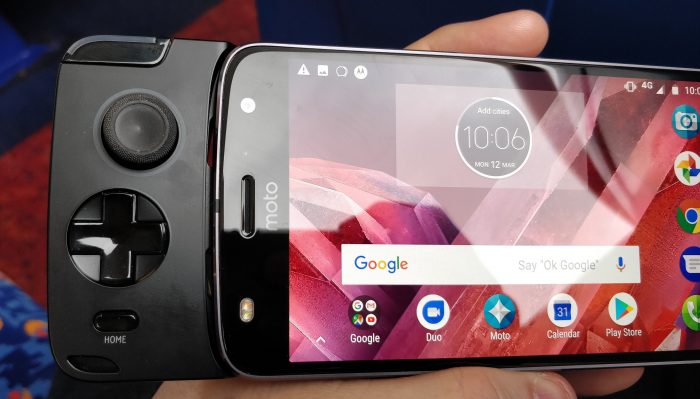 The Phone
Motorola have been making phones for years. Their latest Z range might be the most interesting to date, mainly thanks to the unique Moto Mod attachments which enhance what the phone can do.
I have covered the Z2 Play device in a full review a little while ago, and whilst it may still be running an older version of Android (7.1.1), it is the Moto Mod idea that really makes the Z family stand out. Here the Gamepad is one of the more interesting attachments.
If you like a phone that has a little something different but don't want to spend a fortune, the Motorola Z2 Play is well worth a look, even if it's just for the amount it can do with the help of those Moto Mods.
One example is an instant printer that connects to the back of your device and let's you print out small prints right on the spot. Perfect for that big night out.
Whilst other manufacturers have playing with the idea of a modular phone, LG for example with the G5, it never took off due to the complicated setup.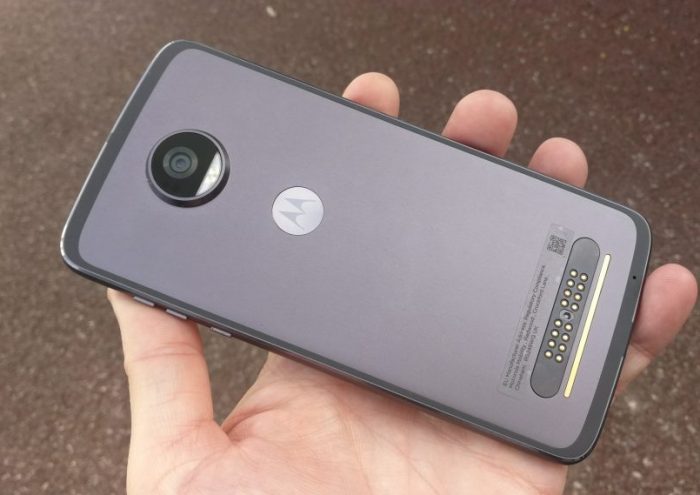 This is where Motorola win. The Moto Mods idea is so simple and there's no setup needed. You simply slap a mod on the back and away you go.
The great thing with this idea is you are future-proofing your purchase. Right now you have options on a speaker, a camera, a projector, a printer, a gamepad and a expandable battery – however there will be more Mods coming in the future…..and that is exciting!
Other key points worth mentioning is the stock-like software, so you get updates faster than some other devices. There's also a good 12 megapixel camera that takes good photos in decent lighting, and best of all a front facing flash so you can get that perfect selfie in any lighting condition.
Don't forget – I'm not glossing over the phone here – you can get the full in-depth Motorola Z2 Play review on the site.
Conclusion
Overall I was impressed with what Motorola had put together here. The Z2 Play has almost stock Android albeit with a few handy improvements here and there to enhance the experience.
The main reason you will want to pick this up on Three (apart from the free Gamepad worth £75) is the great data plans the network offer. This incudes a massive 100GB plan as well as their well known AYCE plans.
Having all that data will let you download as many games as you like on the go, and best of all play online with people around the world if the game supports multiplayer.
If you go on Amazon right now, the Gamepad will set you back £75, so the fact Three are including it in a bundle will be great for customers who love their gaming and want to be connected at all times
In summary, is the Gamepad for everyone?
No.
But, if you are a gamer and want a decent smartphone as well as a great battery performance, a whole host of downloadable games, and a console-like controller, then the Moto Z2 Play is a great choice and well worth your money.
The Moto Z2 Play with Gamepad bundle goes on sale in April with full pricing information due to be announced shortly.
Big thanks to Three UK for sending a Moto Z2 Play with Gamepad to check out.
Motorola Z2 Play Gamepad
Design - 90%
Battery - 90%
Value for Money - 80%
An interesting accessory, a must for gaming fans