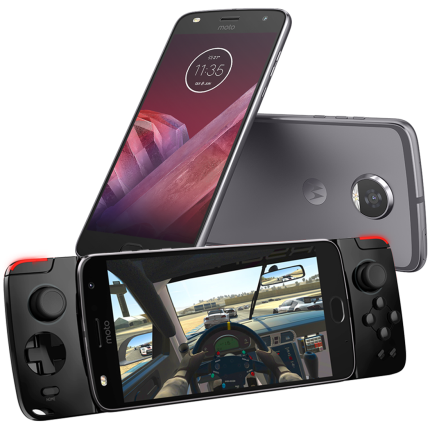 Three emailed us recently with some exciting news for gaming fans, but with the mass emails for Mobile World Congress it looks like it was overlooked.
Thankfully the news is that the Motorola Z2 Play will be coming to Three UK in April, with an exclusive gamepad thrown in making it a must buy for mobile gamers.
The Z2 Play has a 5.5″ screen, full HD display and I reviewed it back in November, so if you're interested in one – take a look!
We don't have any pricing yet, that will come soon, but with Three offering fast 4G speeds and some impressive data allowances, the Moto Z2 Play with Gamepad will be one to consider for sure. The gamepad needs no pairing thanks to the unique MotoMod technology, it just clicks on the phone and away you go!
With over 200 games available using the Moto gaming application there will be plenty to try out.
Here is the full press release…