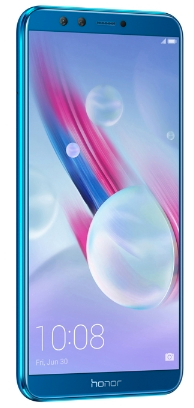 Want to get the Honor 9 Lite we revealed the other day? Well, now you can. Splash out £199 on the Honor Store and then get yourself a good SIM only deal. Boom. You're done.
Why they've called it "Lite", I really don't know. OK, it's got a microUSB port and it looks to have "just" 2.4GHz WiFi, but there's Android 8.0, a 5.65 inch 2160×1080 18:9 screen, the octa-core (4 x 2.36 GHz and 4 x 1.7 GHz) CPU, 4 cameras (13 megapixel and a 2 megapixel on each side), 32GB of storage, a microSD card, 3GB RAM, 4G, a fingerprint sensor, NFC (for Android Pay), a 3.5mm headset jack and…
… well…. it looks rather sexy too.
We've asked for a review handset and we're on …ahem… a "waiting list". Tskk..
DO THEY NOT KNOW WHO WE ARE!?!
Anyway, if £199 in one big lump is a bit of a burden, I've heard that it'll be arriving into places like Carphone Warehouse soon and you can whack it on a combined handset + airtime plan thingy *. You can also perhaps send off your current phone to one of those phone recycling places and get a big of cash-back too.
* – I'm going to start using the word "thingy" more often as I've not had any coffee today and the 'old brain cells aren't working too well.