I like music, I like music a great deal. By now, this should be obvious by the types of review I generally perform for Coolsmartphone. But there are times when I want to keep it to myself and make it a personal experience, and this is when a person needs a pair of headphones.
Although of course, there are headphones and then there are headphones.
A cut above
A good pair of headphones is essential if you take your music seriously, and from the moment you look at the packaging that protects the Master & Dynamic MH40 headphones – you know that you are in for something special.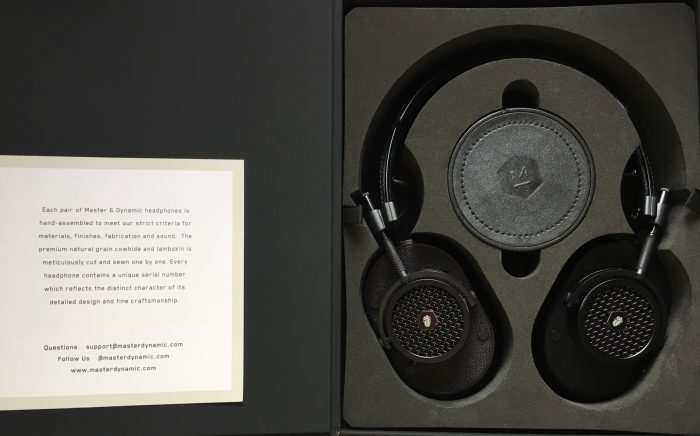 The packaging itself is built to last, provide a long-term home for the phones and wouldn't look out of place on your bookshelf. Even the detachable 2-metre woven headphone cable is kept in a neat sturdy container.
The quality continues over to the actual headphones themselves. The Master & Dynamic MH40 headphones feel substantial and weighty and are made from luxury materials including cowhide & lambskin leather, stainless steel and aluminium.  
The use of genuine leather may be a serious concern to some of you, but if you are happy with the use of animal products then you'll appreciate the standout quality that they add. The lambskin is wonderfully soft and the M40s genuinely feel great to wear.
If you would rather use headphones without animal products then Master & Dynamic also produce the Alcantara collection, which may be of interest.
The proof of the pudding
So they look and feel great, but how good do the Master & Dynamic MH40 headphones sound? The answer: they actually sound very good indeed… amazing actually. The 45mm drivers provide a very crisp, high definition and very true sound, and very different to my usual Kitsound headphones with their increased bass range.
Acoustic music in particular, sounds great through the MH40 headphones. It's probably the closest to being there live that I've personally experienced while using headphones.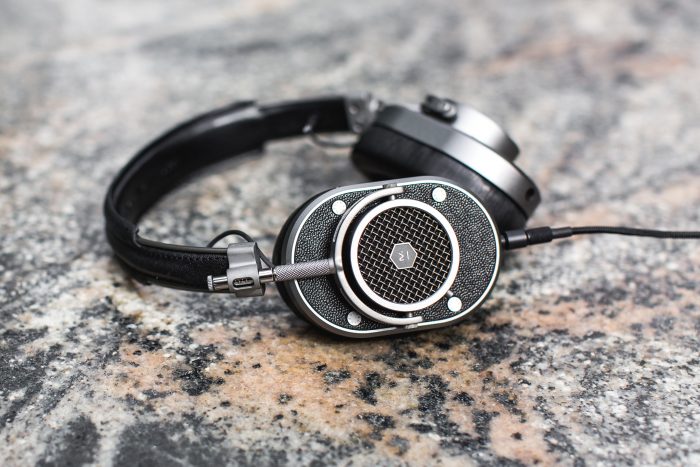 A word of warning though. Not all music is produced with this clarity of sound in mind – and where music has been lazily produced it really stands out, with instruments feeling in the wrong place. Actually, this was very obvious with some of Michael Bublé's tracks that we used in testing. That said, with a good audio source, nothing else I've tested comes as close to sounding like that live experience.
On a personal note; should you happen to like brass band music, then these are absolutely the headphones for you.
What about the cost of the Master & Dynamic MH40 headphones?
At over £300 pounds, these headphones are quite clearly aimed at the premium end of the market but that doesn't mean that they aren't good value for money. The exceptional build quality and aluminium body of the MH40 means that they are going to last you for years, and as M&D uses a process called Physical Vapour Deposition rather than paint, they are going to keep that premium look for some time to come
Sharing the experience
A further outstanding feature of the MH40 headphones is the ability to share the music you are listening to with someone else via a second jack socket. This allows someone else to plug their headphones directly into your MH40s. It's another little feature which really makes the headset stand out.
 What, no Bluetooth?
Unusually for a top of the range set of headphones, there isn't an option to connect via Bluetooth. The only way to connect the MH40 headphones is via a wired connection. Personally, this isn't an issue, but those of you who recently purchased a certain flagship smartphone will need to remember where you put your adapter. While it doesn't decrease the audio quality just keep it in mind.
These are wired only headphones.
Master & Dynamic – Master of Sound
From the moment you open the luxury packaging to the point of listening and enjoying your music, the Master & Dynamic are clearly a cut above the usual headphones.
Master & Dynamic hasn't just provided a premium set of headphones – they have provided a premium experience.
You can purchase for approx £320 from Amazon.
Master & Dynamic MH40 Premium Headphones
Sound Quality - 94%
Build Quality - 95%
Value for Money - 80%
An incredible premium experience