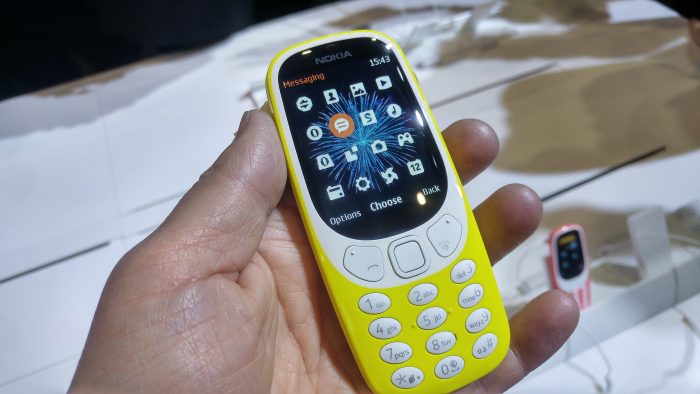 I've got around 24 emails in my inbox from PR agencies wanting me to pimp their stuff. If you want to buy stuff, they basically have .. stuff to sell you. That's the deal. It's because Christmas is round the corner. Christmas, as we all know, is about purchasing a colossal amount of stuff that'll then get reduced days later in the January sales.
Anyways, first cab off the rank is Vodafone. They're got the Nokia 3310 for £39. I won't bore you with the specs on this because they're pants. OK, I'll tell you that it's got a 2.4″ 240 x 320 pixel screen and a 2 megapixel camera. It's also got 16MB (yes, megabytes) and a microSD card. Yeah. It's basically a phone you can .. umm.. give to someone as a work phone when they've not hit their quota or something.
Oh sorry… no.. I've got to point you to our earlier Nokia 3310 feature and point out that it has Snake and an amazing battery life. Err.. it's also available in bright colours and .. oh, something to do with "retro chic" or what not.
Buy it if you want. Vodafone have a new £1 a day Pay as you go plan. This is something Vodafone want me to pimp as a gift idea. You stick a £10 top up on it and it'll limit your spend so that you never spend more than £1 each day. So you know you're going to get 10 days as an absolute minimum. You reach £1 and the rest of the day is free! Boom!
You can also, of course, get a SIM only deal from Voda. £10.50 per month gets you unlimited texts and 500 minutes of calls.
Head to Vodafone for the deal on the 3310..