We recently covered the launch of the Avanca TrueWireless earphone system using Bluetooth 4.0, well, they have arrived at Coolsmartphone Towers for the test. They came in a tidy little box which contained the earbuds, charging dock, USB cable and three different earbuds for your ears.
Thankfully the earbuds weren't too big as some brands tend to be and the charging dock contains a power bank. Every time the earbuds were placed back into the charging dock, they charged up without the need to be plugged in. When the USB is plugged in, the rubber handle glows a nice blue whilst the earbuds can be seen through a tiny slot on the side, where they resemble a pair of red glowing eyes.
The setting up was relatively simple but took some coordination as you were dependant on looking for flashing on the individual earbuds and listening to voice cues from the earbuds. Step one, turn on one of the earbuds but keep it depressed until the lady says pairing. Then you can connect the earbuds using the traditional methods. Step two, connect the other earbuds, which was just as simple. When the first earbud is on and in your ear, then turn on the second earbud and place into your ear – then the magic happens and you get to hear the lovely lady in stereo as she sets everything up and keeps you informed. An odd experience but an easy one.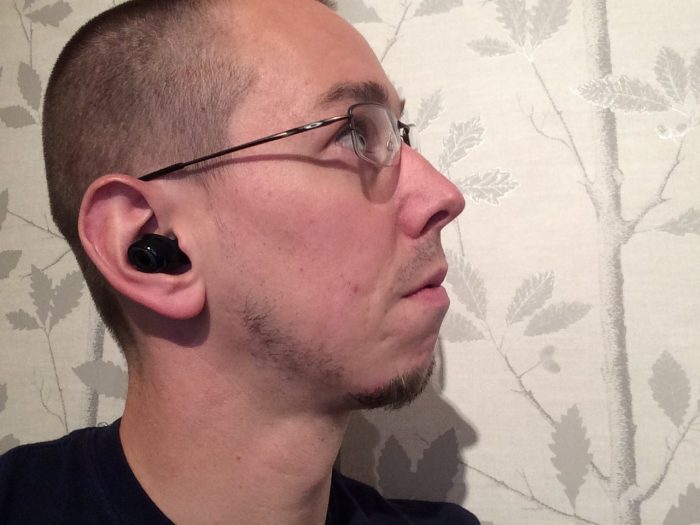 Now to the sound, well they are not bad for such small earbuds. No real drive from the audio and not a great deal of depth but very listenable. The earbuds are very light but they do stick in your ears very well. If you want a pair of earbuds for the gym or running, they are perfect for the price. If you are looking for great depth, then wired is still where it is at.
Scores of the doors
Design - 85%
Comfort - 85%
Audio Quality - 68%
Lovely quality earbuds with some nice features. They lack the full audio range.