Got a shiny new iPhone? Still missing your 3.5mm connector? You want to charge the phone and listen to music through a 3.5mm jack? Well, you are in luck dear reader! Belkin has launched the Charge Rockstar, the 3.5 mm Audio + Charge RockStar adapter for the iPhone 8, iPhone 8 Plus, iPhone X, iPhone 7, iPhone 7 Plus. The 3.5 mm Audio + Charge RockStar plugs into the Lightning®connector, offering a way for users to simultaneously charge their iPhone and listen to music using 3.5 mm headphone jack devices. This adapter also allows for data syncing through the Lightning connector as well as microphone and remote control on the headphone jack.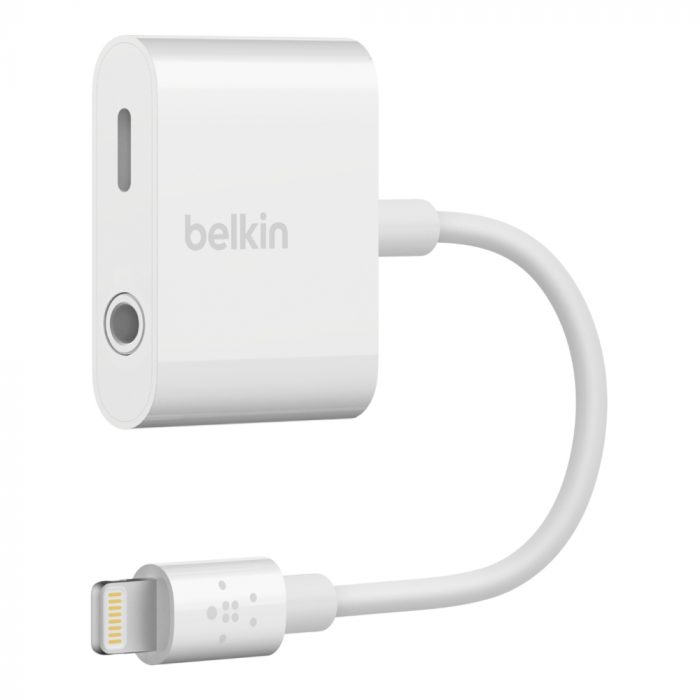 "We're excited to offer yet another way for iPhone owners to simultaneously charge and listen to audio using the headphones that they know and love," says Marco Peters, vice president of product management, Belkin. "We listened to consumers who wanted a reliable way to use their existing headphones, and we took learnings from last year's Lightning Audio + Charge RockStar to deliver what people asked for and more."
3.5 mm Audio + Charge RockStar Features:
Dual functionality so users can listen to 3.5 mm audio and charge iPhone simultaneously
Compatible with headphones, speakers, AUX cables and other devices with a 3.5 mm headphone jack
Supports optimal pass-through charging for iPhone
Supports remote and mic control on MFi certified 3.5 mm headphones
Supports syncing to transfer music and photos to and from MacBook
MFi certified to meet Apple specifications for use with iPhone 8, iPhone 8 Plus, iPhone X, iPhone 7 and iPhone 7 Plus running iOS 9 or later
You can pick the Rockstar up for £29.99 from Belkin or Apple.