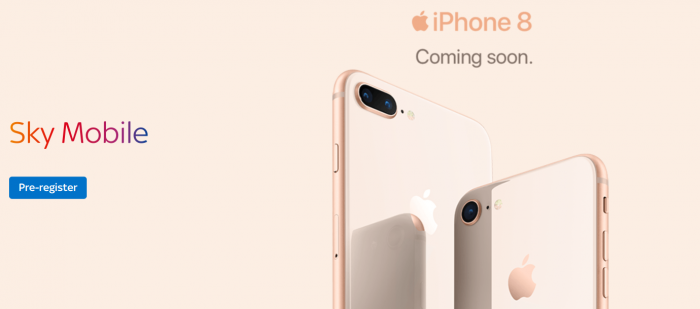 As we mentioned in our earlier piece, we expected Sky Mobile to be one of the virtual networks offering the iPhone 8 and 8 Plus. However, what we didn't quite expect was for them to be the first people to release contract pricing.
Sky Mobile has confirmed to us the prices on both the Swap12 and Swap24 plans. Perhaps the best way to show this is in the table below, but you can pick up the iPhone 8 64GB model for just £32 per month. That will get you 500MB of data and unlimited calls and texts if you're a Sky TV customer.
The Sky Mobile network, as we spotted a couple of days ago in this post, operate on the O2 network, and their Swap12 or Swap24 plans will let you bag a new phone every 12 or 24 months. No need to switch contracts, just hop up to the next iPhone or smartphone. Sky Mobile have also announced a new 10GB plan and have "Mix, Roll, Sync and Save" features. These will let you either change plan when you want (Mix), roll over unused data into a data piggybank (Roll) or sync your Sky+ recordings and save cash (Sync and Save) if you're a Sky TV customer.
Sky Mobile also tell us that they will be ranging the iPhone X too, although pricing hasn't been released as yet.
iPhone 8 (64GB)
Swap24
Swap12
Upfront costs
£0
£99
Monthly cost for your phone, data (500MB), calls and texts
£32

(£27 for phone + £5)

Free Unlimited Calls and Texts for Sky TV customers / PAYU Calls and Texts for non-Sky TV customers*

£37

(£32 for phone + £5)

Free Unlimited Calls and Texts for Sky TV customers / PAYU Calls and Texts for non-Sky TV customers*

Monthly cost for your phone, data (1GB), calls and texts
£37

(£27 for phone + £10)

Free Unlimited Calls and Texts for Sky TV customers / PAYU Calls and Texts for non-Sky TV customers*

£42

(£32 for phone + £10)

Free Unlimited Calls and Texts for Sky TV customers / PAYU Calls and Texts for non-Sky TV customers*

Monthly cost for your phone, data (5GB), calls and texts
£42

(£27 for phone + £15)

Free Unlimited Calls and Texts for Sky TV customers / PAYU Calls and Texts for non-Sky TV customers*

£47

(£32 for phone + £15)

Free Unlimited Calls and Texts for Sky TV customers / PAYU Calls and Texts for non-Sky TV customers*

Monthly cost for your phone, data (10GB), calls and texts
£47

(£27 for phone + £20)

Free Unlimited Calls and Texts for Sky TV customers / PAYU Calls and Texts for non-Sky TV customers*

£52

(£32 for phone + £20)

Free Unlimited Calls and Texts for Sky TV customers / PAYU Calls and Texts for non-Sky TV customers*
iPhone 8 Plus (64GB)
Swap24
Swap12
Upfront costs
£0
£99
Monthly cost for your phone, data (500MB), calls and texts
£37

(£32 for phone + £5)

Free Unlimited Calls and Texts for Sky TV customers / PAYU Calls and Texts for non-Sky TV customers*

£44

(£39 for phone + £5)

Free Unlimited Calls and Texts for Sky TV customers / PAYU Calls and Texts for non-Sky TV customers*

Monthly cost for your phone, data (1GB), calls and texts
£42

(£32 for phone + £10)

Free Unlimited Calls and Texts for Sky TV customers / PAYU Calls and Texts for non-Sky TV customers*

£49

(£39 for phone + £10)

Free Unlimited Calls and Texts for Sky TV customers / PAYU Calls and Texts for non-Sky TV customers*

Monthly cost for your phone, data (5GB), calls and texts
£47

(£32 for phone + £15)

Free Unlimited Calls and Texts for Sky TV customers / PAYU Calls and Texts for non-Sky TV customers*

£54

(£39 for phone + £15)

Free Unlimited Calls and Texts for Sky TV customers / PAYU Calls and Texts for non-Sky TV customers*

Monthly cost for your phone, data (10GB), calls and texts
£52

(£32 for phone + £20)

Free Unlimited Calls and Texts for Sky TV customers / PAYU Calls and Texts for non-Sky TV customers*

£59

(£39 for phone + £20)

Free Unlimited Calls and Texts for Sky TV customers / PAYU Calls and Texts for non-Sky TV customers*
If you want the unlimited calls and texts but you're not a Sky TV customer, you'll need to pay and additional £10 per month. To register your interest, head to www.sky.com/iPhone8