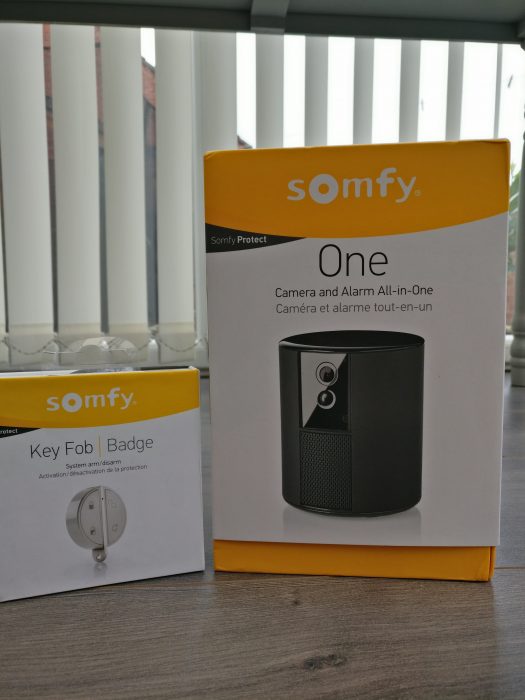 I have been recently sent through the Somfy indoor security camera for review.
Good Points:
Design.
Ease of Setup.
Picture Quality.
Ability to digital pan and zoom
Built-in in alarm. (Very loud alarm)
Motion alerts.
Ability to talk back to the camera.
Key fob arm/disarm.
Door and window entry monitoring.
Attractive, well designed.
Bad Points:
Price
App can be a little flaky.
Setup:
Let me say this is possibly got to be one of the easiest internet connected devices I have ever set up and pair to my home Wi-Fi. Firstly install the Somfy Protect app to either your iOS or Android device, once done create an account with Somfy once that's done you enter your Wi-Fi password which in turn generates a QR code, displayed on your mobile device's screen, place this in front of the camera which it reads, and 20 seconds later your camera is online connected and streaming live video to the Somfy app it is as easy as that. That done I placed the camera in several different locations in my home so that see how this camera performs.
Design:
The Somfy One camera is a short round shiny black, and beautifully designed security bot, a discreet little gadget that could sit hidden away in a room's corner, easily mistaken for a surround sound speaker meaning any would-be burglar can be snapped by you before even noticing that the Somfy One is watching and listening.
On the front of the unit is a powered shutter that opens and closes to reveal the camera lens, which is a nice touch if you want to be reassured the camera is definitely off when set it to privacy mode. This feels solid, with a quick snap shut and pop open action – a bit like a compact camera lens cover, but bigger.
The micro USB charging port is housed on the back, although is quite deep set so you may struggle to fit any type of cable in here. Thankfully the included one is equally as black and unobtrusive as the Somfy One itself, while it's also a flat cable which can be easily mounted out of the way. The rear of the unit features a single speaker as well as a reset button. We say button, although it's one of those proper reset jobs that require a pin to press. Thankfully Somfy has thrown one of those in with the kit – especially useful if you've lost your one to get your phone's SIM card out.

In Use:
Once I was set up it was down to using the camera,  which is all done through the mobile app, I did find the app to be a little flaky at times, with it needing a couple of resets and cache clears in the period I was using the camera, no doubt these will be ironed out with app updates.
That said the app is really easy to use and well laid out, making navigation to saved clips the ability to record live video and take snapshots a breeze. One feature I found worked really well was the app notifications, whenever the camera detected motion, or a loss of internet connection, my phone would instantly receive a notification.
The quality this camera produces was truly outstanding, with quality levels ranging from SD, HD and Full HD 1080p resolution gives a nice clear picture, although this can be set to lower levels if you want to save data when streaming on your smartphone, even at Full HD there was no lag when I had a decent mobile signal, the camera also has full night vision functionality.
Users have the ability pan and zoom, by using pinch to zoom and swiping when viewing the live footage from the camera, another nice touch is the app lets you snap a photo or take a snippet of video which is then stored on your phone. That means you don't need to worry about cloud storage which is a paid option that is offered by Somfy, at differing levels, ranging from free, to £3.99 per month depending on what level of storage you required
Some example images
The Somfy One is able to pick up audio from where it's placed and it is picked up clearly by the built-in mic and you can speak into your phone to get your voice projected through the Somfy One's speaker, with only a little lag. Which is a brilliant feature if you want to scare random family members ( which I did on my little boy while he was watching TV, not good that he ran off screaming and I had to explain to my wife ) or unwitting burglars.
One feature of the Somfy One I really like was its motion sensor, which means the camera can sit in low usage mode and will only notify you if a movement is detected, and record and save the associated video clip for review, date and time stamped through the app.
Example below.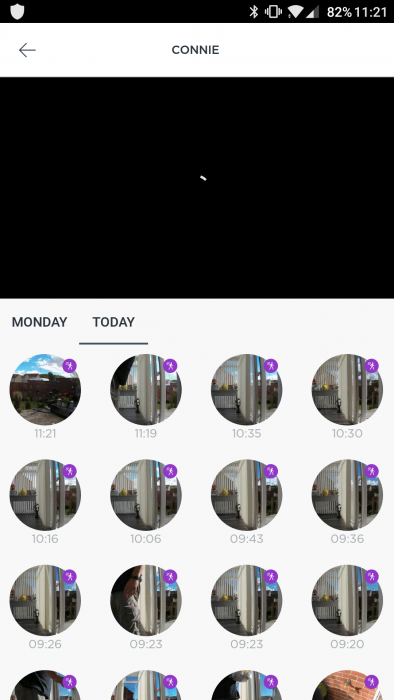 This motion detection function can be paired to the Somfy One's in-built alarm, once set any motion detected by the camera begins a countdown, app notification and if not cancelled a very, very loud alarm sounds ( I know we set it off by mistake and it nearly gave me a heart attack) and associated footage retained.
All of these functions can be activated from Somfy Key Fob Badge meaning that controls can be carried out right from your keys
Conclusion:
The Somfy One is attractively designed home camera, that doesn't stand out in any room, this camera offers a lot more features than some of the competitors currently on the market, with a simple and easy set up process, and outstanding picture quality, that said this camera is a little on the expensive side, it's currently on sale for £229 from Amazon but it is still worth some serious consideration for your home security needs. That build in siren is certainly going to scare the willy's out of anyone that sets it off and the addition of the shutter on the front of the camera will appeal to those who have any privacy concerns.
Update!  There's now an official shop too. Just head here to get your Somfy One and check the other products.
Somfy One
Design - 95%
Ease of Installation - 100%
Features - 90%
Control App - 85%
Picture Quality - 95%
Price - 90%
A well designed feature packed security camera.