You can imagine the conversation can't you? HARMAN must've called the PR guys and said, "Hey, we've made these great new Pulse 3 speakers. They're £199.99 from Currys and JBL.com. These are really powerful and have a cool LED light show on the top section. Can you do a photoshoot?"
"Yeah", say the PR people, and off they go. Trouble is, instead of showing the Bluetooth speaker in your kitchen or in the bedroom providing a funky light show, they took a whole stack of them to some nightclub somewhere and did this..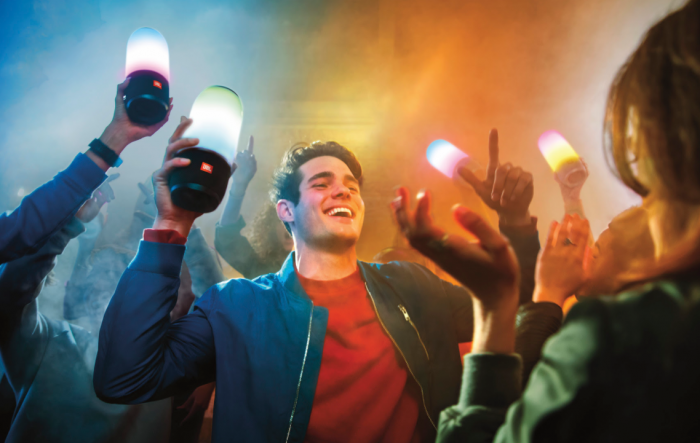 Seriously. What's going on there eh? They've gone a bit nuts with that. Are all the speakers playing the same tune? How does that work then? I've never managed to get the same tune playing through four Bluetooth speakers at once.  Oh and hang on, these speakers are nearly £200 each. How come four friends are carrying around £800-worth of speakers on a night out? Bit weird that.
Anyhow, my endless criticisms aside, the top bit hosts the LED lights and the bottom section delivers a thumping base-heavy sound thanks to three drivers and dual passive radiators. It'll bang out your tunes for up to 12 hours at a time. That's good that.
Now, they're not available until August but they've got all the cool bits from the Pulse range like the 360° sound but with better light and sound.
Oh and wait, they're waterproof too, so… here comes another mad photoshoot…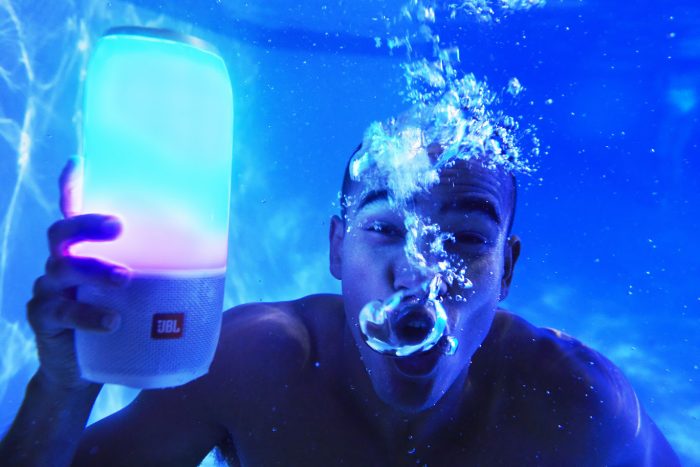 What is he doing? Can he HEAR that music? No. He cannot. He's just being bloody stupid. Get out of the water you fool and go and have a long hard look at yourself. Think about what you're doing and go and get yourself a proper job,.