Right, I will come right and say this I am old.
I can remember a time before the internet, before mobile phones and before the home computer had been invented ! I remember when gaming well that was something you did outside with your mates.
I have been there through the launch of all the home game consoles and then the boom in handheld gaming. Now I look back with fond memories of good old 8 bit games. It appears that I'm not the only one. Look at the massive success of the almost-impossible-to-get-hold-of Nintendo Classic Mini, a modern console filled with numerous classic games.
AtGames has announced its latest lineup of classic gaming hardware, including new premium HD versions of the Atari Flashback 8 Gold and the Sega Genesis Flashback. Each of these consoles include a selection of built-in Atari 2600 and Sega Genesis 16-bit games, respectively.
Also available will be the Atari Flashback Portable Game Player and the Sega Ultimate Portable Game Player later in the year.
The  Atari Flashback 8 Gold
This console features 120 built-in all-time favourites. Games include legends like Activision's Pitfall! and Taito's Space Invaders, as well as many other all-time Atari 2600 classics like Kaboom!, River Raid, Centipede and Millipede.
There's a pair of 2.4ghz wireless controllers which are styled on the Atari 2600 originals. If you fancy wired joysticks or paddles then these are an option too. Other features for the Atari Flashback 8 Gold include 720p HDMI output and a save/pause/rewind feature for every game.
The Atari Flashback Portable Game Player.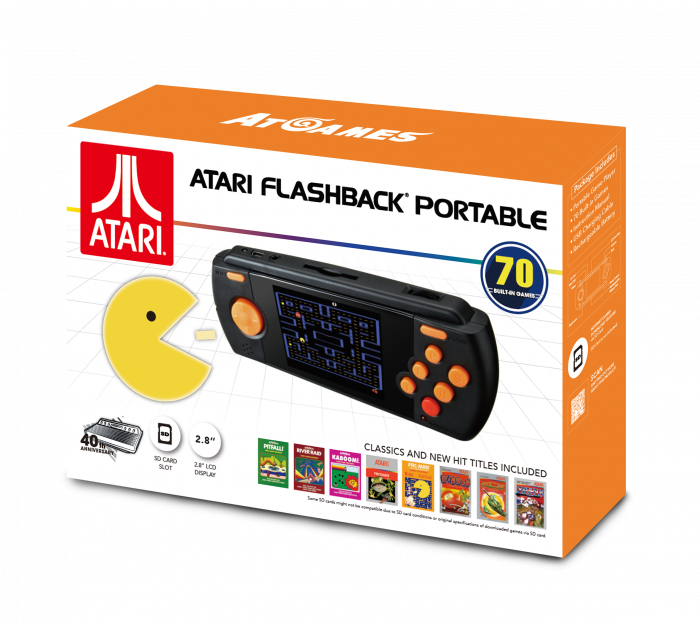 This console, which sits in the hand, has a selection of 70 built-in games with a 2.8″ display. You get PAC-MAN and Dig Dug, Pitfall! and Frogger. Yes, Frogger. You can even add your own games with an optional SD card.
A built-in rechargeable battery means that you can play for quite some time too. You can also output games onto a TV via an optional cable.
The all-new Sega Genesis Flashback &  The Classic Game Console.
Designed to be reminiscent of the original console, the Sega Genesis Flashback features 85 built-in games. It also has an integrated cartridge port that plays almost all of your favourite Sega Genesis and Mega Drive original cartridges. Proper retro.
The Sonic series of games is here, as is Mortal Kombat, Phantasy Star and Shining Force. You get the two 2.4ghz wireless controllers which are like the Sega Genesis originals or you can use wired controllers. It outputs video in 720p HDMI.
The Classic Game Console is a more value-priced edition. It comes with 81 games and has two wired controllers.
The Ultimate Portable Game Player.
Coming with a selection of 85 built-in 16-bit Sega Genesis and Mega Drive classic games (including PAC-PANIC and Splatterhouse 2), this has a built-in 2.8″ screen and battery. It also lets you play your own games via a SD card.