A few days ago I was logging into my Virgin Media account. However, I got a bit distracted by an advert and ended up on the Virgin Business website instead. Why was I distracted? Well, I'll show you…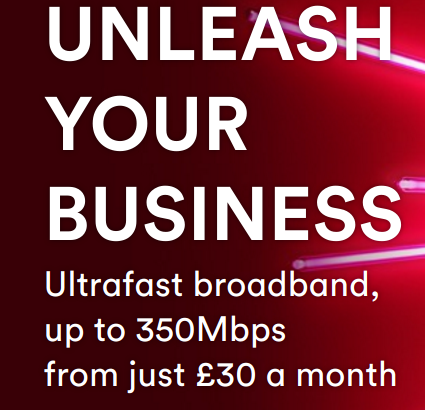 Yes. £30 a month for an internet connection which goes up to 350Mbps (price, though, is without VAT added)
No line rental, no need to buy the TV or the phone package. Just a bloody big internet pipe into your premises.
Yeah. I thought that might get your attention. Now yes, if you go to the Virgin website they'll be telling you how they can help your business and supply ISDN connections, WiFi solutions, managed internet connectivity, phone lines, VoIP and more but… but.. let's just be bloody honest here while I raise my eyebrow once more.
£30 per month for up to 350Mbps? £36 with VAT?
Woah there. Woah. Don't get excited. This is for businesses only, right? I'm not a business. It's just me sitting on my sofa. Perhaps I want Freesat. Perhaps I don't want a home phone. Who uses a home phone now? I want this. This sounds good, but let me check. Let me talk to their live chat people…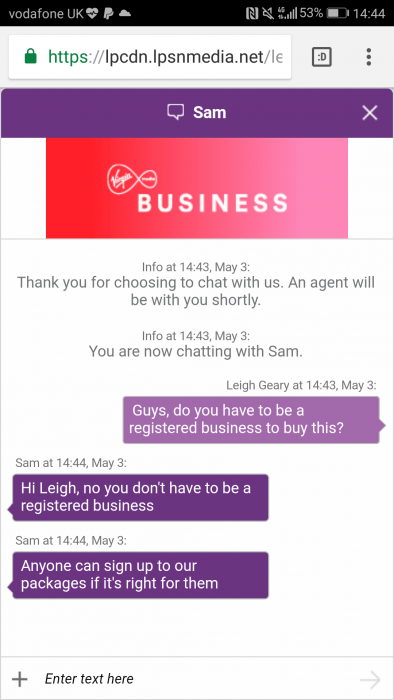 Oh bejesus. Bingo. Head to this page and check out "Option 1″…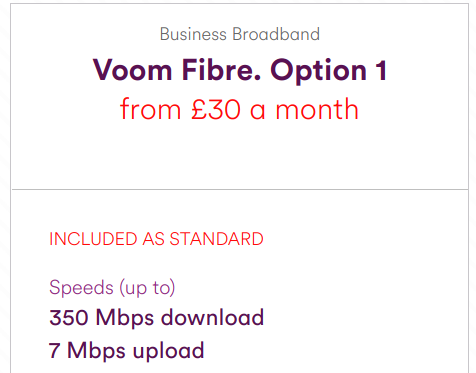 This "only" has a dynamic IP (who cares, not me), a wireless Hitron router and a 48 hour SLA. It's also a 2 year contract, so you're signing up for a pretty long ti………. come on.. it's £30 (or £36) per month. Ditch my home phone line, get Freesat and maybe … maybe use streaming TV services like Netflix for everything else. Boom!
Yes, there's some caveats, you need to be in a cabled area. Plus, if you want to keep your home phone then you might need to port your line to a VoIP provider and use your mobile to login to … hang on, I feel a feature coming on!!