Wanna know what's good? The fact that, on June 15th, you don't need to worry about using your mobile when you travel out of the UK and into the rest of Europe. Now sure, we don't know what is truly going to happen when Brexit kicks in, but it's going to be one insanely tough sell if the networks try to re-implement European roaming in a couple of years.
So, the news then. We've already heard that Vodafone decided to get rid of European roaming costs early – you can actually use that now. Meanwhile, EE are dropping European roaming charges on June 15th and now O2 have announced that they'll be doing the same thing.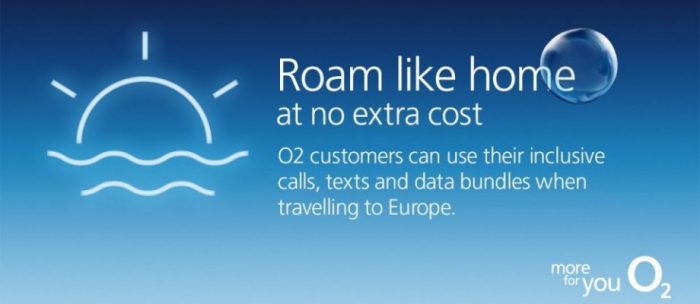 But wait – let's not forget that UK networks have to do this anyway on June 15th. EU law has abolished roaming fees and it kicks in on that day.
For O2 customers things extend further, and some non-EU countries are included too. These include Iceland, Switzerland and Monaco. The O2 press release states that..
Customers on O2's Pay Monthly, Pay As You Go and Business tariffs will be able to use their inclusive allowances while travelling in Europe. So while the weather will hopefully be different to the UK, using their phone won't be.
If you're on O2, you won't need to do a thing. No need to worry about crazy roaming charges.
Of course, it'll take a couple of years for some random plonkers to realise. They'll be on holiday saying..
Ooo, don't use your phone! It'll cost a MILLION POUNDS !!! Turn it off! Now… let me go and sign some travellers cheques.
You know who they are. They're the people who still have a tax disc on the windscreen of their car and they get confused by toll booths.
Where was I ? Oh yes. The countries for Pay Monthly and Business customers include Austria, Azores, Belgium, Bulgaria, Canary Islands, Croatia, Cyprus, Czech Republic, Denmark, Estonia, Finland, France, French Guiana, Germany, Gibraltar (UK), Greece, Guadeloupe, Hungary, Iceland, Ireland, Italy, Latvia, Liechtenstein, Lithuania, Luxembourg, Madeira, Malta, Martinique, Norway, Poland, Portugal, Reunion Islands, Romania, Saint Barthelemy, Saint Martin (French), San Marino, Slovakia, Slovenia, Spain, Sweden, The Netherlands and Vatican City. Destinations outside the EU/EEA are also included – Guernsey, Isle of Man, Jersey, Monaco and Switzerland.
If your'e on Pay As You Go, then unfortunately Guernsey, Isle of Man, Jersey, Monaco and Switzerland are NOT included in this European Zone.
You'll be getting a text to explain all this shortly if you're a customer.