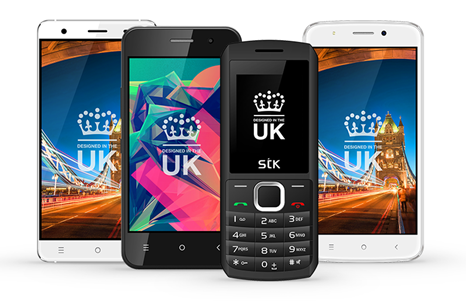 I've been taking a look at any mention of this company here on the site. The nearest I can find is this review of a battery pack they made some years ago. 
STK actually make phones too. Today they've announced a partnership with Carphone Warehouse, who will be exclusively ranging their handsets online at CarphoneWarehouse.com.
The handset range includes a good old-school ultra-reliable feature phone called the R45i plus three Android phones. You can choose from …
– The Storm 2e Pluz (I know, the name is a bit bizarre) which is £47.99 SIM free and features Android Marshmallow on a Quad 1.3GHz CPU with a 4″ 480×800 pixel screen and two cameras – a 5 megapixel and 2 megapixel up front. There's 8GB of storage on board and you can slap a microSD card in for more. Just 512MB of RAM though.
– The Sync 5e for £84.99 SIM free. This has a 13 megapixel rear cam, 5 megapixel front and 8GB of storage with a microSD card slot. It has a quad 1.5GHz CPU and 1GB RAM plus a 720x1280p screen.
– The Hero X for £139.99 SIM free, is at the top of the tree. It has an 8 and 13 megapixel camera setup, 5″ 720x1280p screen, 32GB of on-board storage (plus a microSD slot), 2GB RAM but that quad 1.3GHz CPU has returned. Oh, and it runs Android Lollipop, which is a bit old.
More details below.