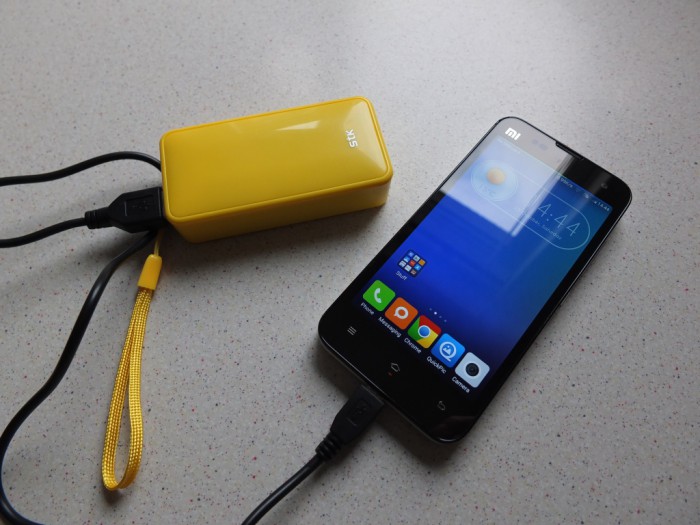 Mobile battery packs are a way of life these days, a kind of safety blanket that you keep in your rucksack, laptop bag, briefcase or handbag. It just sits there waiting to be pulled out and expected to charge your phone or tablet as fast as possible. Choosing a battery pack is difficult though with so many brands, specs and designs to choose from. In my eyes STK are relatively unheard of in the battery pack market and they've sent me one of their Cuboid 2 packs to try out.
Good Points
Nice looking.
Reasonable capacity.
Lanyard loop.
Nice range of available colours.
Bad Points
Only 1 X 1 Amp output.
LED output charging light hard to see in daylight.
Quite chunky.
No built in cabling.
Capacity seems more like 3000 mAh.
Slow to charge.
Specifications
Capacity: 4000 mAh.
Output: 1 X 1 Amp.
Input: 1 Amp.
Available colours: Black, white, pink, green, yellow or blue.
Price: £15.
Design
The Cuboid 2 is basically a small but chunky box, which as you can see I have got in the yellow version. In the box you get the battery pack, a USB to Micro USB cable and a rather short colour matched lanyard loop. Oh and some instructions. Charging things can be complicated you know.
The front end of the Cuboid 2 is where the input Micro USB port is, which is used to charge the battery pack. The full size USB port which allows you to plug anything you want into the battery pack, so if you want to charge an iPad or an Asus Transformer Prime both of which have non standard cables thats not a problem.
The front also has two LEDs a blue one which lights up when you are charging something, which if you're doing outside you'll struggle to see it. There is also a red LED which indicates when the battery pack itself is being charged, it is bright, so if you somehow manage to be charging it whilst outside you'll be good.
There is also a small lanyard loop which you can use to hold onto the pack with, if it was a bit bigger you could hang it round your neck, it isn't and you can't. Although you could buy a longer lanyard…..
The bottom of the Cuboid 2 is made of a harder feeling plastic and it has a textured finish, which I guess is to stop it sliding around. All of the other edges are made of bright yellow gloss plastic.
With small battery packs like this I always prefer when the USB cable is built in, small packs are all about portability, yet you still have to carry a separate USB cable around too.
In Use
To use the battery pack is really simple, you just plug the short supplied USB cable into the battery pack and then plug the Micro USB end into your phone or tablet. That's it, it just starts to charge, the blue LED lights up to show that it is working, which if you're outside you may need to persevere to see it. As the battery pack has a normal USB port on it you can use any old cables in it, so a lightning cable, a Asus Transformer cable or an old Samsung Galaxy Tab cable. They will all work. When the device is fully charged or the battery runs out the LED will turn off and that's that.
The published capacity of 4000 mAh means it can in theory charge most devices at least once and then a little more if you're lucky. I found in testing that at full capacity it could charge my LG G3 with it's 3000 mAh battery and that was about it. I tried a few times after a full charge of the pack and it was pretty much done afterwards. That charge took about two and a half hours also.
If the battery runs out there isn't really any way of finding out, bar plugging a phone or tablet into the battery pack and seeing what happens. Similarly you can't tell how much of the battery is left, I know that I have charged my Moto G from about 50% so the battery pack should be about half full, I hope. The best bet I've found is to charge the pack after you charge a phone and that way you know it's at full capacity.
To charge the pack itself you plug a normal Micro USB phone charger into the input port and watch for the red LED to light up, you know it's charging then. The red LED is very bright, you may want to avoid charging it next to your bed overnight. When it's full the LED goes out, the time this takes depends on what power you put in really, STK suggest a 1A input. Charging the 4000 mAh pack using a 1.2A charger took 8 HRS. I imagine plugging a tablet charger into it would be quicker but it would also cause some heat issues.
Carrying the pack around is a doddle thanks to its fairly small size, just don't forget the cable. You could also remove the short lanyard loop and attach a longer one and carry it around your neck and be that person. Again just don't forget the cable.
Conclusion
Overall I quite liked the STK Cuboid 2, the nice colour, the fairly small package and having a battery pack that could recharge my phone in my bag was reassuring. My wife was eyeing it up thanks to its size, as there isn't much space in her hand bag and she doesn't always carry a rucksack like me.
You can get the battery from the following link.