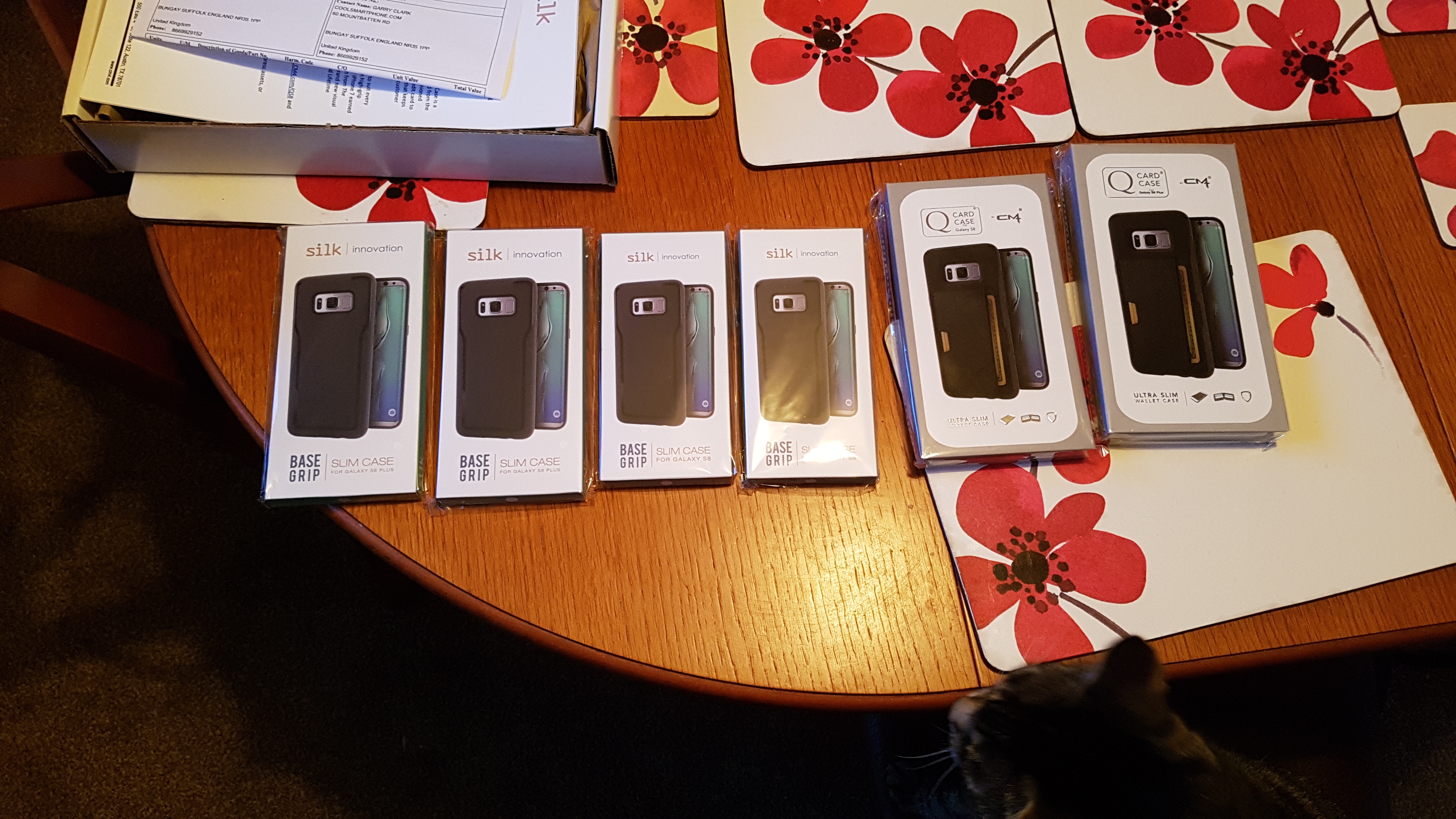 For some, today (Friday) will herald new phone day – that is of course if you are planning on picking up the latest device from Samsung in the form of the Samsung Galaxy S8 or Galaxy S8+. While the phone is truly gorgeous and a sight to behold, you will want to keep it like that, won't you? This is why we are here to help. For the last few weeks or so, I have been in contact with as many case vendors as I could get hold of, and have been asking/begging them to send me some cases to review for our dear readers.
Here is where I have a slight roadblock though, as despite my wholehearted attempts to secure one of Samsung's new superphones for review purposes, I have come up empty handed. So, I had to do a little bit of thinking and this is where a friend came to my aid. He was able to secure both a Galaxy S8 and Galaxy S8+ via pre-order, and he agreed to let me spend some short quality time with them. I have some images of the cases with the phones in place. However two of the cases only arrived on my desk yesterday, so I was unable to test them with the phones again.
Now that we have got that out of the way, let's move onto what we have got in store for you to look at.
Here is a small video that I shot below. I apologise for the camera shake as I don't have my tripod due to it being in storage, as I have just moved house!
Let's start with the Base Grip from Silk Innovation. This is a case manufacturer that I had never heard of until I discovered them while sifting through my email. They are an American company and are currently selling case through their
website
. You can also find them on
Amazon
. As things stand right now, I am uncertain as to whether we in the UK are able to purchase these cases and have them shipped over. If you are reading this in the States, then happy days.
I have a case for both the Samsung Galaxy S8 and Galaxy S8+. Apart from their relative sizes, there is no other discernable difference.
These cases feature a really nice textured feel to them which is made possible by the patent pending grip design around the edges of the case. I particularly like the attention to the detail for the buttons, as these make the buttons on the phone very easy to use through the protective material. Around the back of the case is a large and clean cutout for the camera lens, heart rate monitor/flash, and the fingerprint reader. This large aperture (as on all the cases I am looking at) provides unobtrusive access to the fingerprint reader and actually assists in you locating it. The buttons around the edges are covered nicely. The plastic used in the button caps is pleasingly giving and allows button presses with ease as well.
Here is the spiel from Silk Innovation
Slim and affordable case that provides the ultimate in grip to protect your device from drops, dings, and scratches
Patent pending grip texture provides ultimate grip and protection
Air cushioned corners absorb and disperse shocks away from phone
Durable and ultra-light construction keeps your phone thin and protected
Natural Throw buttons maintain the phone's tactile 'click' response
Lay-flat Screen Guard design for ultimate screen protection
Available in Black Onyx and Blue Jade
In return for my friend's (who helped me get pictures of the phones in the cases) help, I have given him one of the cases so I thought I would ask him his opinion of it. Here is what he had to say.
I like the fact that there is no divider between the camera and the fingerprint scanner when compared to other cases. It means I didnt have to reprogram my fingerprints again. I am not a huge fan of the split volume buttons and it did make me think I was turning the volum down, but I then open Bixby. The case is well fitting and not at all bulky, it is in keeping with the ergonomic design of the phone.
So we can conclude that these cases are really quite nice if you want a bit of added grip and protection. The one big downside is the fact that the case is a solid colour, meaning that you can not see the gloriousness of the phone through it. Not that this would annoy me, but it may not be to everyone's taste.
So what do you do if you want a bit of transparency then?
Well, here we have the cases from Gear 4. This is a brand that we are more familiar with as they have been in the shops on the UK market for quite a bit longer. We have two offerings on the table today in the form of the Picadilly and the Greenwich. Both of them have come in the Orchid Grey colour, so should match up with that corresponding phone nicely. These cases can be bought from Gear4
here
and because they are a known brand in Blighty, they will ship without any issue. The cases both cost a very reasonable £29.99, which is excellent value as they offer drop protection for up 3m/9ft.
This drop protection comes from that clever impact absorbing material called D3O. This material has been used in many things, including body armour, kneepads and NATO issue helmets! Essentially in its normal state, the D3O can be moulded and melded into whatever shape you want due to it inherent flexibility. This, however, all changes as soon as some sort of impact occurs, all the molecules join together in a lattice of sorts. The lattice allows the impact shock to pass through the device. This means that your precious phone will be "all shook up" after a spill.
The only major difference between the two offerings here is the fact that on the rear of the Picadilly, we find a flush plastic panel. On the Greenwich in the same place, we find a ribbed plastic panel. The difference allows for slightly better grip on the Greenwich, but it does come at a cost of the visual aspect of the phone. Again, these are nice cases and have that little bit more added protection via the D3O side strips.
What if you want your case to have some more functionality?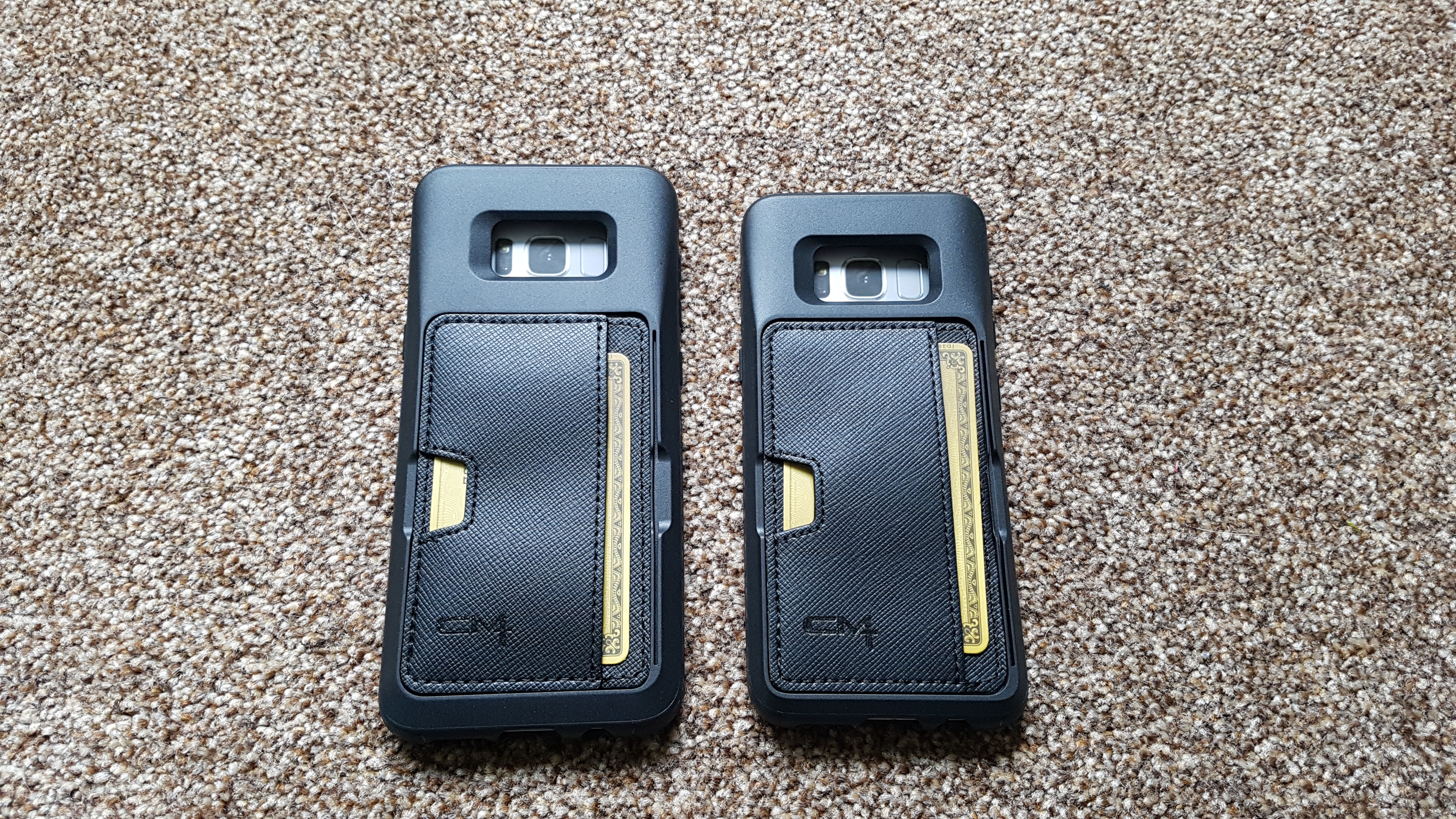 This is where my last case offering comes into play. It is from the same people who make the base grip, albeit under a completely different company name. This time around the company is called CM4, and the case is called the Q Card Case. No, it has no link up with any James Bond fantasies that you may have, so leave that at the door.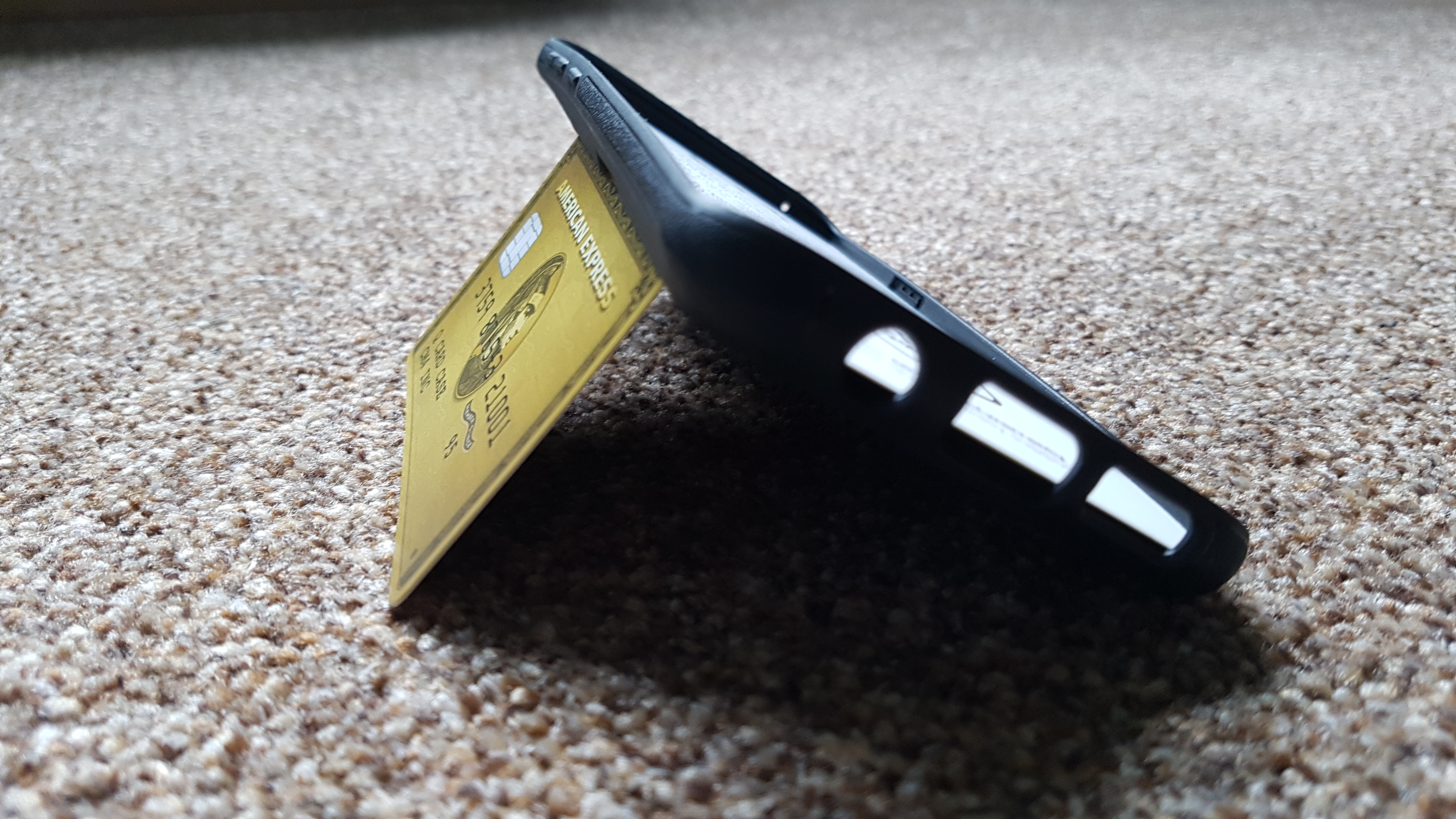 However, that being said this is a rather cool case that solves a relatively minor problem. I am a person that commutes a lot. I regularly find myself on planes and trains. Now whilst I am travelling (if I am not working), I quite like watching videos on my phone or tablet. This where the Q Card Case hits its home run.
Not only can I carry up to three cards in the back of the case, but I can also then use one of these cards as a makeshift stand! I know it isn't exactly earth-shattering, but on the other hand, it is genuinely useful. No longer will I get a cramp in my hand when I am watching my movies in a "less-than-socially-acceptable cramped seat". The case itself is a little bit chunkier than some of the others that I have looked at today but that is too be expected.
The card holder section of the case is made of a "leather like" material and feels okay to the touch. like on the Base grip the camera cut out is a good size and it is easy to reach the fingerprint reader. The buttons around the edges are covered nicely. The plastic used in the button caps is pleasingly giving and allows button presses with ease, as is the case with the Base Grip. The edges of the case also have air pockets to allow it to absorb impacts a little bit better, which is reassuring.
Here is the spiel from CM4
An ultra-slim wallet case conveniently carries essentials for maximum convenience and protection
Comfortably fits 3 cards (credit cards, IDs, etc.) plus cash
Protective air cushioned corners absorb and disperse shocks away from phone
Credit Card Kickstand props phone into two viewing angles
High-grip textured sides enhance grip and prevent drops
Lay-flat Screen Guard design for ultimate screen protection
Available in Black Onyx
That about brings us to the end of this review. What we have here are just a small selection of the cases that are available for the stunning Galaxy S8 range. If you are lucky enough to be an owner of this device or will soon, then get yourself out there and get a case on it.
**UPDATE**
During the time I have been writing this review, I was contacted by the marketing agent from both Silk Innovation and CM4 and they have regrettably informed me that at the time of writing the Base Grip and the Q Card Case will not be available in the UK. She did, however, state that they are currently looking into getting into the UK market soon. As it stands right now you can only get these two cases in the USA. If I receive any updates, I will add them into the article as appropriate.