Two networks have just got in touch with us about the LG G6, the first is Three and the second is Sky Mobile, who operate using the O2 masts up and down the country.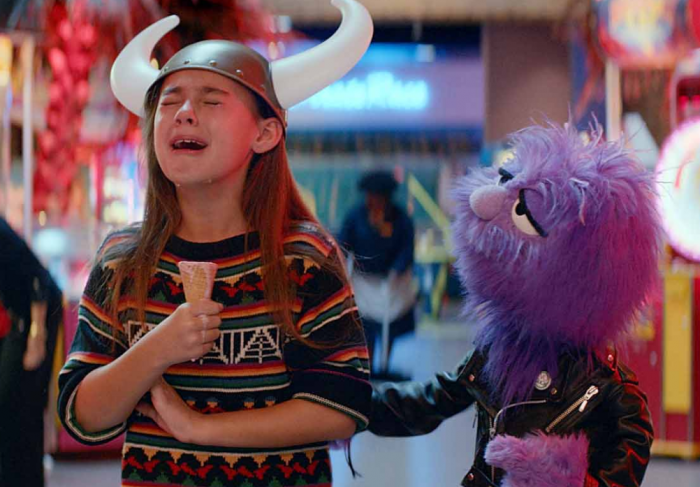 Three is has today started pre-orders and they have a contract with a £129 up-front cost which delivers 500MB of data. This will cost you £29 per month and you'll get 300 minutes and unlimited texts. They're also the first people to actually use the lyrics from the song below when they tell you that buying one will make you..
So fly like the G6
Yes! At last! Somebody actually used it! In my mind it was criminal not to blast out this tune at the launch!!
You'll know all about the LG G6 thanks to our earlier coverage. It has an edge-to-edge 5.7″ FullVision display with an 18:9 screen aspect ratio. There's also a wide angle 5 megapixel front-facing camera and a 13 megapixel dual rear cam.
Three are also offering the G6 with 12 gigabytes of data per month for £49 up front and £45 per month. There is also a 2GB plan which costs £79 up front and then £38 every month. Both will get you all-you-can eat calls and texts.
With Three you get 4G at no extra cost, and their Feel at Home system, which we tested in America last year. For full details and all available tariffs for the LG G6 on Three, head to www.three.co.uk.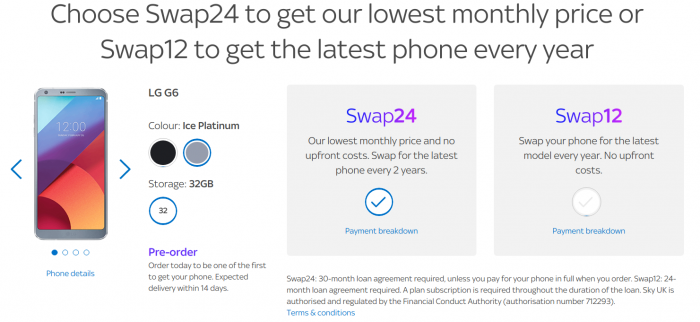 Meanwhile, on Sky Mobile you can get the G6 for £36 per month on their "Swap24" plan. This has no up-front cost, so for that much you'll get 1GB of data and you then pay for calls and texts or, if you're a Sky TV customer, you get free unlimited calls and texts. The Swap plans are one or two year deals which let you upgrade your device without any upfront fees. If you order it'll arrive on April 20th.
Here's a look at the pricing for the LG G6 on Swap24 and Swap12 plans..
Swap24
Swap12
Upfront costs
£0
£0
Monthly cost for your phone, data, calls and texts
£36

(£26 for phone + £10)

£57

(£47 for phone + £10)

What you get
1GB data

Free Unlimited Calls and Texts for Sky TV customers

1GB data

Free Unlimited Calls and Texts for Sky TV customers

Swap after
24 months
12 months
Delivery charges
Free
Free
Monthly cost after initial Swap window (12 or 24 months) if you choose not to Swap
£26 for 6 months

(£16+ £10)

£20.50 for 12 months

(£10.50 + £10)
If you go for Swap12 then you can swap your shiny new LG G6 in 12 months' time. Head to Sky Mobile for all the details.