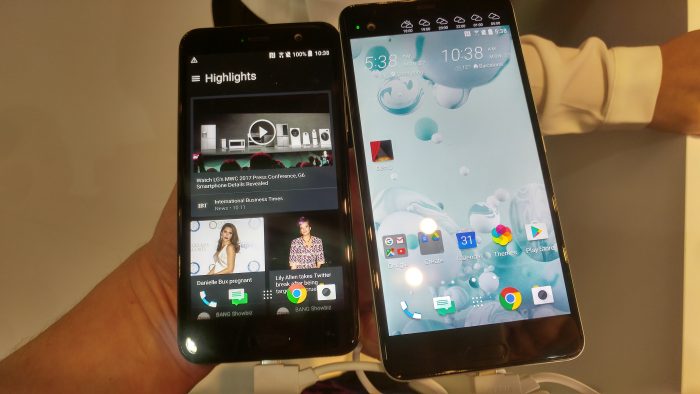 These are definitely very nice looking gadgets indeed. The paint job on the back is particularly stunning and reflects and shimmers the light around as you move it. Available from March, the U Ultra is the larger of the two phones but both run Nougat 7.0, have microSD slots, and are just 7.99mm thick. It comes with a 5.7″ Quad HD screen which really doesn't feel that large at all.
Depending on the model, there's either 64GB or 128GB inside and it's powered by a Qualcomm SNapsragon 821 quad-core 64-bit CPU running at up to 2.15GHz. If you get the 64GB unit then you'll find Gorilla Glass 5 but there's Sapphire Glass on the 128GB version. It also has a trick up it's sleeve – a 2.05 inch (160×1040) second display. This will run on the always-on screen and let's you interact with the device by accessing quick shortcuts such as contacts, favourite apps and so on. It'll also display information on upcoming appointments and notifications.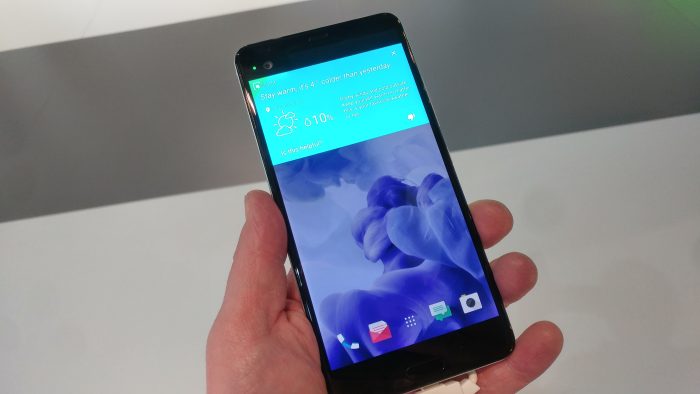 Inside there's 4GB RAM and at the back a 12 megapixel HTC UltraPixel 2 camera (f/1.8). It includes laser autofocus and OIS. There's also a 16 megapixel front camera with an "UltraPixel mode". This bigger brother also has 4 microphones for clearer audio recording and calls plus WiFi, GPS, Bluetooth 4.2 and NFC.
Inside both phones is something called "Sense Companion" which gradually learns about your life based on your patterns of behaviour. If, for example, you've got a scheduled appointment in the evening but it's only at about 35% battery life, it'll prompt you to recharge. There's also the ability to disable alarms on a Bank Holiday and it can learn what type of food you like based on the restaurants you visit. All of this requires a bit of input but the more you use the phone, the more it'll help you.
Here's a video overview from the stand. Apologies for all the reflections, the lighting wasn't great ..
The smaller HTC U Play has a 5.2″ screen which is a 1080p Super LCD unit with Gorilla Glass. It's powered by a MediaTek Helio P10 Octa-core 64-bit CPU and comes as either 32GB / 3GB or 64GB / 4GB. There's a rear 16 megapixel canera, phase detection autofocus, OIS, f/2.0 aperture and a dual-tone LED flash. Up front is another 16 megapixel camera with Ultrapixel mode. It has two microphones and WiFi, GPS, Bluetooth 4.2 and NFC.
Check our earlier story if you want more details on the two phones. Both will be available on March 1st. Pricing will be £650 for the U Ultra, which comes with 64GB internal memory. The U Play is £472 with 32GB storage.