If you're into your smartwatches and use an Android device, you'll have noticed the lack of updates of both hardware and software recently. LG are planning to change all that with two new smartwatches, both running the new Wear 2.0 update.
They were leaked by Evan Blass but we now have official confirmation from LG directly. The LG Watch Sport and LG Watch Style will both run Android Wear 2.0 and are both powered by the Qualcomm Snapdragon Wear 2100 processor. You'll also get a better finger-free interface as the Google Assistant comes built-in. It'll allow you to set reminders, ask for directions and more – just say "OK Google" to get started.
The LG Watch Sport supports Android Pay via NFC, so you can slap your wrist on the payment terminals instead of your smartphone. Meanwhile, both watches have a better UI and enhanced messaged and fitness features via Google Fit.
Both watches have a rotating side button to navigate around the interface – scroll through the app menu, notifications or messages by rotating it.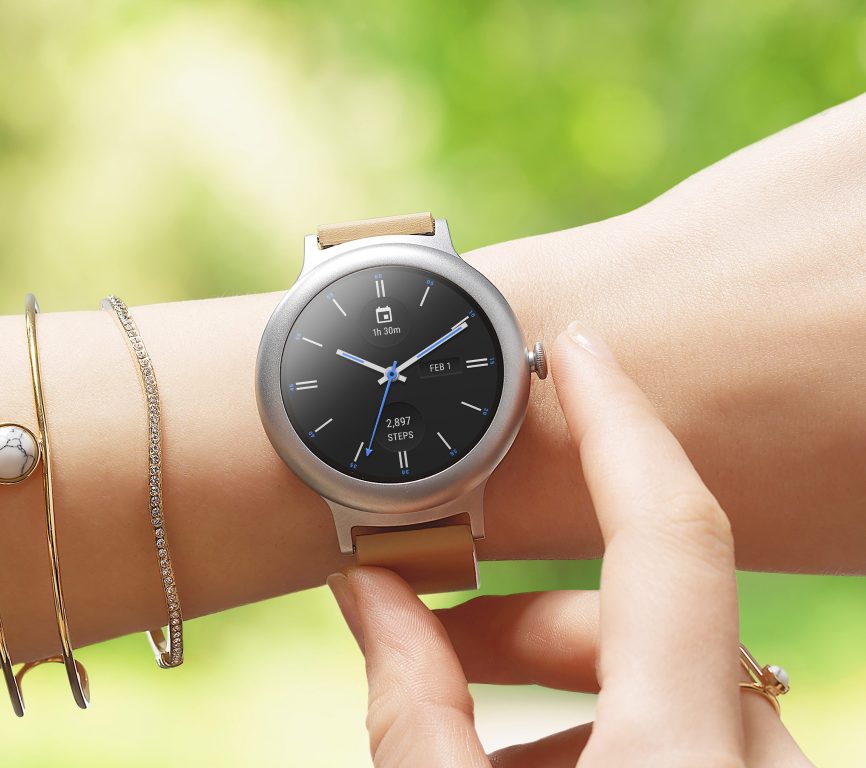 The LG Watch Sport is designed for everyone who "enjoys dynamic, athletic lifestyles" and inside you'll find a SIM with 4G connectivity. No real need for a smartphone then, as there's built-in GPS and it can runs apps itself. Specs include a 1.38″ circular P-OLED display and it's made from 316L grade stainless steel. It also has a thermoplastic polyurethane band and a photoplethsmogram (PPG) sensor to track your heart rate. It's water and dust proof.
The smaller LG Watch Style is designed "for urbanites" and comes in either silver, titanium and rose gold. You can snap bands onto it and it's waterproof too.
Both of these will be on show at Mobile World Congress, but if you're in the USA you can buy one tomorrow – February 10th. Key markets in Europe and Asia will see availability via the Google Store "later this month".
Full specs below..
LG Watch Sport Key Specifications:
• Chipset: Qualcomm® Snapdragon™ Wear 2100 featuring 4G LTE
• Operating System: Android Wear™ 2.0
• Display: 1.38-inch P-OLED Display (480 x 480 / 348ppi)
• Size: 45.4 x 51.21 x 14.2mm **
• Memory: 4GB eMMC / 768MB LPDDR3
• Battery: 430mAh
• Network: LTE / 3G /Wi-Fi 802.11 b, g, n / Bluetooth 4.2 LE / NFC
• Sensors: 6-Axis (Accelerometer / Gyro) / Barometer / PPG / GPS / Ambient Light Sensor
• Colour: Titanium / Dark Blue
• Other: Dust and Water Resistance (IP68) / Speaker / Microphone / Wireless Charging
LG Watch Style Key Specifications:
• Chipset: Qualcomm® Snapdragon™ Wear 2100
• Operating System: Android Wear™ 2.0
• Display: 1.2-inch P-OLED Display (360 x 360 / 299ppi)
• Size: 42.3 x 45.7 x 10.79mm
• Memory: 4GB eMMC / 512MB LPDDR3
• Battery: 240mAh
• Network: Wi-Fi 802.11 b, g, n / Bluetooth 4.2 LE
• Sensors: 6-Axis (Accelerometer / Gyro) / Ambient Light Sensor
• Colour: Silver / Titanium / Rose Gold
• Other: Dust and Water Resistance (IP67) / Microphone / Wireless Charging