Was it a strange advertising campaign to get us all talking about the 13 Discovery channels on Sky? Was it all planned? Well, we'll never actually know, but what we can say is that, late last night, a deal was reached between Sky and Discovery. The Discovery channels, which include Eurosport, TLC, DMAX, Animal Planet and Discovery HD, will remain on Sky.
Last we heard, there was quite a bit of mud-slinging between the two networks, but now they seem to have settled the pricing problems. Discovery tell us that…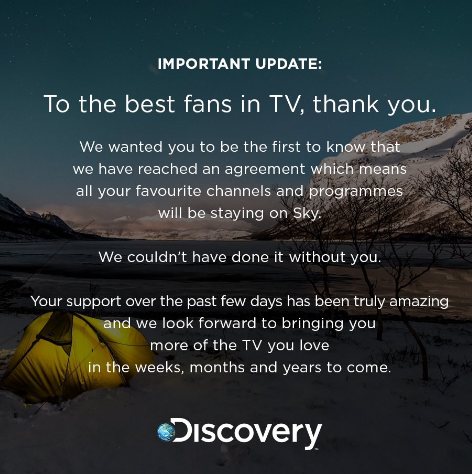 On the other side of the fence, Sky state that they're also glad to have reached an agreement and they've also bagged quite a few more channels in the process… from .. err… PBS America. It's actually already broadcasting on channel 534, so presumably there's going umm.. more PBS.
Great news, we can confirm that Sky will continue to carry the Discovery and Eurosport channels. This means you can still watch channels including: Animal Planet, Discovery HD, Discovery History, Discovery Home & Health, Discovery Science, Discovery Shed, Discovery Turbo, DMAX, Eurosport1, Eurosport2, Investigation Discovery, TLC and Quest.

We are also delighted to announce a new deal with PBS America that will bring the best of PBS's factual programming to Sky, covering history, science, current affairs, arts and culture. We are adding over 1,000 hours of programming to our On Demand service from channels like History and National Geographic. This means our customers can enjoy the very best factual programming available.
More detail on the Sky announcement can be found here, but Sky executives have stated publicly that the deal was the exact same one which was previously offered to Discovery. Doah. Discovery have tried the put this in a good light by crediting the viewers for "helping" with negotiations and have said that the deal was actually different and was "meaningfully better than our former agreement and their proposal".