Amidst all the fuss about the death of the smartwatch, Google is preparing to attempt to breathe new life into its watch OS.  Android Wear 2.0 is set to launch on 9 February, bringing a slew of new features.  It has been available in various beta releases for some time but the final release version is supposed to contain additional aspects to the OS.  Google are still to confirm the date, but the increasing number of recent leaks would suggest that it is imminent.  Also imminent are the Nexus/Pixel equivalent for the watch world.  Google has teamed up with LG to produce two watches, the 'Style' and the 'Sport'.  A blurry shot of them was in a previous story, but serial leaker Evan Blass has released a much better quality image of the 'Style':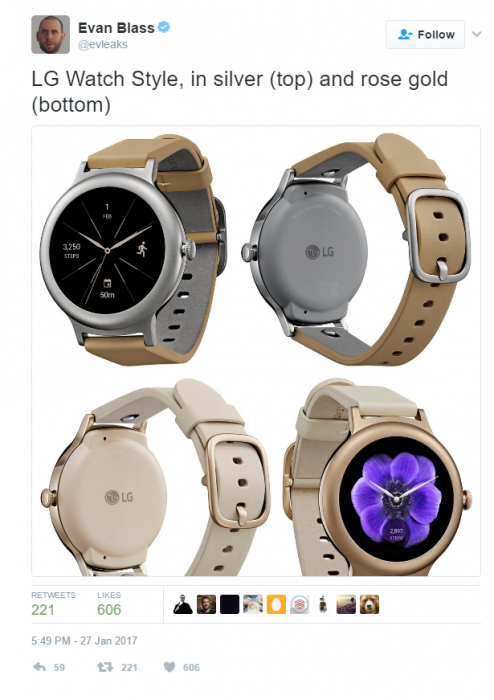 Details confirm those in our earlier post, namely:
1.2″ P-OLED screen
IP67/68 waterproofing (former on the Style; latter on the Sport)
512MB RAM
4GB storage
240mAh battery
They're rumoured to be priced at $249/£249, but no confirmation as yet.  Whether or not Android Wear 2.0 can breathe life into a flagging market is one thing, especially as many of the existing Android Wear devices will be upgraded, but whether such a hideous looking watch as the 'Style' will help is another.  Personally I am a massive smartwatch fan, but I very much doubt that something like this will persuade anyone undecided on the matter.  What do our readers think?