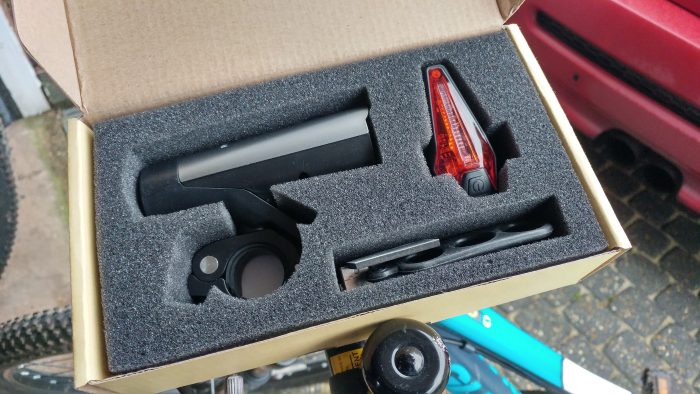 Yes, bike lights. Welcome to the never-ending list of stuff that we're reviewing here on Coolsmartphone. I'm hoping that we'll have some sports cars in next.
These are LED lights. Back when I was a kid I'd have a huge battery in each of my bike lights and the big old bulbs wouldn't last that long either. Actually, I did some Googling and found the exact ones I had. These are them. Bonkers eh? They were huge and the batteries were terrible. There weren't the best design and would fall off if you dared to cycle off a kerb of any kind. You ended up using tape to hold the batteries in the back.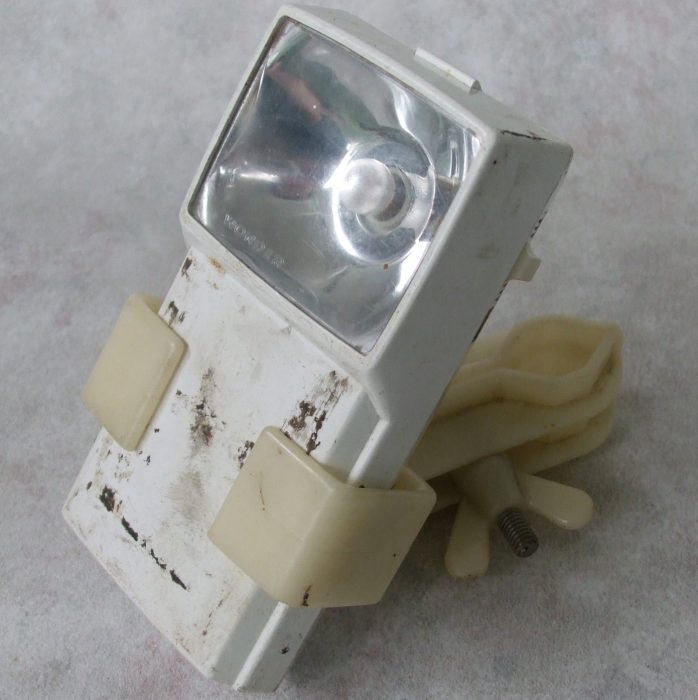 Today things are a lot more modern, and these ultra-slim LED lights seem to be everywhere. These ones are a bit different as they're brighter and charge from a USB port. They're also easy to attach, easy to detach and you can perhaps strap a portable charger to your bike if you're planning an epic multi-day ride to keep them topped up. They're available from Amazon and, at the time of writing, they cost £28.99.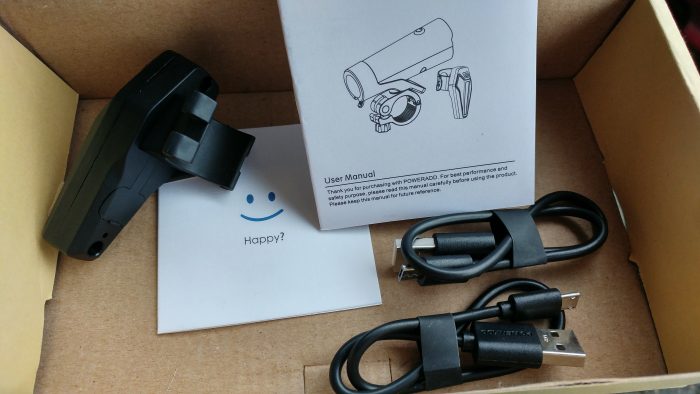 I'm composing this review in January here in the UK, so if you've had a bike for Christmas and you're putting off the "get fit" regime because of these dark evenings, these are (in my opinion) some premium LED lights which will help you see and be seen.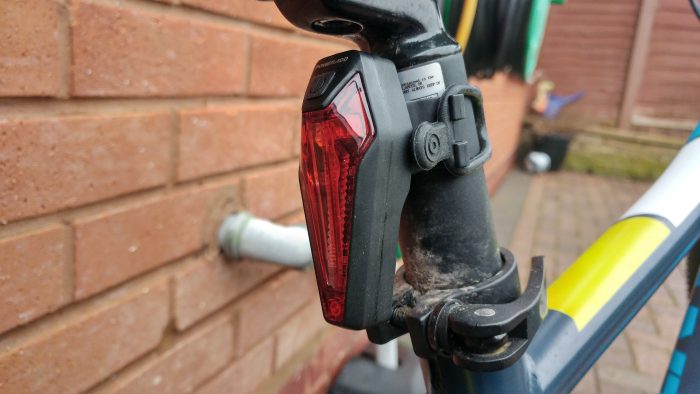 These come from a company called "Poweradd" and the first thing you need to know is that you won't need any batteries, because each has a rechargeable unit inside. The second thing you'll need to know is that the cheaper LED lights you might see down your local supermarket (you know, the ones that run off a couple of AAA batteries) might have an LED or three, but they're not always that bright. These, let me tell you, are.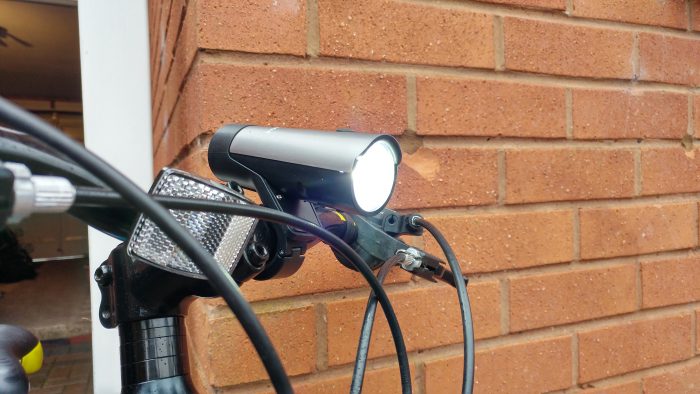 The front light, which is a "bullet" shape and clicks into a bracket which you easily connect to your handlebars, has a Samsung 2600mAh Li-ion battery inside. According to the Amazon listing (and this is different from the details in the manual which I read from in the video) it'll last 20 hours on "high" mode. That "high" mode is basically the white light you'd expect, but there's also a "blue light" mode which you can run so that you can be seen more easily by traffic without dazzling them in the day time. This "Blue light mode" gives a wide 220-degree viewing angle and, because it's not as power-hungry, doesn't use the battery as quickly.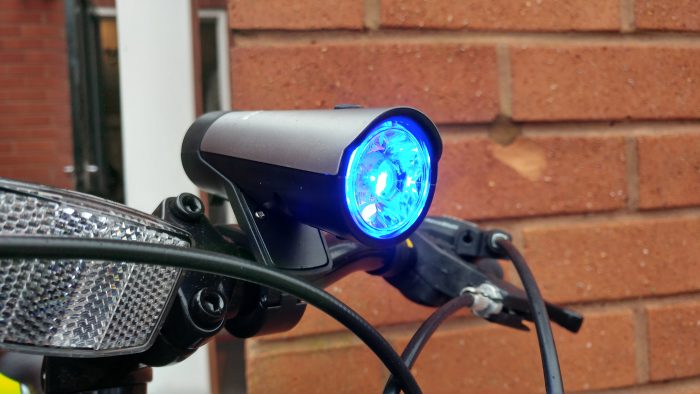 Fitting onto the handlebars is a simple task, made easy thanks to a swinging clasp and screw fitment with rubber inserts which won't scratch your bike. There's some extra ones so that, if you're fitting to a childs bike as I was, you can fit it to thinner handlebars without issue.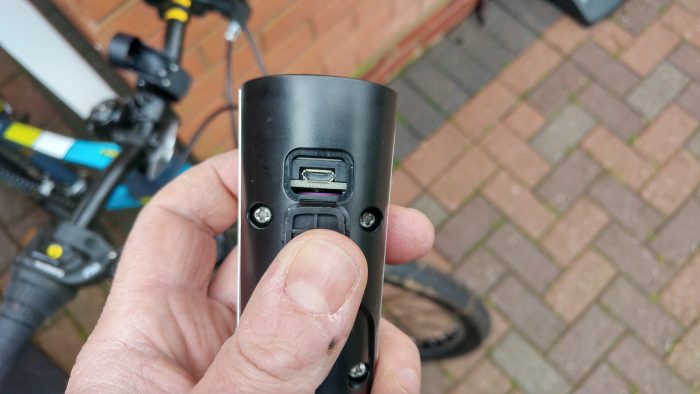 You charge both the front and rear lights via a microUSB port which is hidden behind a waterproof flap. They're both IPX-4 water resistant and this front one just clicks in and out of the bracket easily, with a rubber button on top for operation which is easy to find even with gloves on.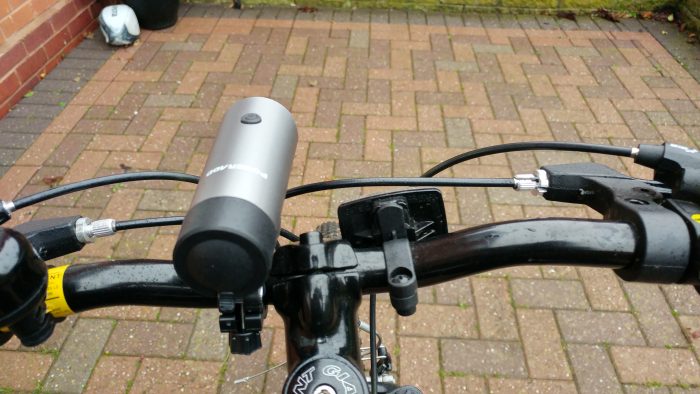 The rear one is held onto the seat post with a wrap-around rubber band. This attached to the rear light and pulls tight enough to hold it in place. You then press the button on the top to turn it on, or have a cool "pulse" mode, which I rather liked. The rear light lasts longer on the "pulse" mode.

The makers of these lights tell me that the front light uses an "American branded CREE LED" which "optimizes an optical reflector to give the best ration curve between luminous intensity and energy consumption". Well now. I've no idea what that means, but I can tell you that these are very bright, very easy to setup, charge and use. Top marks from me.
Perhaps the best way to see these in action is via video. Here's my video overview of the unboxing and how I attached them to the bike..
As you can see in the video below, the LED light up front was strong enough to project onto a wall in the daytime and was visible from around 5-10 metres away on other objects in the day. You can also adjust the tilt angle on the rear light and the direction of the front one, which is always needed depending on where you fit them.
Interested? Head to They're available from the Amazon listing where you get free delivery.
Poweradd USB Rechargeable LED Bike Lights Review
Setup - 92%
Quality - 89%
Price - 80%
High quality, easy to fit, vivid and powerful LED lights which will keep you safe in the night or during the daytime. Very good these. Just a bit pricey compared to the competition.