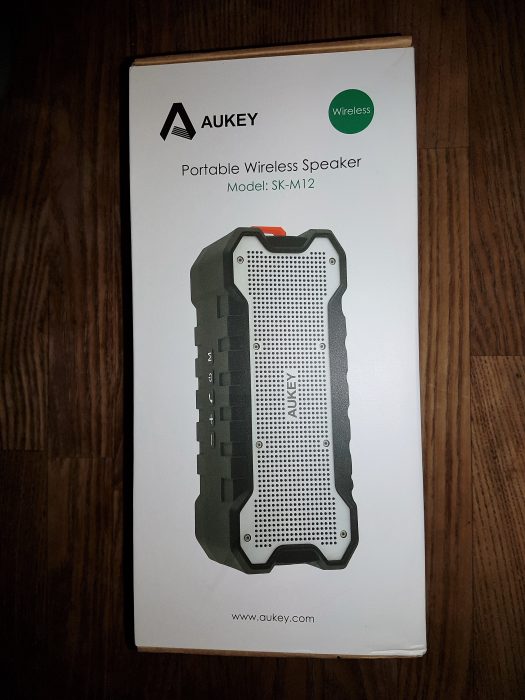 Christmas might be a long distant memory already but there's still time to treat yourself to some shiny new tech products! This is the second Aukey wireless speaker I've reviewed.  Unlike the first model, which I rather liked, this speaker has a more rugged look.  Like most Aukey products it comes in a simple cardboard box with sleeve:

Inside is the speaker, a 3.5mm to 3.5mm aux lead, and a micro-USB charging cable: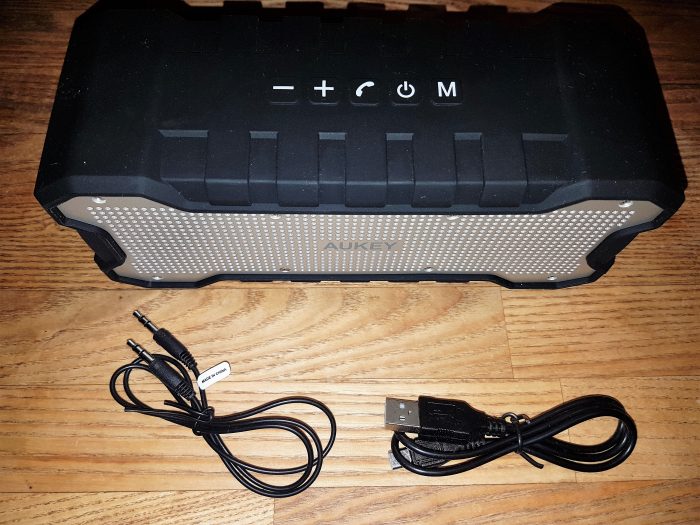 Here are the specifications and main features:
built-in microphone for hands-free calling
2 x 5W speakers with 'superior bass performance'
built-in rechargeable battery for up to 30hrs of music
Despite its look, it is not waterproof.  The outside of the speaker is covered on four sides by a tactile, rubberised material.  I didn't test it, but it looks like it should withstand a fall from table height.  The front and back have a nice metal grille, and the overall appearance is really rather pleasing.  At one end is a red plastic clip, whilst at the other end a similarly red plastic material covers the 3.5mm jack and micro-USB port.  I have short finger nails and had great problems opening the cover.  Presumably this is deliberate as Aukey also include a small device (much like the little metal clip that ships with phones to open the sim card slot) to prise it open.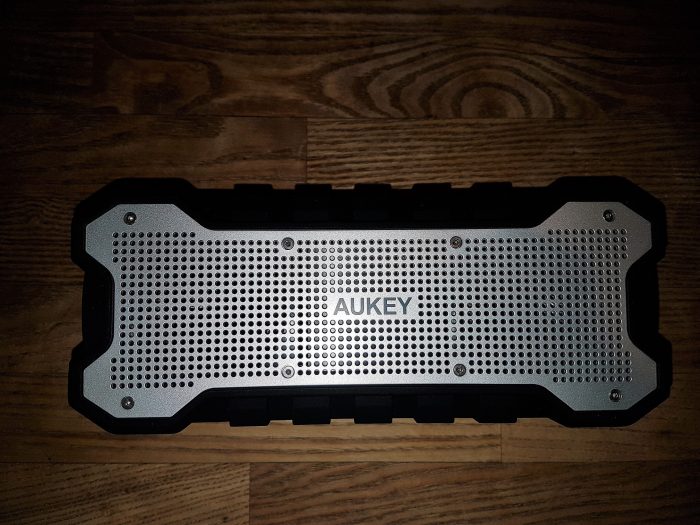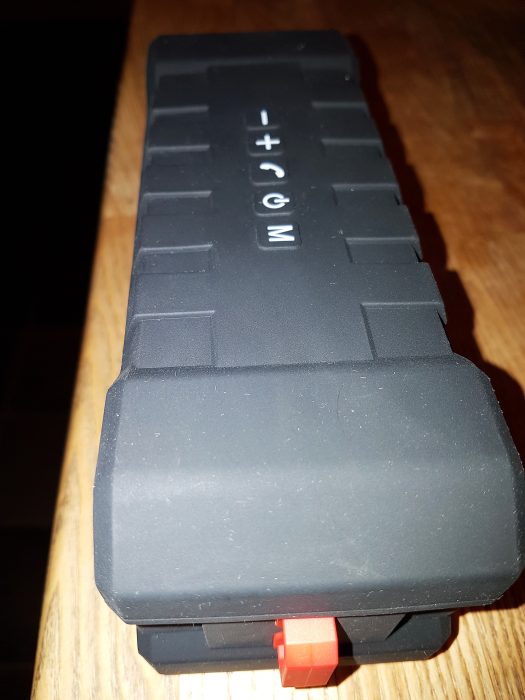 At the top of the speaker are various buttons for volume, changing track, power, and answering/rejecting phone calls.  Pairing with a phone via bluetooth is straightforward.  Upon connection the device makes an annoying beeping sound – I suppose some people will like to know that it's connected, but a little blue LED confirms this, so I could quite happily live without the connection sound, which you cannot turn off.
The sound was decent for such a small device.  It was certainly louder and nicer to listen to than the previous Aukey speaker mentioned above, with a more noticeable bass.  The longer battery life was also an advantage, and the combination of metal and rubber finish appealed to me.
The Aukey speaker is available from Amazon for £34.99.
Here are my scores:
Aukey SK-M12 Wireless speaker
Design - 92%
Sound Quality - 80%
Price - 85%
Ease of Use - 90%
Features - 80%