Portable speakers are ten a penny these days.  You can spend anywhere from a few pounds up to several hundred.  The sound quality is often one of the defining features, as is the make and look.  Aukey produce a wide variety of products, most of which are somehow related to mobile phones – everything from power banks to headphones to clip on camera lenses.  The SK-M7, to give it its official catchy title, is actually really quite lovely.  But, first things first.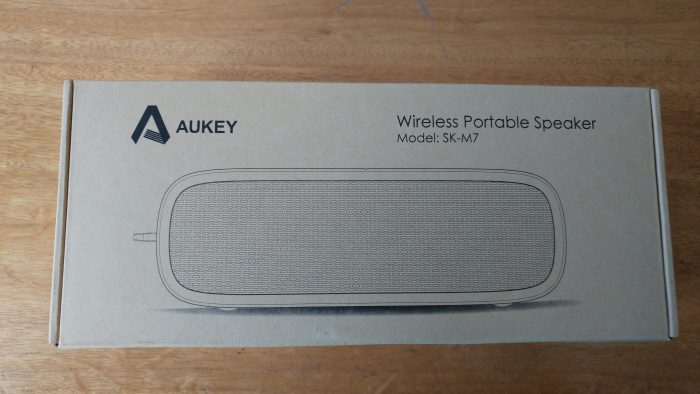 In the box, a simple cardboard affair with no thrills, is the speaker, a 3.5mm-3.5mm aux lead, a micro-USB charger, and arguably most impressively, a carabiner (that's a climber's belt clip to you and me).  The speaker has a clip at one end for dangling said carabiner.  I suppose you could clip this onto your jeans, but I suspect that without a sturdy belt it would probably pull them down to your ankles, which I don't suppose is the image Aukey are after.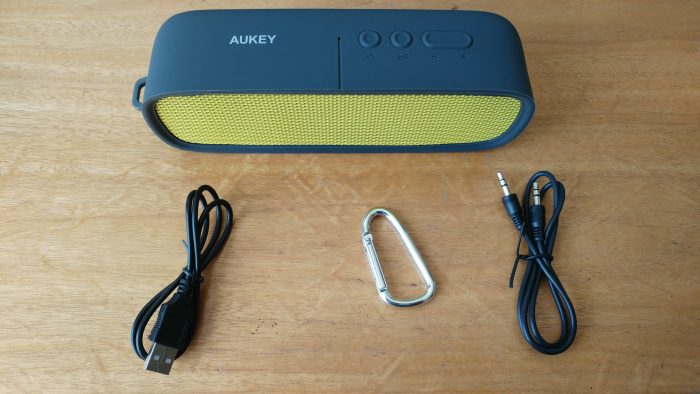 Anyway, the speaker itself is a rather beautiful thing.  It is grey and finished in a tactile, rubber material.  On the top are telephone, play/pause, and volume buttons.  At one end is the loop onto which the invaluable carabiner can be attached, whilst around the back are the on/off switch, micro-USB port, and separate line in and line outs.  At the front, covering the speaker, is a yellow grille.  All in all I have to say that not only is it quite a dainty thing (albeit too heavy for a belt clip) but it looks great.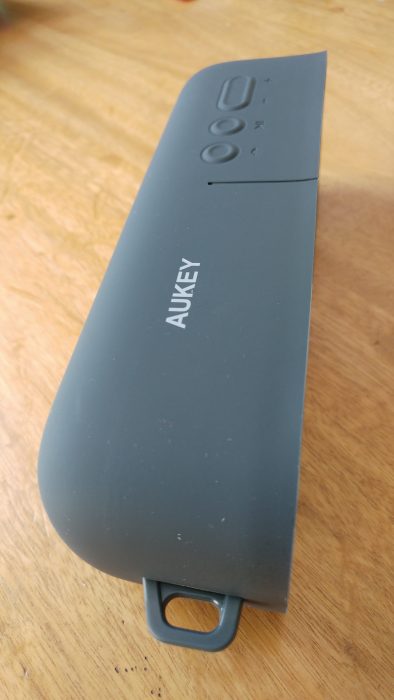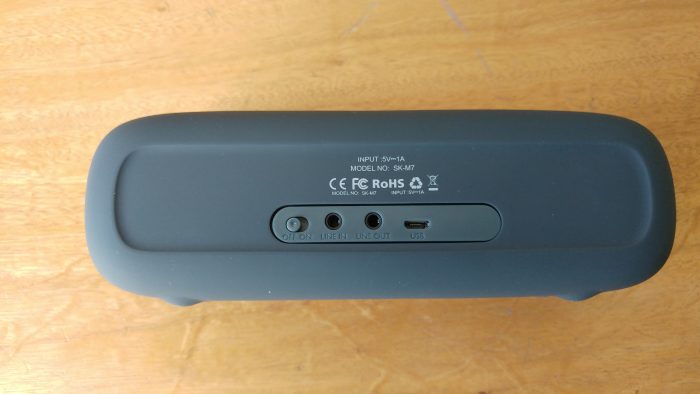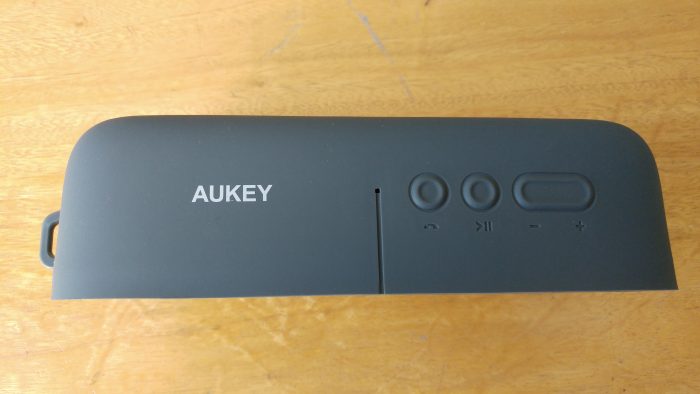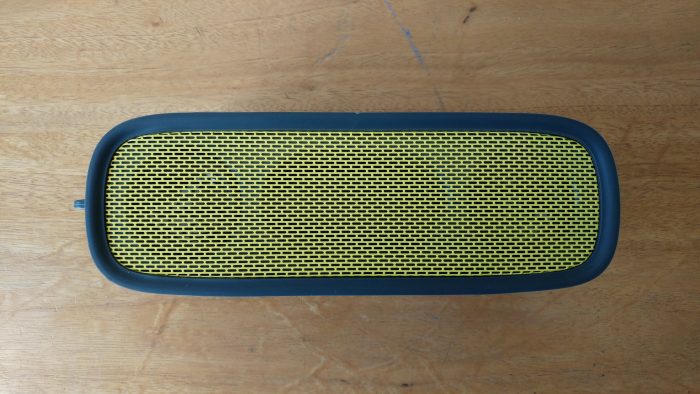 Here are the specs:
2 x 3W drivers with sub-woofer
built-in rechargeable battery that provides 12 hours of music
built-in microphone for hands-free calling
Setting up the device is easy.  It can be connected wirelessly via bluetooth, which was a very simple and painless experience; or you can connect it via the 3.5mm cable (assuming that you don't have an iPhone 7 of course).  Aukey claim that the bluetooth connection will work up to distances of 33 feet (about 10m in new money).  I tried this and got to about this distance before it disconnected, but that was outside in the garden without walls; I doubt it'll work at this distance in a house.
Battery life, after the initial 4 hour charge, was good, with Aukey's claim of 12 hours about right.  If you're not planning on moving it around you could always keep it plugged in via the micro-USB lead.  The sound is decent.  It's a small device with relatively small speakers, so the sound is pretty much as you'd expect; that said, it's a great improvement on smartphone speakers.  I also like the option to answer calls via the speaker and sound quality – for both ends of the conversation – was perfectly fine.  The sound is fairly loud and whilst it won't be good enough for a party, it is capable of filling a room with background noise or of drowning out yelling kids.  There's no mention about any waterproofing and I didn't fancy dropping it in the bath in order to check, which is a bit of a shame.  The carabiner, despite my initial attempts to clip it onto my jeans, is actually quite helpful for attaching to things like coat hooks or other random spots around the house.
All in all then, I came away impressed with the speaker.  It looks great, has decent battery life and sound, is small and portable enough (approx 8 inches in length) to take away with you for camping and holidays etc, and is very reasonably priced.
The Aukey speaker is available in yellow or black and normally sells for £29.99, but the lovely folk at Aukey currently have it on offer for Coolsmartphone readers for £13.99.  This is a time limited offer, timed to coincide with the review, so snap it up quickly before the price rises again.
Aukey Wireless Portable Speaker
Design - 90%
Sound Quality - 75%
Price - 90%
Ease of Use - 90%
Features - 80%