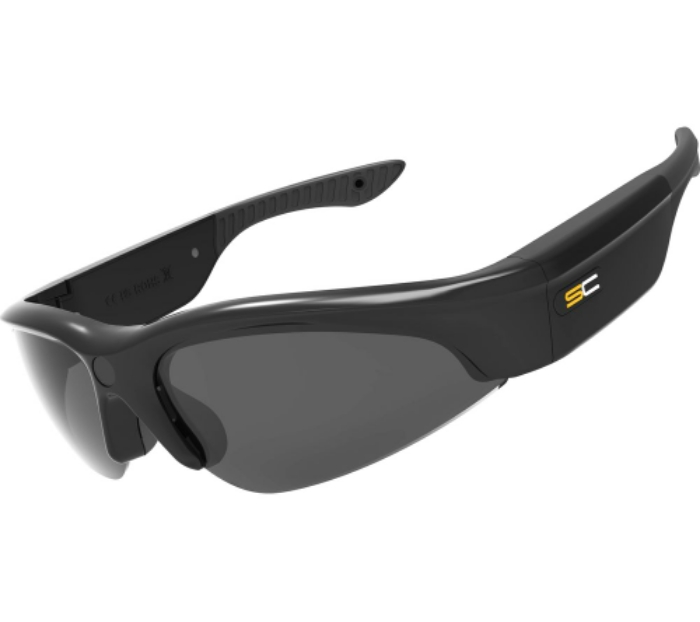 Over three years ago now we reviewed these Hyundai sunglasses. They had a "hidden" camera up front which meant that you could secretly record "stuff". I tried it on a summers evening whilst cycling and the results were a little low-quality and bumpy. However, fast forward to CES 2017 and there's now some very similar-looking Sunnycam Activ (no, I've never heard of them either) glasses that'll record in full 1080p.
The lens has a 90° field of view and you get a microSD port which will support up to 64GB. That effectively means that you can walk around for 11 hours, recording everything you see, for some really umm … "exciting" YouTube footage. It's also safe for your eyes thanks to the interchangeable UV400 lenses and there's a "Grilamid TR90 high impact resistant frame" which should mean that you can wear them whilst cycling or skiing and not have to worry about dropping them too much.
Although it'll record up to 11 hours on a 64GB card, the battery inside will need topping up as it'll do just an hour before it goes flat. However, this time can be extended if you plug a battery pack into the charging point and lash a cable around the back somehow.
Touch controls are built into frame arm so that you just need to tap once to start recording.
You want one. You want one don't you? Get down to PC World and throw £119.99 across the counter. You can get one today. Boom!