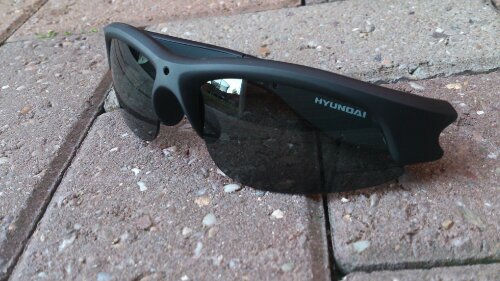 Sunglasses … with a frickin' hidden camera. Honestly, it's like something out of Austin Powers. I don't know where to start.
Back in 2002 I was happy to review a phone that had a colour screen. Now I've got a pair of sunglasses which look and feel like ordinary sunglasses, but actually house a hidden HD camera in the front. Nuts.
This is all about getting fit if I'm honest. We've got apps to track our routes, the amount of calories burned and we can even upload the whole lot to a website to track how fit we're getting. These sunglasses, which you'll probably end up wearing if you're cycling (to prevent the bug-splats) are really no different to any other sunglasses…in terms of looks at least.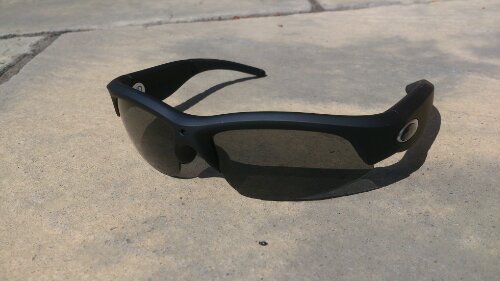 At first glance these do indeed look like any other shades on the market. They're not particularly heavy or combersome and really do feel and look like a pair of sunglasses that you'd see in any shop on the highstreet.
 
If you look closer you'll see that, on one of the arms, there's a port for connecting the provided cable to. A microphone hole is here too and, at the very front of the glasses, the tiny camera which films whatever you want to film.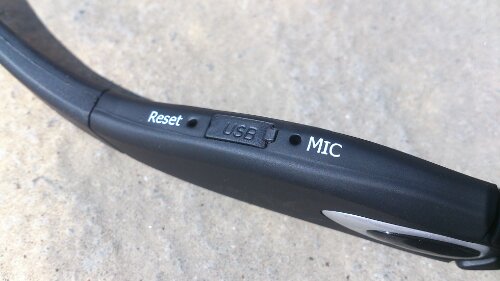 Spot the camera?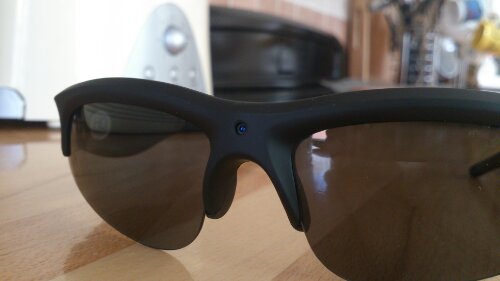 To begin filming, you simply ensure that there's enough charge and then press the button on the other arm (which is cleverly woven into the design of the glasses) for a couple of seconds to begin filming.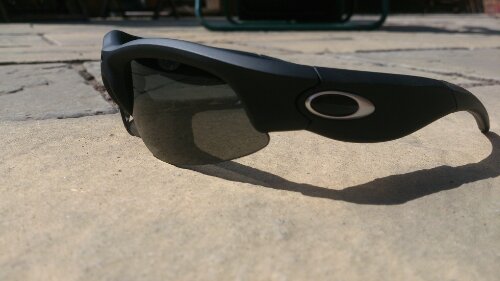 Only you know when the camera is filming an you can stop it again by tapping the same button (it's the black oval above). It literally is as simple as that, and – if you look closely enough – there's a small flashing LED on the inside of the arm to indicate when the glasses are charging or recording. This LED is quite dim and tricky to see in the daylight, so you have to just trust that it's recording.
 
When you've filmed your bike ride, base jump or skateboarding, you can then instantly output your video via a TV – just put the connector into the glasses and, using the video / audio RCA plugs on the other end, connect to your TV. It'll play your footage instantly to your TV or you can use the USB port (which is on the same end as those TV plugs) to either connect to your laptop or to charge the glasses up. There's a nice carry case for keeping your glasses and cables safe, plus a cleaning cloth is included too.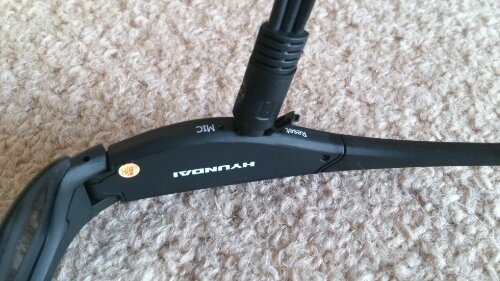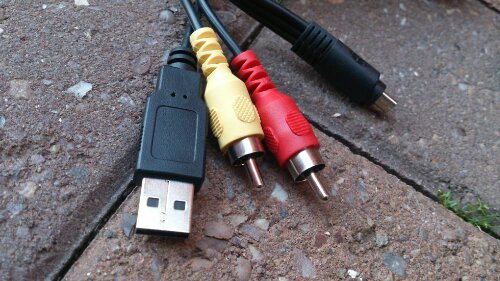 The footage, it has to be said, is a little grainy and the focus was fixed so – for most of the time – anything which wasn't in the "mid-distance" was blurry. This was a bit of a disappointment considering the mention of "HD recording" and "720p HD" which was plastered on the inside of the glasses. Audio quality was good though.
 
It films around 60 minutes of footage and there's 4GB of space for you to fill up. It connects to your computer as mass storage so it's easy to move files around or delete old footage that you don't want.
 
I've included several example videos from the glasses below. Overall, it was definitely a very strange experience. I say strange because they really, really didn't feel any different to any other glasses and I felt a little weird filming passers-by without them knowing it. It could also open up a whole world of problems if you accidentally leave them on when visiting certain places or perhaps standing behind someone at the checkout or cash machine as they enter their PIN number, but overall it was definitely fun to show off your latest bike ride or skateboarding trick as seen from your own point of view.
You can get these for around £99 if you do a quick Google search but they're currently out stock with Expansys. However, there's these other "Sunshine" sunglasses, which couple a hidden camera with an on-board MP3 player, for £82.99.
More example videos below..