Magic! Honor pulled quite a number in China yesterday unveiling the Honor Magic, a smartphone all curves and shiny glass.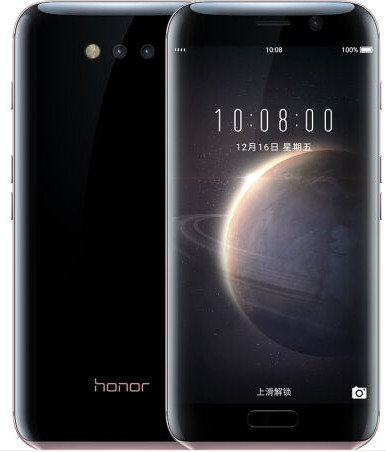 The Honor Magic has an interesting spec sheet to say the least, as it differs from most device SKUs on the current smartphone market. The screen is a 5.09″ one of QHD (2560×1440) resolution which seems to curve at all four corners. Not 5″, not 5.2″, but 5.09″ and with QHD. Let that sink in: QHD at 5.09″ is apparently a pixel density of 577 pixels per inch, under curved glass wich curves at all four corners. Honor caught my attention with that alone. The fingerprint scanner on the Honor Magic is just below the screen on the front of the device.


The Honor Magic is powered by Huawei's own Kirin 950 chipset which ticks over at 2.5 GHz, paired with 4GB RAM. The back panel is a curved glass one too, where you should find a dual camera setup. The device's total thickness is 7.8mm. The battery is a 2900 mAh one. Apparently the front facing camera does some funky eye tracking too. From the spec sheet and the images, it looks like the device is physically the next evolution of the shiny Honor 8 flagship.
We haven't seen the Honor Magic, but from what we hear from people close to the matter and who have held and played around with the device, it is shiny elevated to the n power. Also EMUI isn't on the devices shown at launch but a new software experience built on Android 6.0 called Honor Magic Live OS. This software experience involves machine learning baked into the OS to optimise and serve apps and content as efficiently and effectively as possible.
The Honor Magic is priced as a flagship device, with the 4GB + 64GB model coming in at 3699 RMB (£425). No word on if this device will ever be seen outside of China, but if it does come to the UK someone should be prepared to take my money for one.