Honor have come a long way in Europe since landing quietly almost two years ago. Under the wing of parent company Huawei, they have gone from strength to strength and now have a new affordable flagship in the Honor 8. I've been using the Honor 8 over the last few months as one of my main smartphones, and this is the Coolsmartphone.com review of it.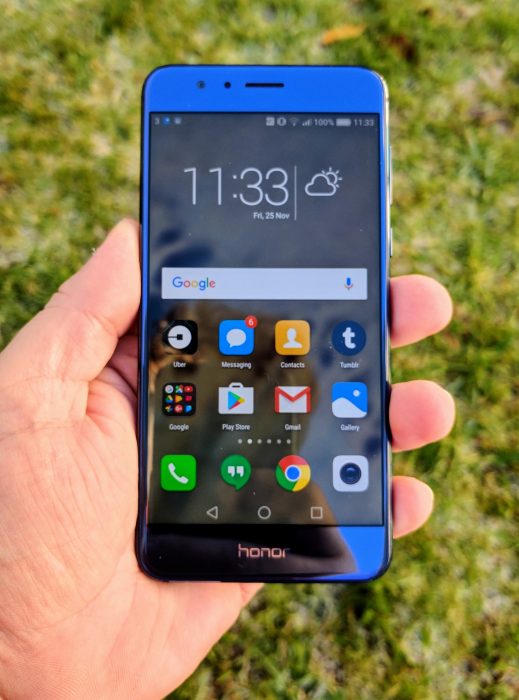 The Honor 8 is a shiny phone, a device with a premium build which feels good to hold: it has metal edges and on the front and back has curved "2.5D" glass. That's glass that curves on the edges giving the device a rounded feeling with no sharpness. Sandwiched in between the glass and enclosed by the metal there is an impressive spec sheet which shares some similarities with the Huawei P9.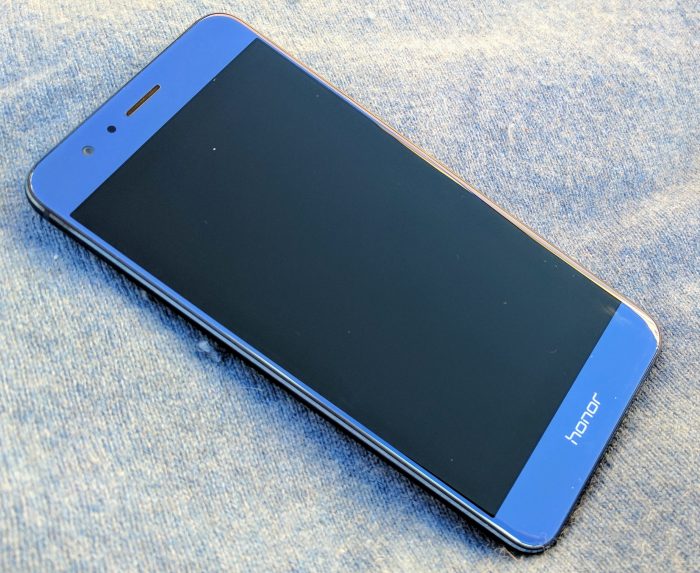 Honor 8 – Specifications
5.2" Full HD IPS LCD display (1920×1080)

HiSilicon Kirin 950 Octa-core processor (4×2.3GHz and 4×1.8GHz)

Mali T880 GPU

EMUI 4.1 OS based on Android 6.0

4GB RAM and 32GB storage (expandable up to 256GB with MicroSD)

Dual-SIM support (if no MicroSD inserted)

Bluetooth 4.2 and NFC

WiFi 802.11 a/b/g/n/ac

A-GPS and GLONASS

Infra-red blaster

Dual 12MP camera with laser autofocus and dual-LED flash (f/2.2 aperture)

8MP f/2.4 front-facing selfie camera

3000 mAh battery (non-removable)

USB Type-C reversible connector for charging and data transfer

Rear mounted fingerprint scanner (also a quicklaunch button)
As with previous Honor devices, the Honor 8 is available to purchase in the UK from Three, Vmall and Amazon as well as Clove and other online retailers. Apart from Three, you'll be hard pushed to see one in a retail store, but that's OK for Honor's target audience who are often referred to as the "Digital Natives".
I've really enjoyed using the Honor8. The device is shiny, well balanced in weight and looks gorgeous in its all blue version. When I say all blue, I mean front, back and sides. Though the metal, glass and antenna bands are not exactly the same shape of bluje, together they match well. The Honor 8 is also available in black, white and in select markets gold.
The Honor 8 is a shiny device with an impressive spec sheet. A standout feature is the dual-camera setup on the back. We'll look at the camera in more depth later on, but it is one of the stand out features of the device.
Hardware
The Honor 8 is a shiny and glassy device. On the front you'll find the 5.2" Full HD screen covered by 2.5D glass. The bezels on the sides are very slim. The top bezel is home to the earpiece speaker, proximity sensor and selfie camera. The bottom bezel is adorned by an Honor logo. Beware: this is such a shiny device it can be quite a fingerprint and dust magnet. Either that or Head and Shoulders isnt working very well for me…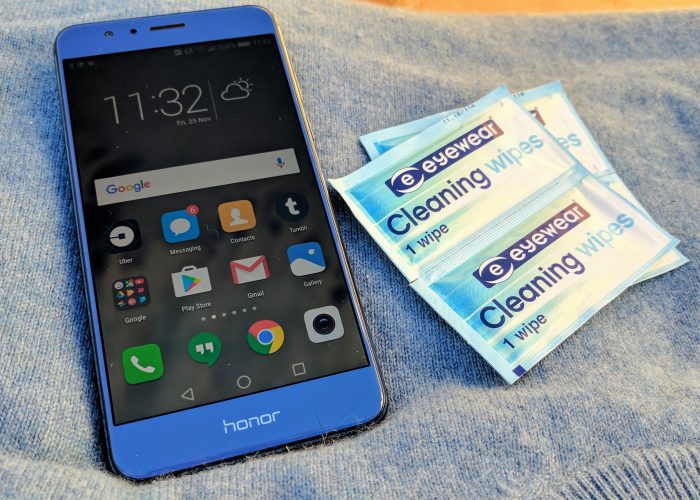 The back of the Honor 8 has the same shiny 2.5D glass of the same colour of the rest of the device and is home to the camera and its sensors, and the centrally mounted fingerprint sensor which doubles up as a smart button too.


The right side of the Honor 8 is home to the power button and volume rocker. The power button is textured, so it's easy to feel for it when it's in your pocket or you are trying to turn on your phone in the dark.


The left side of the device is smooth and featureless apart from the hybrid SIM/microSD tray. I'm impressed by how well fitted the SIM tray is, it's probably the best firring one I've had in a device.


The top of the Honor 8 has an IR blaster and a ambient noise microphone.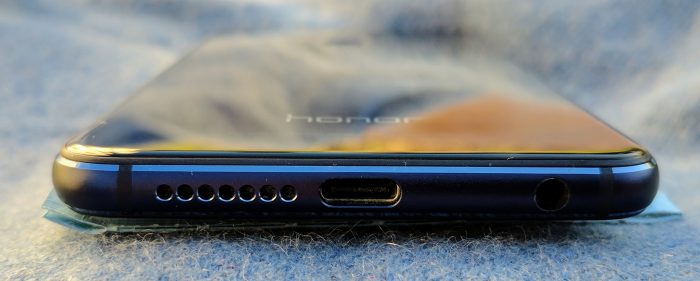 The bottom of the device has a standard 3.5mm audio jack, USB type-C charging/data port and a grille for the speaker.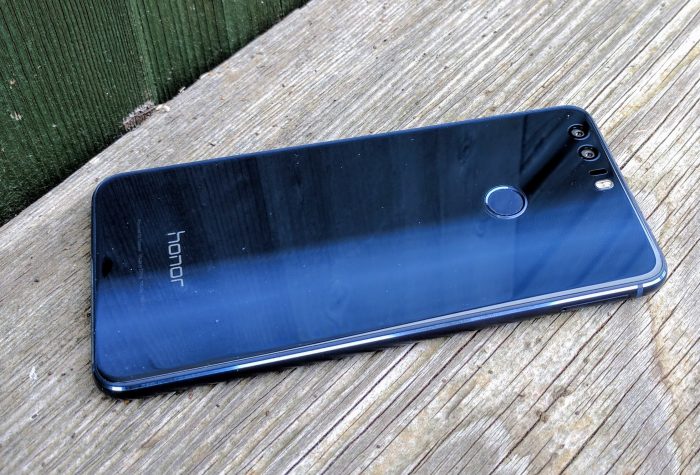 Overall the Honor 8 is a very shiny and glassy device, with a premium feel and an almost uniform colour coordination between the glass front and back and the rest of the metal chassis. The first impression you get from using the device is one of premium well balanced engineering made to be nestled in your hand.
Software
The Honor 8 is running EMUI 4.1 built on top of Android 6 Marshmallow. Promises of an update to EMUI 5 built on top of Android 7 Nougat are backed up by a beta program which is currently running.
EMUI is Huawei's Android distribution, with extra services and features optimised for the Honor 8's hardware. Out of the box EMUI is not too different from previous versions, with an MIUI-like and iOS-like drawerless launcher and menu system.
Standard Android soft buttons (back, home and app switcher) are on screen. These  uttons can be customised in EMUI so you don't have to keep the canonical Google ordered soft buttons if you don't want to.
The notification shade is as on previous versions of EMUI: with notifications in the primary one and the quick settings toggles a swipe to the right. Notifications have mostly been OK to me, but can be horribly broken when using some rich ones such as Google Maps for navigation.
The fingerprint scanner on the back of the device is fast and reliable, but is much more than a simple fingerprint scanner. It doubles up as a smart button which can be used to launch your favourite apps and services with a single press, double press or long press. The fingerprint sensor can also be used to swipe through photos in the EMUI gallery (doesn't work on Google Photos) and pull down your notification shade. Essentially the fingerprint scanner can be used as a trackpad in some contexts of EMUI.
The Honor 8 comes preloaded with a selection of applications and games. As bloatware goes, this is probably some of the least annoying because you can easily uninstall them if you so wish to.
EMUI is like all distributions of Android by device makers: not exactly what Google intend Android to be while trying to both differentiate and add value to Google's OS. Luckily it's easy enough to install a custom launcher to have a more Material Design experience if you so wish to.
Cameras
One of the shout out features of the Honor 8 is the dual camera on the back: similar to the setup on the Leica blessed Huawei P9, one sensor is a monochrome one and the other is an RGB one. The dual-lense setup is supported by a dual tone LED flash and a laser auto-focus sensor. Huawei's camera software does the rest to make it easy to take pictures effortlessly or to drill down into manual settings and modes to be all "creative".
The Honor 8 dual camera setup doesn't have optical image stabillisation, so to make best use of the night mode, light painting mode and HDR mode you might want to also use a tripod with it. If you do, results are impressive.
The 8MP front facing selfie camera is great for video calling and social media. Low light performance was surprisingly good, so it can be considered by many as a good party phone.
Battery
The 3000mAh battery in the Honor 8 performs very well. In my normal mixed use as a primary device it gets through the day and leaves me with more than 20% battery left. This great performance can be also attributed to the EMUI software tuned to the hardware. In the Advanced Settings under the battery manager there is a rich selection of options to optimise performance and battery usage. One of my favourite features within the battery saver is the ROG power saving one: it allows you to downgrade screen resolution to 1280×720 (from 1920×1080) to save power. On the 5.2" screen, even I struggled to notice a big difference when enabling the ROG power saving feature and noticed further improvement to battery life.
Accessories
The Honor 8 has been available in China for a while now. As well as the official accessories available from vmall.eu and other online retailers there is already a rich ecosystem of third party accessories available for the Honor 8. You probably know where I'm going with this: there is such a good mockodile selection for this device is unreal. If looking for the most diverse (and questionable) haberdashery for your Honor 8, I thoroughly recommend browsing AliExpress.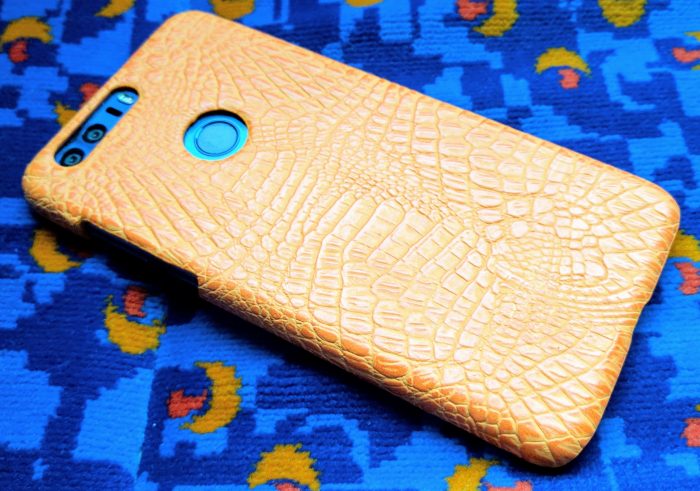 Conclusion
The Honor 8 is a great device, especially as it sits in the sub £400 price bracket. Promotions and discounts are often available, so if you can pick one up under the recommended retail price of £369 even better. If you are looking for a premium flagship device with a snappy processor, great camera and good battery life the Honor 8 may be the smartphone for you. One of the big advantages the Honor 8 has, compared to the OnePlus 3 for example, is the smaller screen: not everyone wants a big phone, and the Honor 8's overall build and feel is great.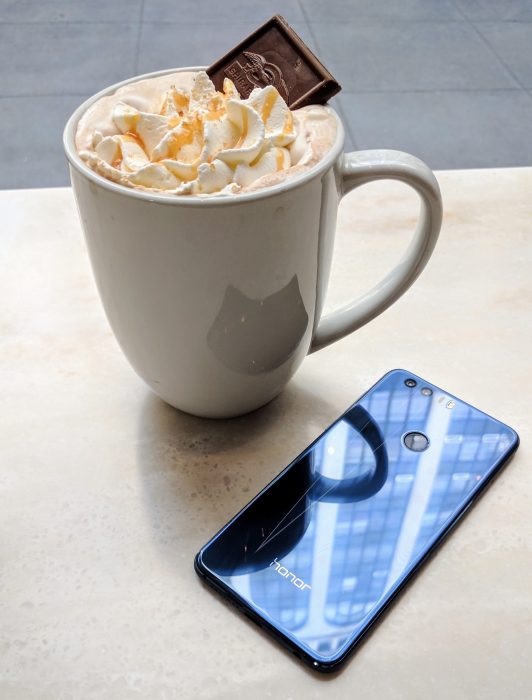 We'll keep you updated here on Coolsmartphone to let you know how we get on during the EMUI 5 Nougat beta test.
Honor 8 - A Shiny Flagship
True flagship performance at an affordable price.
A shiny device with impressive performance in daily use, with great camera setups and impressive battery life. Excellent device in the 5.2" screen size, which punches way above its weight in all categories.