Every little piece of me wants to believe that this is fake. The YouTube account only has one video uploaded (which is weird if you're a big fan of drones and film lots) and there's "helpful" on-screen graphics and special effects so that it'll help grab your attention.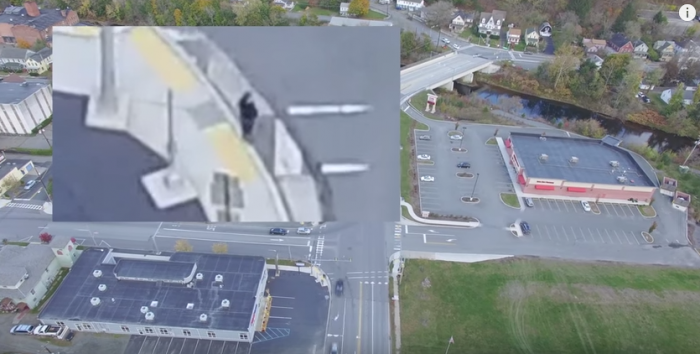 However, there's a tiny bit of me that thinks it is real, so here's a bit of background. This guy, who only identifies himself as "Yaog", got tipped off by a friend that his wife had been "with" another guy. This had happened a couple of times, and it seemed to be happened when she'd gone to work early.
"Yaog" decides to follow her but, plot twist, she spots him. Gah.. I always hate it when that happens. He follows her again when she heads out to work early a second time but, plot twist number two, she just goes to work as normal. So, for reasons I can't quite explain, he decides to use a…. drone and .. basically stalks her from on high as she walks to work…
Yeah, I know… here's the resulting video. This contains a large scoop of anger, so (despite the fact that the swear words are bleeped out) it's perhaps not one for the office. Here it is, along with a lovely big title in the preview image so that it'll get more hits…
Hmm.. I don't know what to say about it really. Was his surveillance drone obsession
or the anger issues that pushed her away?
18 years!!!
Still, at the time of writing it's received nearly 7.5 million views, and it looks like he's enabled YouTube monetization, so.. KER-CHING. Eh? That's some serious money fella. At least you've got that. Maybe get another drone with a camera that has a zoom function next time.
Update – Mr Yaog has now added a second video where he gives us a bit more information and, well, it's turning into a bit of a soap opera now. First he tells us that his wife is a bit annoyed that the video of her is on the internet and doesn't like the fact that she's in front of millions of people. Despite this, he still goes ahead with this second video and gives us more intimate details about how he's spurned her attempts to reconcile the relationship.
Oh, and there's some more big fonts for the preview image so that you know what the video is all about ahead of time..