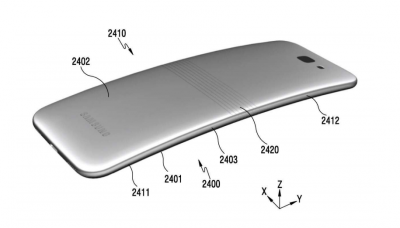 Earlier this year the interwebs was full of rumours that Samsung was planning to ship smartphones and tablets with a bendable OLED screen. In fact in June this year Lenovo displayed a prototype of its own bendable phone.
Well a recent leaked patent application from the Korean Intellectual Patent office shows the Korean phone giant may be investigating producing a foldable smartphone. Hmm… anyone else worried about bending and folding phone batteries, in the current light of things ?
The application shows what appears to be quite a narrow device with a screen that bends and a hinge in the middle (very much looking like a Surface Book) so the device can be folded over and closed. Apparently the phone can be folded or un-folded "semi automatically", and there is mention of a second display which is activated when folded.
More on this as we get it, but I'd definitely like to see more form-factors. The standard "slate" is now prolific and the flip-phones of old have died off. While some handsets, like YotaPhone 2 and the NEC Medias W (remember that from Mobile World Congress?) have tried, they've never really hit the big time. Here's a look at that NEC phone from back in 2013…