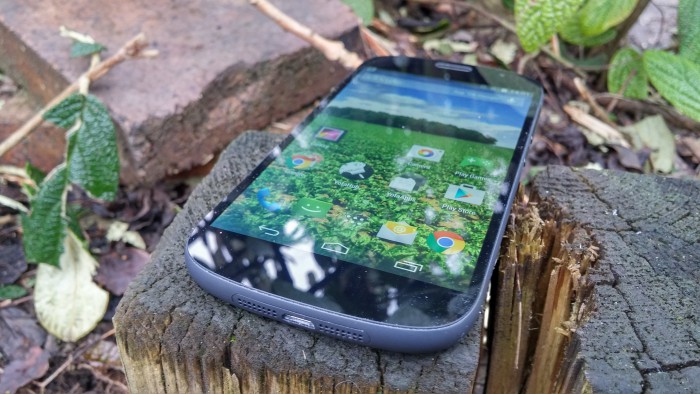 This is a phone that dares to be different. It's been years since I saw a phone cross my desktop which DIDN'T have that now-familiar shape and large front screen. Phone designs haven't really altered for such a long time, and we've grown comfortable with buying a phone featuring a colour front screen, a set of buttons perhaps and a couple of cameras. Here, the YotaPhone 2 has not one but TWO screens.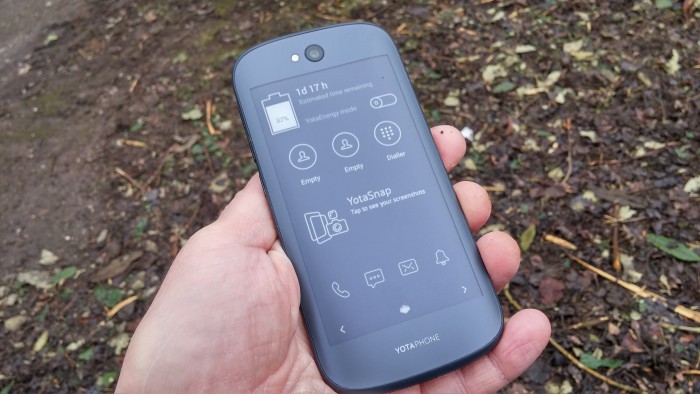 That second screen is an always-on e-ink screen and, although it's not got a high refresh speed like the front screen or the colour output, it will only sip at your battery rather than guzzling it like the AMOLED colour up-front.
That rear screen is beautifully sculpted into the rear panel and you'd never actually think that there was a screen there. It feels and looks just like a rear panel.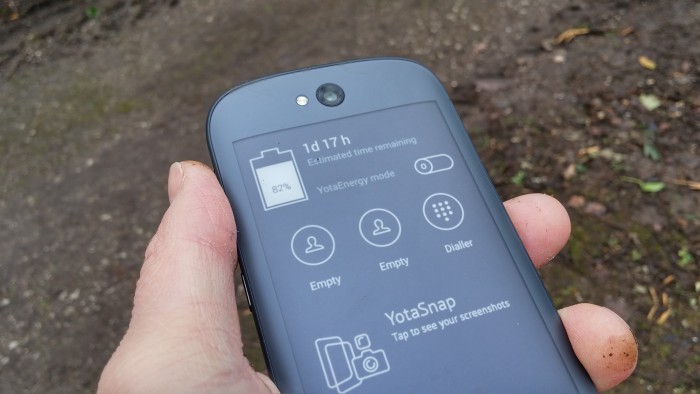 There's other benefits though – not just improved battery life. The rear panel offers an easy-to-read interface which works even in bright sunlight, and it's easier on the eye when you're reading an e-book, rather than a bright back-lit screen. Also, considering how many times you turn your phone on to check little things like whether you've got text messages, emails, calls or calendar appointments, merely looking at that rear screen means you'll be turning on the front screen a whole lot less.
Using the rear panel is a little different to the front, although you can navigate and move around the screen in exactly the same way as the front screen. Notifications are shown up as default, and then by unlocking you can see information such as remaining battery life, time, weather etc. You can also activate something called "YotaEnergy" which will switch off power-consuming services to extend battery life still further. It can also be set to kick in at a certain battery percentage, which is good when charge is getting low.
The always-on display will let you read books. check social media, read RSS feeds, read and send texts and emails, add a favourite photo and answer calls.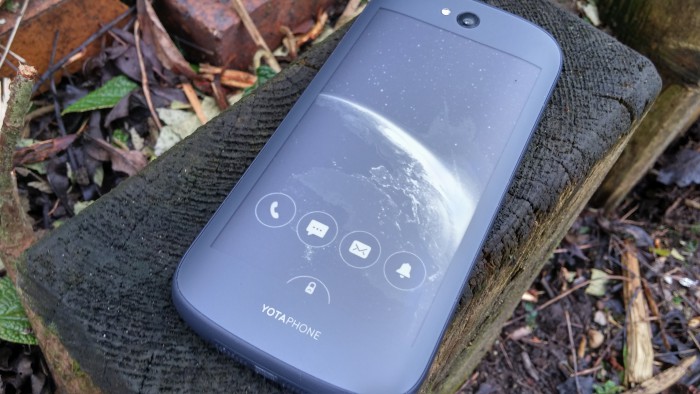 Specs
Powered by Android 4.4 KitKat, this is no slouch in the power department. A Qualcomm Snapdragon 800 2.26GHz quad-core CPU comes with 2GB RAM and 32GB on-board storage. Sadly there's no space for a microSD card slot, and you'll find that the nano SIM card slips in behind the volume up / down button, which is rather clever indeed but shows just how much space is at a premium here. The usual WiFi, GPS / GLONASS, Bluetooth 4.0, NFC and FM radio are in here plus it's 4G too.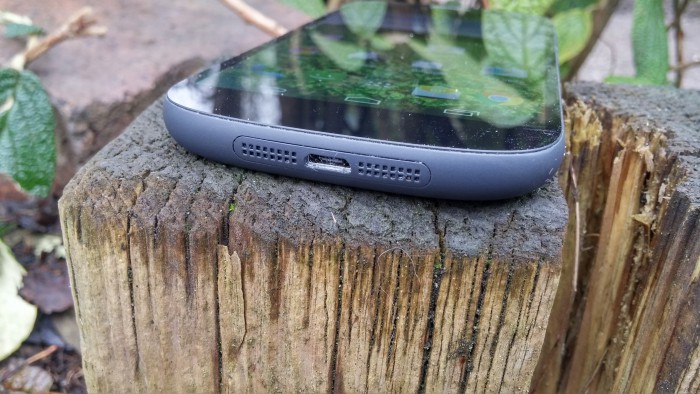 Weighing in at 145g. the dimensions aren't really any different to other smartphones – 144.9 x 69.4 x 8.95mm. That front screen is a 1920×1080 5″ AMOLED panel whilst the rear is a 4.7″ always-on electronic paper display at 960×540. It does 16 levels of greyness.
Other specs include a 2500mAh battery, an 8 megapixel rear camera with flash, 2.1 megapixel front camera.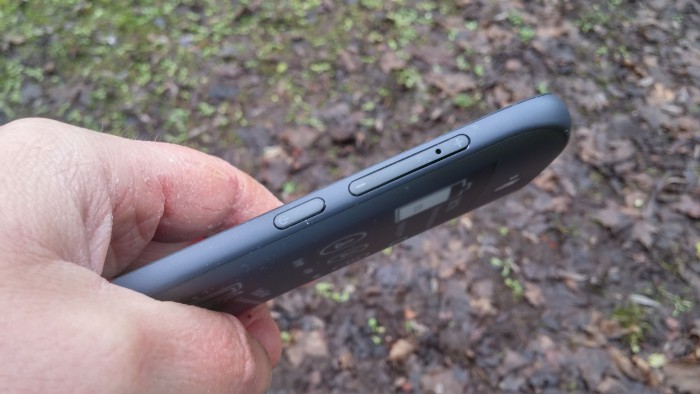 The overall design of the phone is good, with a curved – almost oblong appearance. The front AMOLED screen is bright and inviting, with clever little touches such as a the nanoSIM slotting in behind the volume buttons to save adding another hole to the outer frame.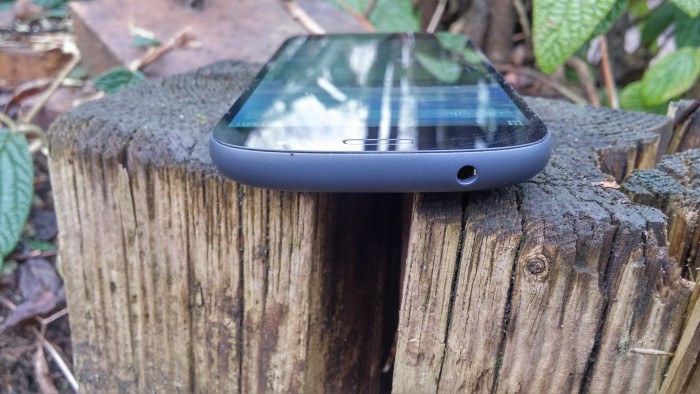 Inside the main UI includes bold and large icons, keeping it to five rows and four columns on the app listings. There's not a whole deal of meddling with the Android OS either, and apart from a smattering of games and apps for that rear panel, it's all fairly standard. As this is Android, your contacts, diary appointments, files, browsing and email is all kept in sync with the Google cloud. Apps such as YouTube, Google Maps, Google+, Hangouts, Play Music, Newsstand and Chrome are here along with an alarm clock, FM radio, threaded messaging apps and a helpful Tutorial come on board and there's an e-book that you can read on the front or rear panel to guide you around the YotaPhone 2.
To control that rear panel you'll need to go into the YotaHub, which is also accessible through the Settings too. It'll let you control the "YotaCover", which is the main picture on the rear panel, and the "YotaPanel", which is a group of screens displaying information that you may be interested in. It's here that you can both see and interface with data such as the weather, time, date, messages, emails etc. You can organise the panel so that it looks and operates exactly how you'd like it to. You can alter each panel to display various chunks of information. The main "lock screen", which is the "YotaCover", will display your favourite picture plus four buttons with updates on how many messages, emails, appointments etc.
That rear panel doesn't update as quick as fast as the front screen, and there is an element of ghosting if it switches from a dark to light text, however it does tend to "flash" and remove this – a good thing.
Activating the "YotaMirror" option will show everything and anything you normally view on the AMOLED front screen onto the rear e-ink screen. Web pages, videos and the swish Android interface isn't exactly designed to work on such a screen, so you will get a certain amount of bleeding etc, but it is good if you want to use a third-party e-book reader such as Amazon etc to read your books. It effectively means that apps don't need to be specially written to operate with that rear screen, they'll work the second you get the YotaMirror option started up.
I decided to go a bit nuts and try YouTube on it. Here's how that turned out 😉
As you can see, you're perhaps not going to want to do any gaming on it, but it will help if you want to listen to some YouTube music videos without the front colour screen being on all the time, and you can check your Twitter or Facebook timelines using this rear panel to reduce battery usage too.
Another feature of the rear screen is the ability to show screenshots, which you can setup by pressing and holding the home key on the front of the phone. This will activate either the Google Now, YotaMirror or the Screenshot system, and the screenshot you take can be placed on the rear. This is good if you've just found a recipe on the internet and want to remember it without having to constantly turn on that front screen (as you would do with a normal phone) every few minutes during your baking or cooking. Again, you can perhaps use this to list your shopping by writing down your list and then taking a snapshot of it for storing on the main screen.
Another feature of the rear panel is YotaEnergy – a power-saving feature which dims the AMOLED display, perhaps encouraging you to use the rear panel instead. It'll also alter the WiFi, GPS and Bluetooth settings and how regularly it grabs data, thus saving power that way too.
Many people have asked me about the battery life on this and I have to say that you really won't see much difference unless you use that rear panel properly – i.e to check your texts, emails etc. If you constantly end up flicking the front screen on you won't see a great deal of difference, but Yota tell us that if you (for example) have a battery meter showing just 15% you can use the phone for a solid 8 hours if you exclusively use that clever e-ink screen. Compare than to less than 2 hours if you use the front AMOLED unit. If you continue to use the front panel, as I did when I wanted to browse or see those Twitter pictures in full colour, you're not really going to notice much difference sadly.
Camera
This wasn't totally terrible, but likewise it could've been better. The 2.1 megapixel shooter up front is sufficient for selfies but the rear 8 megapixel one isn't up to par with the latest generation of 13-20 megapixel units and it didn't perform well in low-light conditions.
We've included some example photos below for you to judge for yourself. To me the snaps were a little grey and washed out. Some of the shots below were taken as it started to rain and it seemed to struggle more as it got darker. Everything here is from the standard Android camera app, which includes a simple point-and-shoot experience. Everything seemed pretty simple and there wasn't a great deal of extra options when taking snaps.
Software
Inside, the UI is uncluttered and hasn't been messed with. It's clean and bright, with large and clear icons on a vivid and bold screen. To be honest, if I ignored that rear screen for a moment and just used the YotaPhone 2 as a "normal" smartphone it would stand up well against the opposition. The AMOLED screen is simply excellent, I must say.
The usual apps are here. There's the regular Google ones such as YouTube, Gmail, Google+, Maps etc etc. You can also (of course) stick Google Maps into navigation mode, then put it in your car to navigate around using the rear panel instead of the AMOLED screen. This'll save you having to continuously have your phone plugged in for the journey. Again, using the rear panel when you have a gorgeous colour screen up front feels, in a way, "wrong". We've got rid of our black and white TV's and now we have full HD colour screens, so in a way it's like going backwards, but it is easy to see in direct sunlight and you do have to recognise the benefits.
An RSS reader is included and it works with the rear screen. As does a collection of games. I'm glad, though, that the YotaMirror enables you to use any app you feel like.
The usual goodies are inside and everything works very well considering the decent CPU and RAM. The browser, games and my insane multitasking didn't fall over when I pushed it hard either. Web pages displayed well.
Here you'll see me using the Yota apps to change the rear panel and how it's displayed..
As is now standard and expected, the Android OS means that you can sync your life with the cloud. Email, contacts, diary appointments and all your documents are placed in the hands of Google and kept in check while you're out and about. The Google Play store is here if you want further goodies installed. There's an FM radio, Google Play Movies, Books, Drive, Voice Search, Hangouts and all the usual Android goodness. As usual you can drag icons and widgets around the standard front screen and customize this phone to your hearts content.
Conclusion
This is a phone with a very decent specification and is built well with a beautiful design. The rear display, to the untrained eye, can look like a logo until you confuse the heck out of interested onlookers by interacting with it, or having it change regularly as you ride the train to work. It is, however, a hard one to sell to the mainstream smartphone audience. We all know that the high-quality screens on which we're hooked daily are nailing our precious batteries. However, I'd be interested to find out just how many people will really give up the full-colour experience of a Twitter or Facebook feed for an e-ink representation just to save a few minutes or hours of battery.
The handset is expensive, and it sits in the same price bracket as your new Samsung Galaxy, HTC One or iPhone. For this you don't get a microSD slot and the camera really could be better. However, I'll honestly applaud what they're done with the YotaPhone 2. This is a fantastically engineered handset with software which will let you use anything you want on the rear screen and the ability to read books without having to be hooked into your charger at the same time. I like the fact that the apps are simple, clear and come with on-board instructions. I like the fact that the OS is uncluttered and clean, plus I like the look on the faces of people when I play a YouTube video on that rear panel.
At the time of writing the YotaPhone 2 is £555 unlocked. Buy it here or get more info.
YotaPhone 2 Review
Value for money - 6.9
Build quality - 9.2
Camera - 7.7
UI / Software - 9
8.2
An innovative handset with a massive party trick that'll instantly make you Mr Interesting.