I was one of the Kickstarter backers for the original Pebble smartwatch back in 2012. I still actually own that too. Shortly after I purchased the Pebble Steel. However, when the colour Pebble Time watches appeared, I fell out of love with them. I thought the new colour ePaper interface was a bit to "Cartoony" for me, so I moved over to Android Wear.
I did like some of the features of Android Wear. Heart rate and health tracking, voice dictation to name but a few; but I missed the week long battery life and the ability to use hardware buttons to control functions without even looking at the watch. Me and Steve Litchfield agree on this one.
So when I heard that Pebble were releasing the Pebble 2 with Heart Rate and Pebble Health features I was eager to get my mitts on one. For me a smartwatch is a watch that gives me notifications first and foremost. I personally don't want a mini computer on my wrist, but hey  – you might want to. So, during a recent holiday over in the USA I managed to get one a bit early.

Good Points:
Price.
Crystal clear e-paper display.
Week long battery life.
Lightweight and comfy to wear.
Quick charging time.
Heart rate and step counter now included.
Built in sleep tracking.
Waterproof and swimmer friendly.

Bad Points:
Watch-face's not as complex as Android Wear
Some apps and watch-faces can appear ugly.
Health data is stored on the phone (no cloud backup)

In Use:
4 years ago when the Pebble was revealed to the world, the smartwatch was a unknown category. Some people said the original Pebble did appear a bit "Fisher Price" with is black and white screen plus the chunky looks. Despite all that, I really liked the first version.
The Pebble 2 has the same size screen as the original – 1.26 inches across, but this time the screen is covered by Gorilla Glass 3 rather than the "scratch-magnet" plastic screen of the first watch.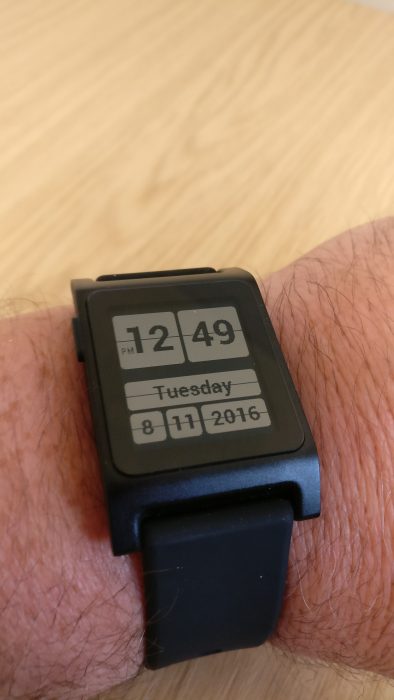 The bezel on the new watch is a lot slimmer than before, and this new watch has a more streamlined look. It measures in at 40 X 30 X 10 mm. The new strap does feel like it's made from a softer, more pliable rubber, and is completely comfortable to wear all day (and night) long. The strap comes with quick-release pins and makes changing straps a breeze.
Where the Pebble smartwatch absolutely dominates the smartwatch market is in battery life. Here the Pebble 2 is no different. I was easily getting a week between charges, and this is with the heart rate monitor checking my heart rate every 10 mins, 24 hours a day. This is a welcome change from putting my Android Wear watch on charge at the end of each day.
As I previously mentioned, the Pebble 2 now comes with a built in heart rate monitor. This isn't just for when you're working out, but the watch now has the ability to check your heart rate regularly – even when you're going about your daily life. The readings are displayed as a fluctuating graph within the Pebble Health app on your smartphone.
Also part the Pebble Health suite of apps is the sleep and steps tracking. Both of these are automatic and need no user interaction. They can also be synced to the Google Fit app –  although the heart rate readings do not sync across sadly. Support is there for some 3rd party fitness apps, but not all work with the Pebbles heart rate monitor. Unfortunately your health data and graphs are stored on your device and not to the cloud, meaning that if you change your device all your previous data is lost. Hopefully this will be fixed with further updates.
Other welcome additions to the Pebble 2? Water resistance is a big one for me. The new watch has a 30 m water resistance and can be taken in the pool for a swim. There is also now the inclusion of a microphone on the right side of the watch, meaning you can now dictate a response to messages too. My testing up to date has shown the voice recognition is pretty good.
One annoyance I found when I began to use this new Pebble was the watch receiving every single notification. However, don't worry – this can be tweaked in the settings of the Pebble app and individual notifications can be toggled on/off as you can see below..

Conclusion:
If you are like me and want your smartwatch to be a watch with added benefits, rather than an all-singing and all-dancing wrist-mounted computer, check this out. It has a full week-long battery life and a reasonable price tag of around £100.
If you want a more refined-looking Pebble, the new Pebble Time 2 has a stainless steel body and a colour e-ink display. This should be available in January 2017 at around £170.
I know that there are better smartwatches on the market, but the new Pebble just suits me down to the ground.
Pebble 2 Smart Watch Review