I've been in the US of A for a couple of weeks now. I came over for the Big Android BBQ, where I delivered a talk and met a lot of amazing people. I then went to the San Francisco Bay Area, where I met up with Jolanda Verhoef and Maarten Edgar and had an amazing time. We even went on All About Android together at the TWiT Eastside Studio yesterday evening. One of the many subjects of conversation was the launch of Google Home here in the USA.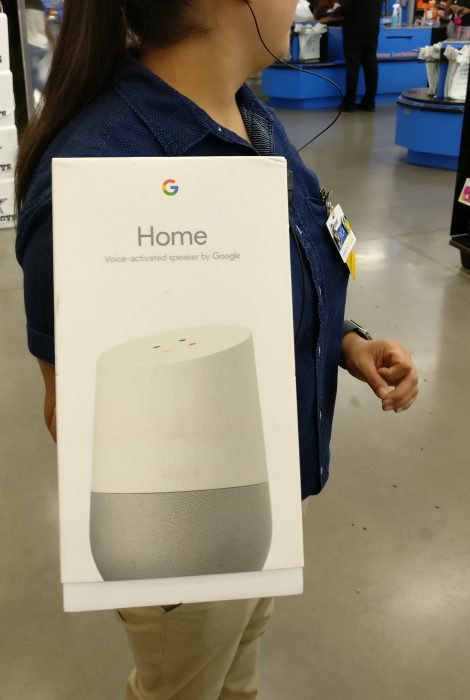 I'm on my way home now, and am spending a night in Texas before flying back to the UK tomorrow. There were a few things I needed from Walmart, so got an Uber there to do some late evening shopping. While browsing the consumer electronics aisles, I spotted a shelf of Google Home units, and thought I had amazing luck. $129 (+ local sales tax). The Google Home box went in my shopping trolley, or cart as they call them here, and I headed to the checkouts.
At the checkouts much confusion was caused by a functioning Google Home barcode but there was then an error message. After an Assistant Manager came along I was informed that the device was being removed from the shelves and shouldn't be on sale until November 4th, when the device is being released by Google.
I'm disappointed: I had butterflies from unexpectedly finding a gem, a moment of elation, something desired by many. It was left behind because the timing isn't right. I have a feeling that with patience, better timing and some effort I'll get it eventually.
Anyway, enjoy the pictures of the Google Home I left behind, I'll write more about Google's personal assistant and compare it to Amazon's Echo soon, here on Coolsmartphone.com. I'll just sit here thinking about what could have been…