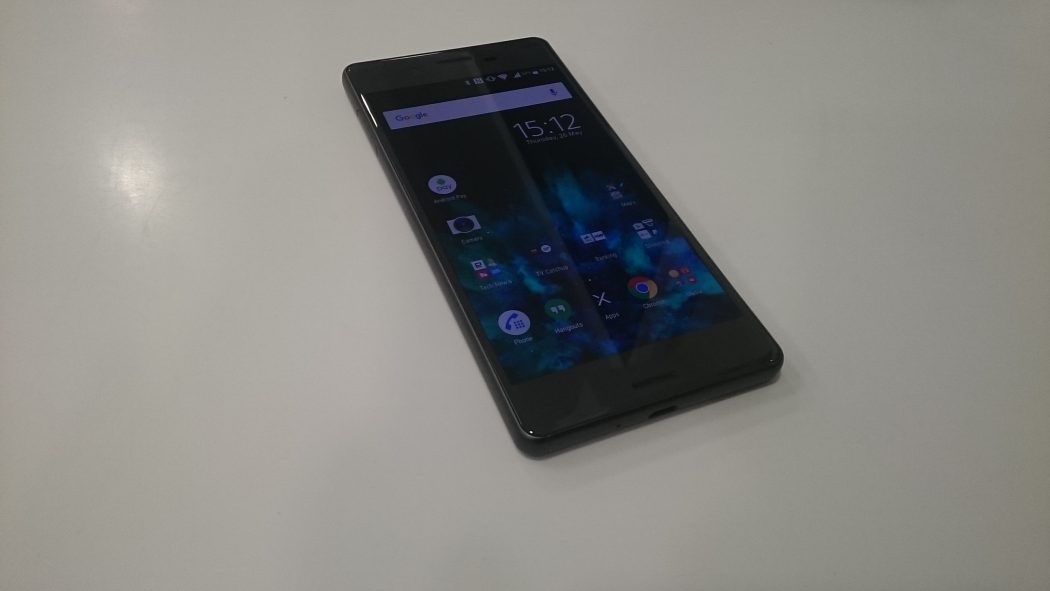 Just a few weeks ago I rather hesitantly went to meet with Sony, and there I was given the replacement to my trusty and long-suffering Xperia Z5 in the form of the Xperia X. Now to say I wasn't thrilled with this exchange was an understatement as I was really quite smitten with my Z5. It had been on a journey with me: I had broken the screen twice and had used its stellar camera on many press trips. Admittedly the recent software update had made some major dents in its appeal, but I still really liked the phone. So the moment came, I handed over my loyal and trusted partner, and was given it's smaller lower powered cousin (or so I thought).
Well, I have to say that I wasn't initially blown away when I got the phone out of the box. All these negative feelings were to gradually disappear over the next few days as I got to use the phone, so what made me come around to the phone? Read on below and you will be able to see what converted me.
Design & Hardware
Before we get into the tour of the device, here is the unboxing video that I shot when I received the phone.

The phone does indeed carry a lot of traits from the past designs that Sony has been pushing out for a few years now. Sony really does seem to like the square utilitarian design, and that has not been changed massively, but there have been a few subtle tweaks which are worthy of mentions. Starting up front is the 1080p screen that measures in at 5″ diagonally. It is more than sufficient in terms of PPI, with the count being 441 slightly higher than that of the Xperia Z Range. The big difference is that the screen's brightness has been increased and it is also a lot more vibrant. Whilst it doesn't measure up to that of the Super AMOLED offerings from Samsung, it is definitely serviceable. Above the screen, we find the usual array of sensors and one of the forward facing stereo speakers.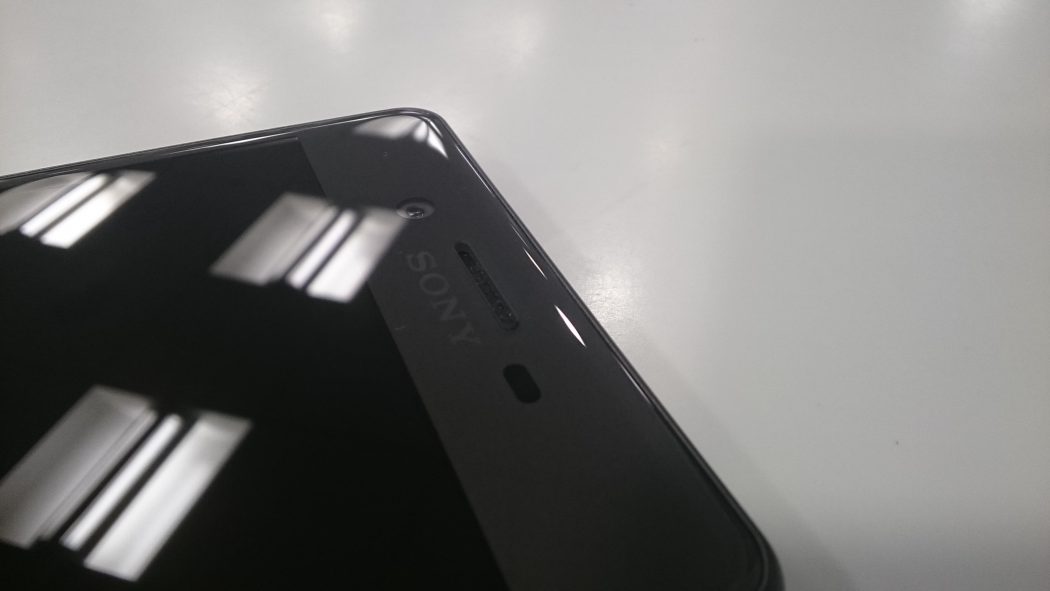 Nestled next to that we find the first big difference in the form of a 13mp camera with an Exmor RS sensor and F2.0 aperture wide. It is also a wide angle lens that is capable of 1080p video, up to ISO 6400, so I think it is safe to say very highly specced.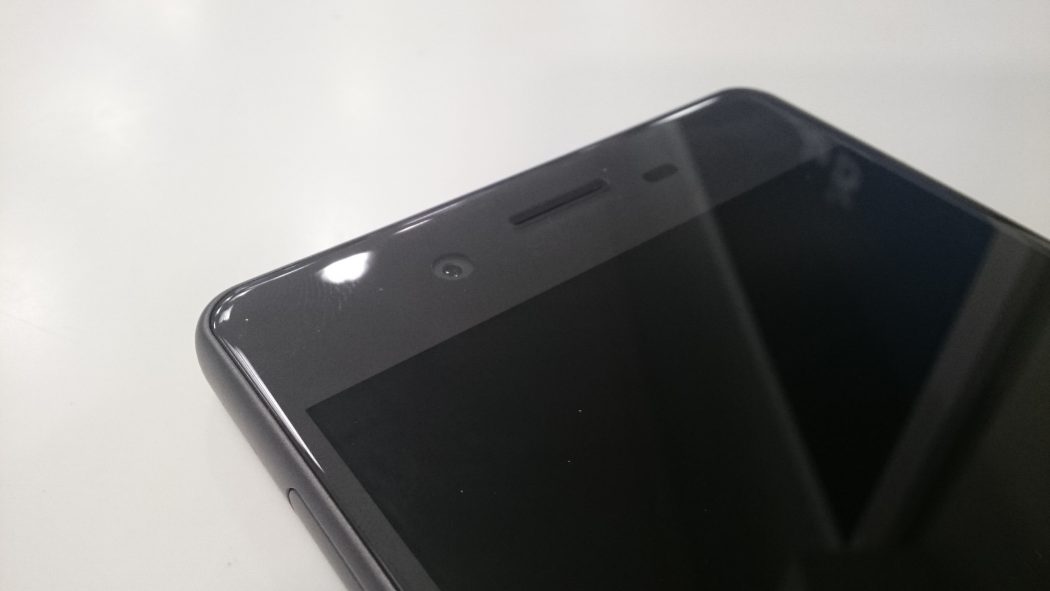 Next up is the second speaker which is mounted under the screen. The speakers are of a surprisingly good quality and deliver a clear reasonably balanced sound. They are not going to replace your hi-fi setup, but for podcasts and speakerphone calls they do the job well.
Another odd thing is that the NFC antenna is mounted up here as well, which is a bit awkward but the reasoning will become clear later.
Moving the sides, we have the sole flap on the left-hand side which houses the Nano sim card slot and Micro SD card capable of housing up to 2TB (not widely available yet). Apart from that, the rest of the side is bare.

On the bottom of the phone, we find a pinhole for one of the two microphones – the other one is found at the top. We also have the USB port which is sadly of the Micro USB type, not the newer USB Type C.

Up the right-hand side, we have a lot more going on with the camera shutter key, the volume rocker, and the power/fingerprint reader. This has been improved in my opinion from the Z5, as it seems to be much more responsive and faster. Now whether this is down to software or physical hardware improvements I cannot tell for certain, I just know it works quicker. I do like the location of this button as it fall under the thumb quite nicely, and it is a happy medium between the more common rear mounted sensor and the Apple favoured front mount. I can activate the sensor with the phone in pretty much any orientation which is really handy. I would recommend setting up a few fingers so that it can be triggered regardless of how you pick it up, though. The button itself does have a nice positive click when pressed as well if you decide not to use the fingerprint function.

Around the back is an improved back plate, largely in part due to the fact that it is metal as opposed to glass, which was prone to breaking on the previous Z range.

We also find the camera module is here, and in a new development we have got a camera bulge! This is something that I did not expect to ever see on a Sony as they are normally famed for their clean lines.

However moving on, this camera is pretty much the same sensor that was to be found in the Xperia Z5. It is a 23mp sensor featuring Exmor RS and an f2.0 aperture. It is also has a Wide Angle G lens and 1080p video support. One of the big things that it lacks is OIS, which Sony tries to make amends with by using their SteadyShot software, which is a poor substitute really. I will go into the camera later on in its own section,
That about wraps it up for the tour around the device. One of the final nice touches that are new with this design is that the edges of the phone are slightly rounded, and the use of 2.5d glass for the front panel means that there are no rough edges… unlike the Z5 which did have a distinct "edge" to it that could be uncomfortable after a while. The phone generally feels very well built and nestles nicely into the palm of your hand. It even allows for single-handed usage if that tickles your fancy.
What we are missing here is the much-vaunted water resistance of the past. This phone has no official IP rating, which is a big omission and it was a key USP for the previous models. Sony has taken the decision to remove this desirable feature as it was not something that the public was looking for. I would love to know who was surveyed, as everyone that I have spoken to about this can't believe it is not there! Oh well, maybe they will add it back onto the next version.
Now would be a good time to look at the specs sheet.
| | Xperia X |
| --- | --- |
| Display | 5" Full HD 1080p display, TRILUMINOS Display for mobile, X-Reality for mobile picture engine, Dynamic Contrast Enhancement |
| Main camera | 23MP, 1/2.3'' Exmor RS for mobile sensor, Predictive Hybrid AF, Quick launch, 5x Clear Image Zoom, 24mm Wide Angle G Lens F2.0, Low-light photography: up to ISO 12800, Full HD 1080p Video, SteadyShot with Intelligent Active Mode, Superior Auto Mode, Pulse LED Flash |
| Front camera | 13MP, 1/3'' Exmor RS for mobile sensor, Quick launch, 22mm Wide Angle Lens F2.0, Low-light scene recognition: up to ISO 6400, Full HD 1080p Video Recording, SteadyShot with Intelligent Active Mode, Superior Auto Mode |
| Battery | 2620 mAh, Up to 2 days battery life, Sony STAMINA Mode, Quick Charge3, Qnovo Adaptive Charging |
| Audio | Hi-Res Audio (LPCM, FLAC, ALAC, DSD), Digital Noise Cancelling, DSEE HX upscaling to hi-res |
| Connectivity | aGPS, GLONASS, Bluetooth 4.2, NFC, USB Micro B, Wi-Fi 11 a/b/g/n/ac, Wi-Fi Miracast |
| Entertainment | Xperia Lounge Gold, Sony Media Apps, PlayMemories Online, Playstation app, PS4 Remote Play |
| Memory | 3GB RAM, 32GB eMMC, microSD slot up to 200GB |
| Performance | Qualcomm Snapdragon 650 Processor 64-bit capable, |
| SIM | Nano-SIM |
| Other | Fingerprint sensor on power button |
| Size and weight | 143 x 69 x 7.7mm / 152g |
| Cellular | Up 4G/LTE Cat 6 |
| Software | Android 6.0 (Marshmallow) |
So we have got some reasonable specs here. Before you get disheartened by the fact that it is using a Snapdragon 6xx series chip – don't be, as this is the newest and best of the 6xx series. In actuality, this performs on a very similar level to that of the Snapdragon 810 that we found in the Z5 beforehand. There are, of course, some difference,s but all of these can be summarised by one thing: longevity. The fact that the processor is a lower tier generation here is not a bad thing as it allows for the battery to be stretched out further. In fact, as I am writing this article I have been using my phone since about 6:30 this morning; it is now 21:25, and I am still sitting at 42% battery. I have only had the screen on for 2hr 39 mins of that time, but I have been using the phone for a lot of different things during the day. This is about my normal sort of experience of the device. All of this has been achieved without Sony's Stamina mode being enabled either, which will allow me to stretch things out further if needed!
The phone is a really nice fit into that hand, partially due to the 2.5d glass and the subtle curve to the edges that I mentioned above. But these things are accentuated by the phone being a smidge thinner than the Z5 which allows for the realistic possibility of using the phone one handed. Not that this is something that I find myself doing a lot of, but it is nice to have the option if I want it.
Moving on from the look and feel, how does this thing actually perform in the real world?
Performance
I am not going to talk about the battery here as I have mentioned that above. However, I do want to dig into that Snapdragon 650 processor a little bit more. The chip is a Hexacore CPU with a max clock speed of 1.8ghz, and it also supports the Adreno 510 GPU. It is a 64-bit chip that will allow Android 6.01 to work at its best. The chip will support 4k, but this feature has been left out on the Sony and instead we have [email protected] video which I still very useful for getting some very cool footage. It will only support USB 2.0 for connectivity, but does support Qualcomm Quick Charge 2.0/3.0.
The 810 that was used in the Z5 does vary quite a bit, here are the key points that I have picked out for you, though. It is an Octocore chipset that will run at 2.0ghz and support the Adreno 430 GPU. Again, it is a 64-bit processor so will work fine with Android 6.0. It too can do all the same details with the camera and it can support a sensor size of 55mp. Here we do have support for USB 3.0 over the older 2.0 (which is still supported). It only has Qualcomm Quick Charge 2.o.
So that is a little bit more of an insight into the respective chips, but what does this actually mean to the man on the street apart from the previously mentioned battery life? Well, in essence, there is not a massive difference – at least not that I can necessarily place my finger on. In the areas that really matter to me, such as speed of opening apps and playback of media, it is on par with the Z5. As I have mentioned the camera start up from lock does seem to be quicker, as does the fingerprint unlock, and I am absolutely positive that the chipset will have some influence upon these areas. The gaming performance is about the same, as can be seen on Asphalt 8 (my de rigueur app for testing these days). Here is a video of the two side by side:

The one thing I would say is that the Xperia X screen does look a tad washed out in comparison to the Xperia Z5, especially on the recording above. This is one of the reasons I use the phone normally at about 50% brightness.
We can see that on both devices that the frame rates are very similar with minimal dropping, even when played as I have on high settings. These scores are also reflected on the benchmark test for both phones. Please see below for these.
| | Sunspider 1.0.2 | Quadrant | Antutu | Ice Storm Unlimited |
| --- | --- | --- | --- | --- |
| Xperia X | 779.7 | 32269 | 77450 | 18297 |
| Xperia Z5 | 653 | 27508 | 54792 | 26474 |
So we can see from the numbers that although the chips are different numbers, the generational gap actually makes the numbering system largely redundant. I have to say that at no point have I found the Xperia X wanting with regard to its performance. That being said, I do wish that this was the X "Performance" that I was holding in my hands – but that is purely due to specs snobbery and not actual performance. Needless to say, the X Performance will be more powerful if we ever see it in the UK.
The one area where the Z5 is leaps and bounds above the X is anything that is demanding when it comes to graphics, as shown by the Ice Mark Unlimited test which is designed to push the phone's graphics chips. So if you are keen on mobile gaming, then you may wish to look elsewhere.
Another area where the difference in chips does make a difference is the thermal aspects of the chips. I often found that my Z5 would warn me that the phone is getting hot, even when using relatively mundane apps such as the camera app. This is something that I have not seen at all in the use of the X, as the SD 650 runs a lot cooler than the 810 v2 used in the Z5. Another aspect that may be contributing to the cooling may well be the fact that we no longer have a glass rear panel, but instead have an aluminium one. We all know which one conducts heat better I hope!
Moving on from the performance to the camera, I was unable to do any side by side shots with the phones as I don't have my Z5 anymore, but if you want to get an idea of how the Z5 photos look, then please check out my mega review that I did at the end of last year.
Camera
The camera on the Xperia X is actually the same sensor that was used on the Z5 and as such, it has the same quality, however there are 2 big differences here. The first one is a biggie for those of us with little people (by this I mean kids, not Lannister dwarfs!). I know that I have been in the situation where I have wanted to take a picture of my son, and I haven't been able to as he has been moving too quickly to capture the moment. Well, this is where Sony's very clever Predictive Hybrid Auto Focus comes into play. Essentially what will happen is that when you try and focus on a moving subject, the Xperia X will then guess where that subject will be when the picture is taken. It is a setting that can be either on or off, and I do find it helps me when taking pictures of my son, so I am happy.
That happiness is, however, short-lived as if I then want to record his antics in glorious 4K, of course, I can do it, can't I? Well no, as for some inexplicable reason Sony have removed 4K video from being available, even though it is supported by the Chipset! I can only put this down to thermal management and prolonging battery, but come on Sony, we know that 4K video will heat the phone up and drain the battery faster than an F1 car, but at least give us the option.
So those are really the big changes from the Z5, but there are still some things that have lingered from the Z5 as well and one of them is a big annoyance for me, which is the lack of any form of Optical Image Stabilisation, I know, I know, the Xperia X has SteadyShot so we're good, right? Right? In a word, no, we are not good. SteadyShot will never allow you to get the same result as a correctly implemented OIS, and this is reflected in the relatively poor low-light performance of all the Sonys from the last few years. We want it in our phones please Sony, as if that happens we will have a true replacement for our compact cameras. Here are some samples of images from the rear camera.
There has been a lot of change on the front facing camera this time around. We have got a 13mp sensor which is capable of some fantastic shots if you are into Selfies, and it also works very nicely on wider angle shots too, due to the wide angle that can be taken advantage of. You will also find that Sony has implemented some skin effects to hide your blemishes and make you look younger which is nice! Here is a sample of the front facing camera against the Shanghai skyline.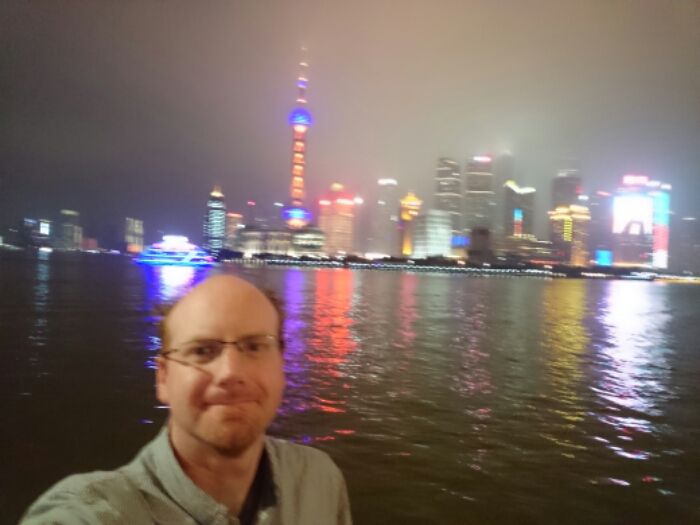 Here are some screenshots of the Xperia X camera interface, which is now the same as that found on the Z5 after it received a camera software update.
As you can see, you can now slide between the various modes on the left-hand menu, and then your main controls are still to be found on the right-hand side. It is a very simple camera layout and is easy to use. The setting menu will bring up some other options when clicked on (assuming the phone is unlocked).

Software
Sony has taken a very similar approach to what they are doing with the software on the Xperias of late, and this is reflected in the UI implementation of the Xperia X. A large amount of this came from the testing that was done on the
Xperia Concept
software trial that I was involved in back in last year. One thing that really stands out is how close this phone is to a Nexus in terms of software. Although you do get a different style of app drawer on the Xperia device, you can – like all the Nexus devices – uninstall the vast majority of preloaded third-party apps. There are a few preloaded apps that come on the phone and most of these are Sony's proprietary solutions, such as Music instead of Play music, Videos and Album instead of the Google counterparts. You also get a trial of McAfee and Sony's own Satnav solution, Wisepilot. These were one of the first things I uninstalled as I have no intention of ever using them. That being said it is nice to see them included if you want to use them. This is achieved by clicking on the three menus dots in the top right-hand corner of the Xperia X as on previous devices.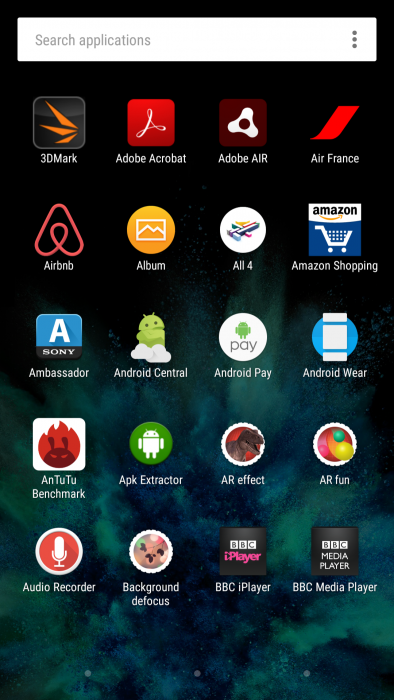 The one big improvement I have seen here over the Z5 is the reintroduction of Stamina Mode which I sorely missed, after the update to Android 6.0. It works in a slightly different manner to how it did before, as the phone also has Doze mode as a core part of the OS.
What Stamina will now do is allow to disable the battery-intensive aspects of the phone to help eek out a longer battery life. It will also turn background data off, which will result in syncing being stopped. It is a shame that you can no longer whitelist apps like you could on the previous version of this app. The good news is that in the time I have been using the device, I have not really needed to use the feature very much. In fact, the only time I turned it on was during my recent long haul flight to ensure that I had full connectivity when I got to the other end.
All the other nuances that you are used to from the previous Xperia devices are still here, and are still as good as ever. If you have used an Xperia device the past four years then you will be very familiar with the Xperia X, and instantly feel at home.
Here are some screenshots of the UI
Summary and Conclusion
I am surprised at how happy I have been with the use of the Xperia X, and even though I thought I would miss some of the features from my Xperia Z5, the only thing I genuinely miss is the IP67 protection. It just means that I have to take a bit more care of the device that I would have done previously. It is by no means a deal-breaker.
I do wish that Sony would look at the implementation of a hardware based OIS solution, as this would bring the camera back up to speed with regard to other devices on the market. With that thought, when you are taking a picture in the optimum light conditions they are very good. I may have just been spoiled by the use of the various Lumia devices over the past few years!
The other elephant in the room is where exactly this fits into the Sony lineup. I don't think that it can really be called a Flagship, as I expect that the Xperia X Performance was pencilled in for that task. So this is really, in my opinion, a high-end mid-range device that is very appealing. However, the price needs to reflect that, especially with devices like the recently launched OnePlus 3 now on the market. I have a suspicion that this is device is setting the base metric in place for the new Xperia X line and we will see more to come in the near future.
Well done Sony, now about the Xperia X Performance…
Xperia X -Review
Design - 8.2
Hardware - 8.6
Performance - 8.6
Camera - 7
Software - 8
8.1
A very good high-end put phone that should be sitting in the middle price range but is confused about where it belongs in the family lineup.